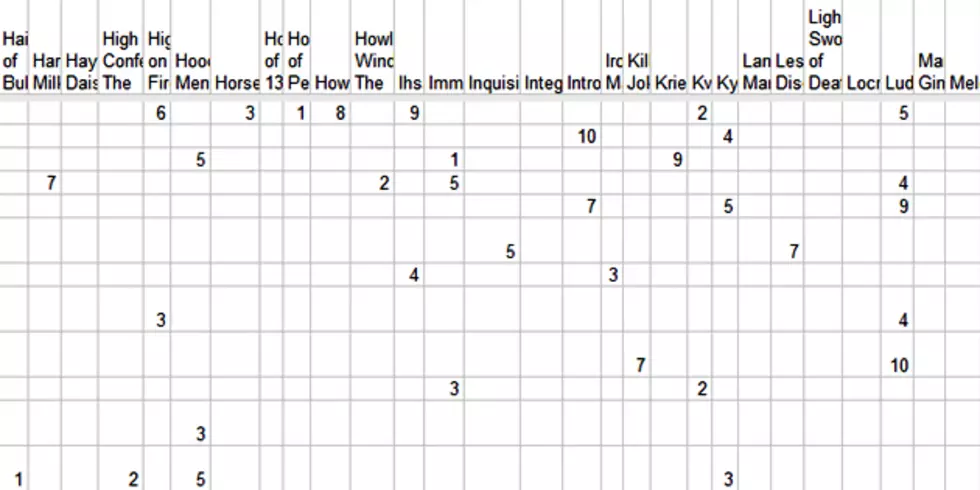 Year-end thoughts 2010, pt. 2: Readers' choice awards winners
After about eight hours of data entry, I've finally processed your year-end votes! (While most of you rang in the new year with loved ones and intoxicants, I was inputting thousands of data points into a spreadsheet. Remind me not to do this by hand next time!)
It's one thing to get a feel for trends, and another to see them emerge numerically. Sure, there were some outliers. (Since I didn't tell you to vote only for metal records, you guys voted for everything from Autechre to Neil Young.) But metalwise, Invisible Oranges readers definitely follow certain trends. You probably read Decibel, the big metal labels (Nuclear Blast, Century Media, Metal Blade, Earache) are not your favorite labels, and, judging from how many of you punted on the live shows question, you probably need to get out more. Maybe 2011 can be the Year of Actually Supporting the Bands Whose Music You Download.
2010 was the Year of Triptykon. Your votes made that clear, if it wasn't evident already.
INVISIBLE ORANGES
READERS' CHOICE AWARDS WINNERS 2010
1. Triptykon / Sleep / Converge (tie)
2. Isis
3. Eyehategod / Iron Maiden / Kylesa / Ludicra (tie)
Iron Maiden fared poorly in the album vote, but continued to satisfy fans live. Many of you had fond memories of Sleep's reunion and Isis' final tour.
1. Triptykon - Eparistera Daimones
2. Black Breath - Heavy Breathing
3. Ludicra - The Tenant
This one wasn't even close. You guys overwhelmingly voted Eparistera Daimones as the best-sounding metal record of 2010. It had twice the votes of the runner-up.
1. Ghost - Opus Eponymous
2. Thou - Summit
3. Triptykon - Eparistera Daimones
Bright colors did well this year; Kvelertak's debut and Howl's Full of Hell also placed high in this vote.
10. Thou - Summit
9. Ghost - Opus Eponymous / High on Fire - Snakes for the Divine (tie)
8. Alcest - Écailles de lune
7. Kvelertak - Kvelertak
6. Kylesa - Spiral Shadow
5. Enslaved - Axioma Ethica Odini
4. Deathspell Omega - Paracletus
3. Ludicra - The Tenant
2. Agalloch - Marrow of the Spirit
1. Triptykon - Eparistera Daimones
Again, Triptykon won by a wide margin.
Thank you for reading, voting, and listening. The fans are the heart of metal's community. Now go out and support some bands in 2011.
More From Invisible Oranges