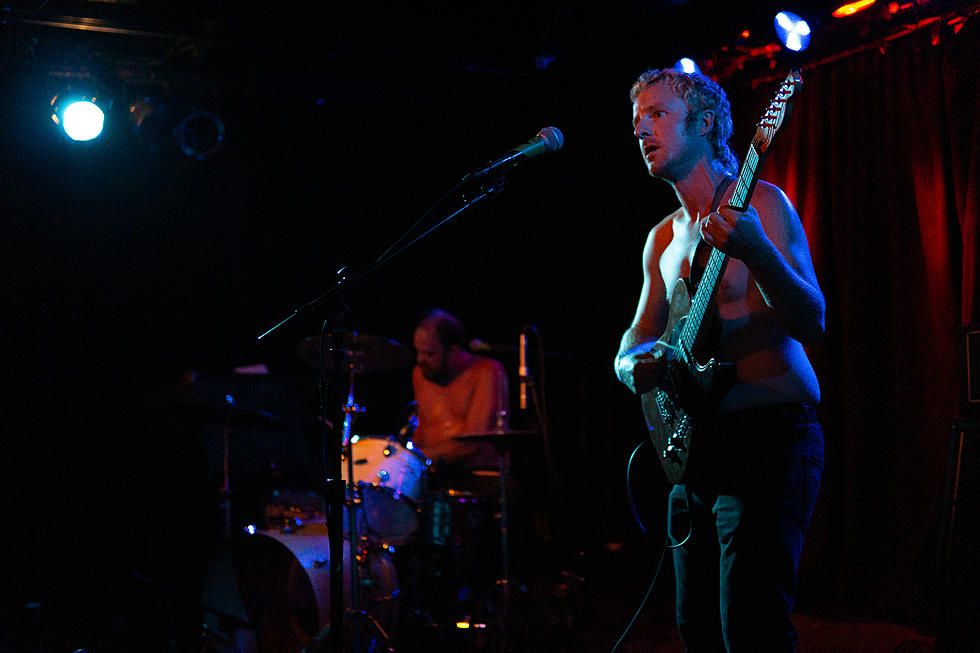 In the Shadow of Coronavirus (and Riot Fest): Wizard Rifle, The Decayed + Den at Beat Kitchen (Live Photos)
Photo Credit: Ted Nubel
---
Live music is in an odd state right now, caught in a push-and-pull between optimism and setbacks—I see about as many tour cancellations and postponements as I do announcements. Though the turmoil is hard on everyone, it seems like the smaller bands trying to get back into touring that are in the strangest and shittiest circumstances of all. These groups are doing what they do essentially out of love, with limited profit potential and numerous new challenges—and of course touring 'post-lockdown' isn't without its risks. Provided that they're vaccinated and taking precautions, they may not be in a particularly high risk situation, but there are still risks.
Last Friday, as Riot Fest was in full swing elsewhere in Chicago, I headed to Beat Kitchen to see one of these such bands. Interestingly, this is actually the first 'live report' IO has published since the pandemic started, and while I don't have an incredibly high-profile band to talk about—pandemic-fermented social anxiety is keeping me away from the bigger venues for the time being—the band in question, avant-garde two-piece Wizard Rifle, melted my face off with vicious energy that definitely warrants a few words.
Beat Kitchen is one of the venues in Chicago that requires vaccination and a mask to enter. That's a tad more stringent than Riot Fest, which required a negative test or vaccination, but for an intimate venue, every little bit helps. "We are both vaxxed, and we wear masks in the venue at all times (aside from during the set)," says Wizard Rifle, who I corresponded with after the show. "We want live music back to stay, so we are trying to do anything we can do to reduce the spread." Wizard Rifle, though socially as safe as possible, musically proved to be on par in deadliness with the hypothetical magical weapon platform their name implies, delivering chaotic and intricate metal with raw furor. Check out some photos from the show below—and make sure to see if they're stopping in your area on their remaining tour dates, which pick up again today for a joint date with The Sword.
...
Wizard Rifle, The Decayed, Den at Beat Kitchen
...
I made sure I got there early to catch Den, a local band that has resoundingly answered a burning question in my mind, best expressed in as few syllables as possible:
what if doom, but synth?
I mean, take the guitar out of the equation, replace it with an angry dude with two keyboards and a microphone, and you've got a recipe for distorted, mind-bending heaviness, which is what Den delivers in spades. The drummer's ridiculously large—28 inches, maybe? 30?—kick drum doesn't hurt, either, adding some extra low-end oomph and reinforcing the maximalism of it all.
...
...
The Decayed, following them up, were an interesting mix of thrash and punk—somewhat akin to the earliest, rawest days of Sodom especially in the vocal department, they've got both the melodic hookiness of punk (and d-beats—can't forget those), plus the viciously chunky riffs and metallic leads that took thrash off in its own trajectory. I couldn't put my finger on a dominant element, but neither side draws away from the other.
...
...
Wizard Rifle is a band constantly in motion—the group seems to find ways to make the most of every beat in their songs: drummer Sam Ford turns every song into a single continuous fill that never seems to stop or start, instead just continuing to astonish. Max Dameron, guitarist, combines loops of noise into crushing tapestries and then riffs on top of them. Both Dameron and Ford share constant vocal duties during the madness, providing a duality of screams and howls. All this aside, riffs are the mainstay of Wizard Rifle's offering: they explore these motifs with somewhat wandering focus, generally not sticking to anything too long without throwing in some sort of wrench.
As a two-piece, cohesion is critical, and Wizard Rifle fits together like parts of a well-maintained weapon. Stripping off their shirts basically in unison as things got underway, there wasn't much downtime to speak of and never a hint of confusion—especially impressive as much of their set was actually new material that the band was tightening up. "As soon as we return from tour we are going straight into the studio to record our fourth LP," the band noted. "We have been playing the new songs on the road, ironing out the kinks and getting them tight so that they're ready for the studio."
I can confirm the new songs are all set for tape—the band's sound evolved and grew over the course of the show, showing off new tricks and entirely different sub-genres as they went. The crowd was along for the ride, with a few evident super-fans entirely immersed in the groove. It's hard not to be, when Wizard Rifle is essentially a stream-of-consciousness tide of riffs and rad drum fills. Just tap into the flow and nod along.
...
...
While being vaccinated and taking every possible precaution seems to be doing the trick for most bands, and is working for Wizard Rifle so far, I don't hold it against anyone, band or audience, for not being comfortable re-entering the fray just yet. There isn't a right answer to "how safe is safe enough," (though, the answer to "should I tour unvaccinated" is a hard no) because even acknowledging that vaccinations and social distancing drastically reduce the chance of hospitalization and death, there's still risks, and for a lot of people those are untenable. That's not me, at least not currently, so for the time being I'm fully vaccinated and buying as much band merch as I can.
...
Wizard Rifle Upcoming Tour Dates:
9/23 - Buffalo, NY - Mohawk Place w/ The Sword
9/24 - Ithaca, NY - Chanti Loft
9/25 - Boston, MA - Middle East Upstairs
9/26 - Providence, RI - Alchemy
9/27 - Brooklyn, NY - Music Hall of Williamsburg w/ The Sword
...
More From Invisible Oranges