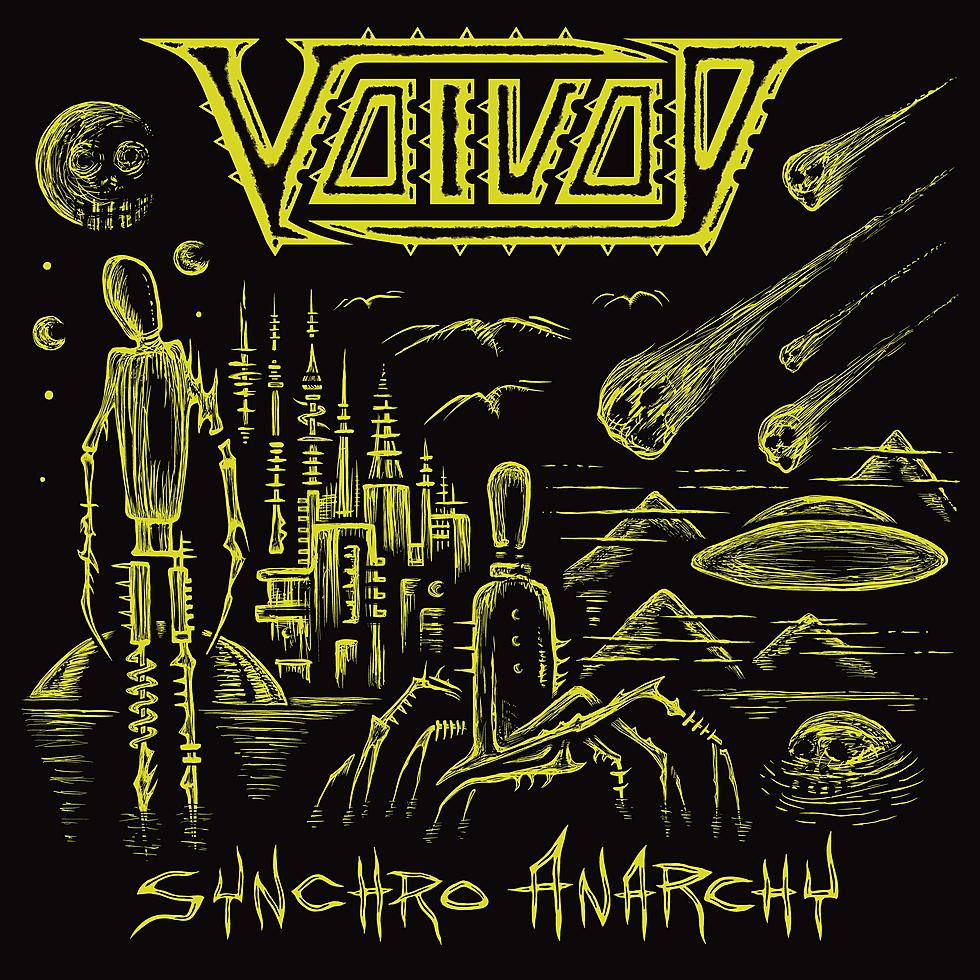 Voivod Escapes from Earth on Newest Album "Synchro Anarchy" (Interview)
---
There's no mistaking Canadian thrash/prog metal band Voivod as they have a sound all to their own. For four decades, the Montreal quartet have been creating unique, post-apocalyptic/sci-fi music, art, and lyrics. Consisting of swirling, angular guitar riffs, humongous blower-horn basslines, shuffled d-beat drum patterns, and Denis "Snake" Belanger's wonderfully odd vocals, the band has carved out their own path within the underground metal scene.
On their 15th full-length album Synchro Anarchy, the band explores more of their sci-fi influences with references to space travel, the advance of technology, and other various space mysteries while accompanied by the ever present visuals and art images created by its drummer Michel "Away" Langevin. During a recent Zoom chat with Invisible Oranges, Langevin talked about the band's legacy, their new album, and future endeavors, which includes the making of their documentary, a band biography book and recording with an orchestra.
-Kelley Simms
...
...
Throughout 40 years, Voivod has continuously evolved while never changing your trademark sound. How do you go about achieving this?
It's hard to tell, really. Because we don't sit down and overthink it, it just comes out that way. Maybe the roots have something to do with it. In the province of Quebec, progressive rock was huge when I grew up in the '70s. So, we had that in our DNA and when we formed the band in the early '80s, we were really into the New Wave of British Heavy Metal and punk and all that. But we already were trying to integrate prog elements into our music. That might be what makes us a bit different from the other thrash metal bands that we toured with back then.
On Synchro Anarchy, Voivod has progressed musically since your formative years. Which era do you think this album fits into?
I think the fact that Rocky and Chewy are really into all of the eras of Voivod, I can hear elements of all the albums we released in the past. But there's a new fusion metal twist to our music with this lineup that's a great challenge for me as a drummer. When we released The Wake, it was really well accepted and it was a very intricate album. So, it gave us confidence that we could explore any type of avenue musically and try to expand our sound. You'll hear elements of all the different eras of Voivod. But the fact that we jump back into this prog rock mode, I think that it allows us to really explore other sides like psychedelia and progressive rock. There's almost jazz elements as well in our music these days.
This is the third album into the rebirth of Voivod since the Chewy era began after guitarist Denis "Piggy" D'Amour passed away in 2005. I think this musical spirit lives on within the music and is this important for you to portray it and uphold this kind of aesthetic?
I think it's great that Chewy has his own sort of surgical approach to playing guitar. Piggy was more of an old school, almost boogie metal type of guy. So their styles are different, but Chewy grew up listening to Piggy and learned from him. The fact that he has his own style and also he's able to keep the spirit of Voivod intact, I think it's just absolutely great. I don't think that he really sits down and thinks about how he could keep the formula of this nature of Voivod intact, but it just comes out this way. I can hear the difference between Piggy and Chewy's styles, but it's 100% Voivod to my ears.
It seems like you guys just keep getting stronger and more mature with your songwriting. What were you going for with the songwriting, structures, tones, etc. on Synchro Anarchy?
It was very impulsive and urgent, this album. We went into the studio in June of last year, and we were not 100% prepared as opposed to previous albums because we didn't have much chance to rehearse. So, we were basically writing while recording. The lyrics were not finished when we got into the studio and nothing was really arranged. We just winged it and the goal we had was to try to release something as good as The Wake, if not better. There was no way we could release a concept album, so all the songs are sort of separate. But somehow, the intensity of the recording sessions sort of makes the album very cohesive. But it was a lot of work. Especially when we started recording it, it was also the time when the festivals started again in the province of Quebec. We were playing on the weekend and recording during the week. When we finished the whole process, it was hard for us to take a step back and judge what we had done. But the album is really well received. So it's quite a relief. But there were elements that probably helped the writing of the album. We did some online shows where we revisited Nothingface and Dimension Hatross and it might have rubbed off on the writing in a way. It definitely helped us to find a quick, efficient sound for the new album. Also the fact that we did part of the work while socially distancing, where we were sharing files and trying to stick together different ideas. It probably gave the album an old classic vibe when we were turning on a dime within the same song in Dimension Hatross and the Nothingface phaze as well. Different elements made this album what it is. It's a bit different from The Wake, but in a way, it's a bit of a continuation.
As a drummer myself, I've noticed you put a lot of double kick drums on this album. There's also a lot of groovy shuffle beats, cool floor-tom patterns, and punky, D-beat thrashing elements. What were you trying to achieve with your technique? How do you come up with your patterns and how do they differ from other Voivod material and how you approached it?
We always do the same thing where we will do some improvisation sessions and record the whole thing and then listen to it, and that's a good basis for songs. It's something that you can't come up with if you sit down and try to write music. If you are in a room jamming and improvising, some really interesting stuff comes out. After we recorded a few of these sessions in mid-March 2020, the lockdown happened, and that's where we started to have to sort of build the demos with our computers and sharing files, and I was programming drums. While I was programming drum parts, because I always write my drum parts, I really took the opportunity to program some punk beats with the floor toms and the (mounted) toms. Chewy wanted the album to be more thrash metal, and that was the first indication we had and so I put a lot of double kick drums in there. The main difficulty was to program drums, and program stuff that I will be able to eventually record on the real kit. There was a lot of air drumming while I was programming here. Also, the difficulty was the speed. We had to readjust when we finally were able to get into the studio. The way we had to build the album was very different from the previous album. While Chewy was trying to arrange the whole thing into an album, I started programming drum beats without music and throwing that to the other guys, and that's where I also took the opportunity to program some D-beats, which is always a winner.
As typical with Voivod lyrical themes, there are still plenty of Sci-fi references to space. How did you approach the subject matter?
At first, I asked Snake what are you going to write about? And he said, I'm not going to write about COVID. But I think that it ended up influencing everybody; the music, the visuals, the lyrics. The fact that because in mid-March 2020, when we all of a sudden did not have access to our studio, Snake said he was going to build a studio in his house. But as soon as he finished isolating one room, the restrictions got more severe and we couldn't meet in the private house. So he did some of the work in isolation, and I can definitely hear that in the lyrics; the alienation. I think that the lyrics are probably more anchored in the present, but it's still very sci-fi.
You once again created the album cover art, do your visions for the art come first or are your drawings based on the lyrics?
We really tried to combine everything and move forward while creating the whole process and sometimes the lyrics will influence the visuals and sometimes the visuals will influence the music. It's all intertwined for this album, especially because since we were playing during the weekend and recording during the week, we did many sessions to record this album. And every time in the studio I would draw something influenced by what was going on in the studio; lyrics and music. So I ended up having a drawing for every song by the end of it. All the art is a bit abstract, but it's very influenced by the music and lyrics. At the end, I was doing the front cover while listening to mixes coming in and all that. We try to make everything really cohesive and sort of a trip when you listen to the music and look at the art and read the lyrics. It has to be some sort of an experience in a way.
The video for "Planet Eaters" is awesome. Was that artwork already created or did you have to do some more just to make that video work?
You have to go back to early last year when this fan video popped online for the song "Nothingface." The video had been made in '91 or '92 on an (Commodore) Omega computer. The copy was found by the guy who did it at school when he was young and he put it online and I was blown away because I worked with Omega in the '80s and early '90s, and I know how difficult it was to achieve anything. So the result was phenomenal. I contacted the guy and I asked him if he wanted to do the video for the first single and he was really excited. First I supplied the art I had done for the album and then he started to ask me for specific things like spaceships, factories, and so on. So I basically supplied art from 1983 to 2021 and he animated it and integrated that in a spectacular way. I knew it was going to be fantastic because he's a super talented guy and I'm very pleased with the results.
The production is very crisp and pristine from Francis Perron, whom you've worked with since the Post Society EP. What's it like working with him?
It's really fun. His studio is not in Montreal, it's way out in the woods and it's always fun to go there because you can only work there. You stay there day after day. You wake up in the morning and then start and finish at night. It's always super. Francis is a fan of Voivod from way back and an old friend of Chewy and Rocky, so he's now part of the family. We're aiming for something as everyone is trying to improve his own sound individually and is trying to improve his techniques and buying new gear. So we're really fine tuning the whole thing and it's a great team. And on my end, I made a very good choice for this album. I used a huge Gretsch kit that Jason Newsted gave me when we were touring in 2003 with him and it's massive and sounds really loud. I like everybody's sound on this album. The bass sound is amazing, the vocals and guitar, everything is really clear. You can hear everything.
You did some awesome online performances during the pandemic. When it eventually settles back to normal, are you considering continuing with more streaming shows since it went so well?
Yeah, it could be. Right now we are focusing on starting a world tour starting at the end of May or early June. But I think the online shows are here to stay. It'd be interesting to revisit classic albums down the road and maybe Angel Rat or The Outer Limits, or maybe play the new album. This year is the 35th anniversary of Killing Technology, so it might be a good opportunity. So we'll see. But right now, our fingers are crossed that the world tour really happens starting this summer.
I've read that you have an upcoming documentary and a book to be released. Can you please talk about each?
Felipe Belalcazar, who did the "Death by Metal" documentary about the band Death, he's doing the documentary. A lot of it is done and we're hoping to release it this year. And next year for the 40th anniversary, there will be the book about Voivod. So in the meantime, aside from the new album, I worked a lot on reissues. So this year, Angel Rat and Nothingface on vinyl is coming out and also a Noise [Records] box set will come out. And next year, we would love to do a reissue of the self-titled album we did in 2003 with Jason Newsted. Because it's going to be the 20th anniversary of this album next year. So we just keep working on Voivod and try to make a lot of material available to keep the name out there. And thankfully, it's working. There is a great momentum for us. The new album charted everywhere, it really never happens to us. It seems like many generations are discovering Voivod and so we are really enjoying the situation right now.
What's next for Voivod, including touring plans?
I think that the fact that we had to learn a new formula to write this album, it's going to be very handy for the next releases. I think they are going to be less apart. A goal we have is to perform with the symphony orchestra. So we are looking at the opportunities right now. We had a couple of experimentations lately. For instance, for The Wake we had a string quartet in the studio, and for the The End of Dormancy EP, we used a brass quintet. Also, for the Montreal Jazz Festival in 2019. So that led us to think that it'd be a great experience to do a show with an orchestra and also Chewy teaches music at college and is very well versed in writing charts and all that. So he would be very helpful as the arranger of the orchestra.
...
Synchro Anarchy was released February 11th, 2022 via Century Media Records.
More From Invisible Oranges