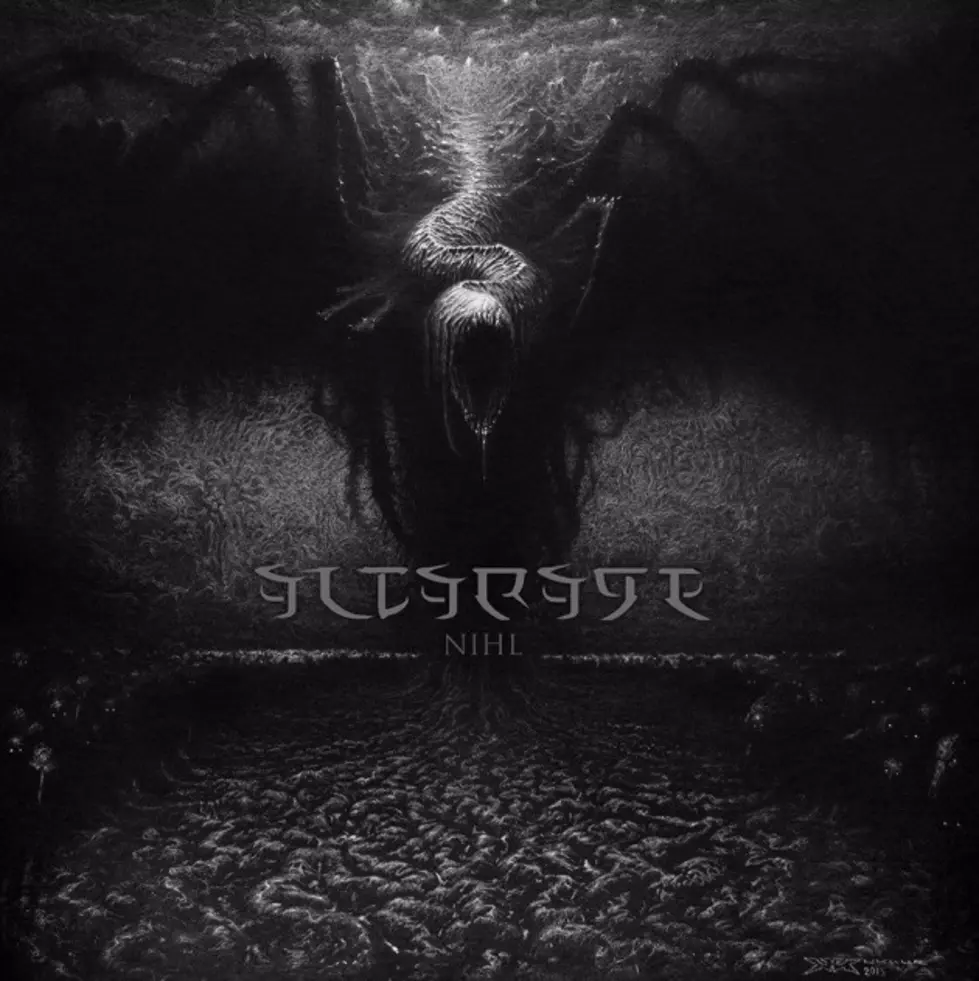 Upcoming Metal Releases: 2/21/2016 – 2/27/2016
These lists get longer and longer and my sanity gets weaker and weaker. It truly is amazing how many metal albums there are out there. When I first started listening to Cryptopsy some fifteen years ago I don't think I could fathom so many albums, let alone fans. The world is a weird place.
Below is a list of albums/EPs/demos slated for release between February 21st and February 27th, 2016. Want to chat? Scroll down to the comment box and tell me stuff. Preferably something other than a down-the-nose correction, which seems to be what the comment box has been relegated to for the past few months. C'mon people, let's converse!
send Jon your promos at jon@invisibleoranges.com
Altarage - Nihl | Iron Bonehead Productions/Sentient Ruin Laboratories/Sol Y Nieve | Blackened Death Metal | Basque Country
Altarage have quickly become the celebrated "black sheep" of the newfound "blackened death metal" revival. Instead of solely crafting a formless, atonal wall of sound, Altarage's primary output is riffs. With dials set to "obliterate," Nihl ascends and consumes, an inescapable black hole. They marry their genre brethren's deference to atmosphere with a keen ear for musicianship, resulting in a thick and crawling—but refreshingly defined—muck. Even at their most incoherent, which is still relatively tame and clear when put in a wider perspective, this Bilbao-based four-piece finds themselves at their strongest when laboriously trudging through viscous, sepulchral, chunking grooves, heralded by inhuman roars which fall somewhere between Tom Araya at half speed and a walrus roar. If I was a little more naive, you could probably convince me that Nihl was a field recording from deep within the non-Euclidean bowels of R'lyeh.
Slutet - Slutet | Psychedelic Lotus Order/Goatowa Rex | Experimental Black Metal | Sweden
Slutet is one of those brazenly unique, bizarre bands who completely spit in the face of black metal customs. Occupying the strange space between Woods of Infinity's Ljuset and Lifelover's Pulver, Slutet's stark, jangling brand of banshee-fronted black metal is a bitter, hallucinogenic pill to swallow. Initially released in a micro edition of 33 cassettes—which were only obtainable by sending the band's own label Teratology Sound & Vision a sample of your hair or body fluid—Psychedelic Lotus Order has made this surprisingly lengthy compilation available to the masses. Think Roky Erickson in corpse paint, or Burzum's more morose moments translated as the soundtrack to a technicolor hippie sacrifice ritual. This is some weird stuff, man. Turn on, tune in, drop out.
Oranssi Pazuzu - Värähtelijä | Svart Records/20 Buck Spin | Psychedelic Black Metal | Finland
Moving even further from the black metal tag which they call home, Oranssi Pazuzu launches their entire listenership into deep, kaleidoscopic space with Värähtelijä. Translating the familiar krautrock sounds of Popol Vuh and Neu! through an extreme metal prism, the many-colored psychedelic, Eastern-inspired sonic rays of Värähtelijä show these Finns both at their most adventurous and effective. A slow burner, the album grooves its way through over seventy minutes of "2001: A Space Odyssey"'s "Star Gate" sequence plugged into a lightly-corpse painted Big Muff pedal. (Actually, I wouldn't mind seeing if Oranssi Pazuzu could pull off recording an alternate soundtrack to that movie…)
From my premiere of "Mijn Verlossing":
A rumbling, scathing, terrifying blackened punk romp. Folteraar straddles the fine line between black metal's raw excess and complete incoherence, but use this sonic embodiment of chaos to their advantage. To put it bluntly, this is absolutely terrifying. The amorphous, improvised waves of sound creak and groan, enveloped in a crackling, disorienting haze. Vertellingen van een donkere eeuw as a whole is not an easy listen, but Folteraar is an effective reminder as to just how ugly and horrific black metal can be.

Deströyer 666 - Wildfire | Season of Mist | Black/Thrash Metal | Australia
Thrash metal might not be my forte, but I do know when I like it, and I've always enjoyed the drunken, black-as-pitch attack of Australian ex-pat KK Warslut's Deströyer 666. KK's minimal, bestial-meets-retro/Eerie Von-with-a-Blasphemy-backpatch approach has always been singular, and has consistently been of an extremely high quality. It may have been seven years since Deströyer 666 last "unchain[ed] the wolves," but Wildfire shows it might as well have been yesterday.
Anvil - Anvil Is Anvil | SPV GmbH | Heavy/Power Metal | Canada
Chances are you've seen Lips and Robb in Anvil! The Story of Anvil, or you've at least heard their seminal jam "Metal on Metal", yet Anvil continues to remain Canada's best-kept secret for what is very quickly approaching the forty-year mark. Granted, a band completing their fourth decade of activity is a likely epitaph for most, but Anvil is Anvil shows that Anvil is still just that: they are Anvil, and they aren't going anywhere.
Frozen Ocean - The Prowess Of Dormition | Apocalyptic Witchcraft Recordings | Atmospheric Black Metal/Ambient | Russia
Goatpsalm guitarist Vaarwel gazes skyward with his prolific (eleven LPs and counting, whoa) solo project Frozen Ocean. The project's seventh (yes, seventh) EP, The Prowess Of Dormition is a glorious offering of ethereal, crystalline atmospheric black metal, rife with majestic melodies and complex, thoughtful atmospheres. Utilizing an arsenal of instruments and synthesizers, Vaarwel remains rigid in composition, looking back to his early black metal influences, but fluid and progressive in execution.
Death Fetishist - Whorifice | Sol Y Nieve | Psychedelic Black Metal | United States
Matron Thorn, the prolific multi-instrumentalist behind Benighted in Sodom and Ævangelist (read my interview with them here) returns with yet another new project. A little bit more melodic than Ævangelist, but simultaneously less brazen with its experimentations, Death Fetishist expands on Thorn's super evil early-Katatonia riffs with maybe a hint of the frigid contemporary Montreal sound. Thorn's work isn't easy to pin down. Just listen to the damn thing. —Joseph Schafer
Ritual Chamber - Obscurations (To Feast on the Seraphim) | Profound Lore Records | Death Metal | United States
Once the The Pit Of Tentacled Screams demo hit my inbox nearly two years ago, I was hooked on Ritual Chamber. Not only was the music suffocating, catchy, and creative death metal, but also a continuation of sole musician Numinas's stellar music library, having also created or been a member of Krohm, Evoken, Drawn and Quartered, and even the Meat Shits. Unfortunately, where the demo succeeded, Obscurations falls short. Sure, some of the riffs are nice, a few even breach into "great" territory, but it just...isn't the same. I don't feel completely swallowed by Ritual Chamber this time around, partially due to much cleaner production, but the quality of the songwriting has greatly suffered. I'm pretty bummed, this was one of my "highly anticipated" albums of early 2016. Oh well.
Voivod - Post Society | Century Media Records | Progressive Metal | Canada
With their first solo release since 2013's Target Earth, Canadian stalwarts Voivod remain as experimental and weird as ever. Alternating between bouncing, Elfman-esque carnival discordance and slow, chiming brilliance, this surprisingly long EP (over 30 minutes!) shows that Voivod isn't going anywhere. I'm particularly happy about the fittingly sentimental Hawkwind cover which acts as Post Society's back cover. Makes you wonder if Piggy and Lemmy might be hanging out somewhere.
Coffins/Ilsa - Coffins / Ilsa | Relapse Records | Death/Doom Metal / Death/Doom Metal/Crust | Japan/United States
Coffins isn't re-inventing the wheel with their d-beaty sound tribute to Autopsy, but, then again neither is Ilsa. I know I don't listen to either band for anything "new and refreshing," but both are exceedingly good at what they do.
Black Cobra - Imperium Simulacra | Season of Mist | Sludge Metal | United States
Jason Landrian and Rafael Martinez might have an impressive combined resume, boasting former roster spots in Cavity, 16, and Acid King, but Black Cobra has always occupied that niche area of "poppy, riffy" sludge metal which never really agreed with me.
...
FOR THE ADVENTUROUS
Mount Moriah - How To Dance | Merge Records | Alternative Country/Folk Rock | United States
I feel like most of you aren't too well-versed in "country music." To be perfectly frank, I'm not, either, but, like my relationship with thrash metal, I know when I like it. I've always enjoyed the twangy, Fleetwood Mac-inspired sounds of North Carolina's Mount Moriah. Now, some of you might recognize guitarist Jenks Miller as the driving force behind Relapse Records artist Horseback, and there is actually quite a bit of overlap between Miller's two main projects. The lightly distorted guitar, emphasis on droning strings, even a slight Eastern influence all pervade Miller's inherent style, though Horseback's more, erm, "metallic" fanbase should stop reading here. On How to Dance, Mount Moriah's moves further into the poppy Americana which they perfected with Miracle Temple. Bouncing and sun kissed, the trio of Heather McEntire, Jenks Miller, and Casey Toll's warm country rock heralds the inevitable Summer, which should hopefully melt all the snow I've trudged through since last November.
...
FROM THE GRAVE
Batushka - Litourgiya | Witching Hour Productions | Black/Doom Metal | Poland
Heavy, melancholic black/doom metal with mournful Orthodox Slavonic Liturgical chanting? Where the hell was I when this came out last year? This is too good! Now available on vinyl through Witching Hour Productions - I'd order from them if they accepted anything but bank transfers. Any US labels feel like distributing this?
Ævangelist - Dream an Evil Dream | Sol Y Nieve | Atmospheric Black/Death Metal | United States
COnflict of interest keeps Rosenthal from talking about anything related to Ævangelist. Lucky you, I've got plenty to say, because Ævangelist is one of the most interesting extreme metal bands in the world provided you can tolerate their tremendous racket which is a chore. That chore is a little tougher on their less-polished EP's, like this gem that dropped last year shortly before their excellent Enthrall to the Void of Bliss LP. Are you like me, in that you require constant stimulation just to make it through the existential dread of the day? Take this twice and call me in the morning. Doctor's orders.
—Joseph Schafer
...
OTHER RELEASES
Anthrax - For All Kings | Megaforce Records | Speed/Thrash/Groove Metal | United States
Some people might not like old Anthrax, most people don't like new Anthrax...I don't like Anthrax at all. This album sounds like Scott Ian hosting Vh1 "best hard rock of the 90s" countdowns.
Todtgelichter - Rooms | Supreme Chaos Records | Avant-Garde Black Metal | Germany
Starting off as a painfully average "depressive black metal" band, Todtgelichter very quickly shifted gears to a much more experimental bent as their discography grew. Now? They kind of sound like a clunky, experimental mix of Paradise Lost, newer In Flames, and Lacuna Coil. I don't get it.
Goatcraft - Όλεθρος (Olethros) | Iron Bonehead Productions | Black/Death Metal | Slovakia
One of the few times in which I would advocate judging a band by its name. Yes, this is war metal.
Ereb Altor - Blot · Ilt · Taut | Cyclone Empire | Viking/Black Metal | Sweden
A viking/black metal band releasing an entire album of Bathory covers seems a little excessive, and it is.
...
More From Invisible Oranges