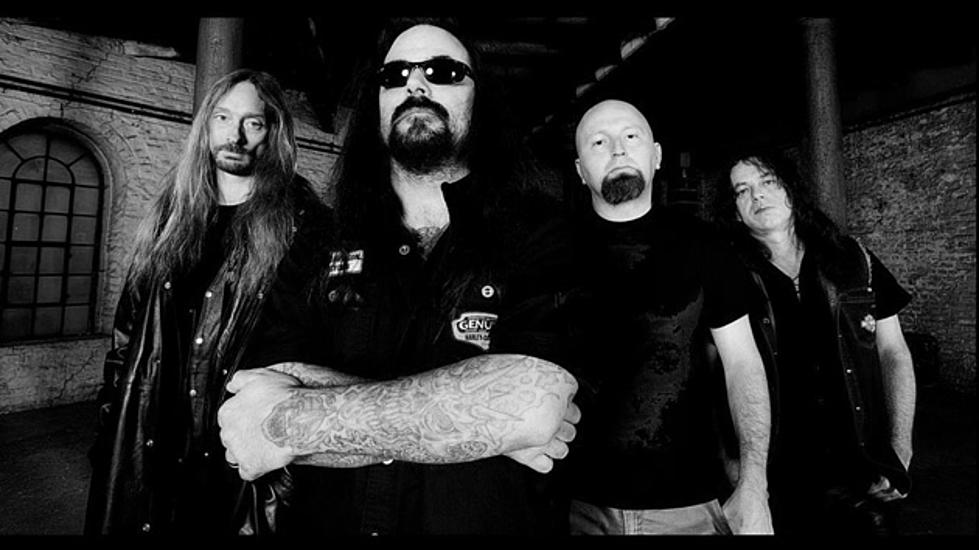 Tour: Deicide, Disgorge, Necronomicon, Broken Hope
How much has Glen Benton's upside down cross on his forehead faded with age in the Florida sun? In October you'll get the chance to find out, as he presumably will remove the bandana he hides it with and release all of his satanic flesh carving glory.
Just so you don't get too much death metal overload from Deicide, Disgorge, and Broken Hope, there's also progressive psych doom from Necronomicon. They're a slightly odd choice to round out this otherwise DM-leaning group of bands, but maybe after songs from Legion and Cranial Impalement, you'll be ready for something a little softer. Relatively speaking, anyway.
By the looks of this schedule, they're playing some relatively small clubs, so predictions are strong that most of these clubs will not be standing by the end of the show. A list of ruins and their dates of destruction are below.
DEICIDE, DISGORGE, NECRONOMICON, BROKEN HOPE - 2013 TOUR DATES
October 2 Atlanta, Georgia at Masquerade
October 3 Charlotte, North Carolina at Tremont Music Hall
October 4 Springfield, Virginia at Empire
October 5 Wilmington, Delaware at Mojo 13
October 6 New York, New York at TBA
October 7 Montreal, Quebec, Canada at Club Soda
October 8 Toronto, Ontario, Canada at WreckRoom
October 10 Columbus, Ohio at Alrosa Villa
October 11 Chicago, Illinois at Cobra Lounge
October 12 Kansas City, Missouri at Riot Room
October 13 Denver, Colorado at Bluebird Theater
October 15 Spokane, Washington at The Hop
October 16 Seattle, Washington at TBA
October 17 Portland, Oregon at Hawthorne Theatre
October 18 San Francisco, California at DNA Lounge
October 19 S. Lake Tahoe, California at Whisky Dick's
October 20 West Hollywood, California at Whisky
October 21 Phoenix, Arizona at Joe's Grotto
October 22 El Paso, Texas at Tricky Falls
October 23 Dallas, Texas at Trees
October 24 Austin, Texas at Infest
More From Invisible Oranges