Top Albums of 2014, by Dan Lawrence
Consensus is boring, right? Good, I'm glad we all agree.
Jokes aside, consensus is boring. If you read enough year-end lists (and this is hardly specific to niche metal sites such as ours truly), you're bound to get the sense of an invisible potter shaping so many separate lumps of clay into roughly similar configurations. Of course, there are understandable reasons why consensus is an emergent property of nearly any critical community (however loosely understood).
People who write about the same kind of stuff often read what others are writing; we often receive promotional materials for the same artists; we're social creatures and need, to some extent, a way to gauge ourselves against a peer group; and, to put it bluntly, there's an ugly but persistent drive to compete. Not to outdo anyone else's writing—Lord knows I would welcome that kind of arms race—but to grab our tiny share of the readership's eyes before those eyes are exhausted and looking elsewhere.
As a writer I understand these things, but as a devoted reader of year-end lists, these things really honk me off. Because whatever other functions they might perform, the real reason I like to read year-end lists from others is *GASP* to discover things I missed out on. And clearly, the more these lists converge to common consensus picks, the less useful they are.
Therefore, despite the fact that I have logged a Top 20 albums of the year feature elsewhere, I've decided to highlight 20 different albums here. All of these albums, by my personal estimation, haven't received quite as much attention as some of the likelier consensus picks. My goal is not to burnish meaningless credentials by mining the most obscure veins of the underground, but rather to point in the direction of a handful of albums I loved this year that could use a bit of a boost. After all, personal taste is fickle, lustful, arbitrary and capricious. The things we love today will not be loved the same way tomorrow.
So, in unranked order, here are 20 albums. Don't call it a "Best Of..."; call it "A Selection of Things That Brought Joy," or call it rude names, but maybe you'll find something here to ease your secret sadnesses.

Anubis Gate – Horizons (Nightmare Records)
If you were to take a poll on the most sumptuously lovely marginally metal album of the year, you'd probably see a fair showing for While Heaven Wept. My hand, however, would be flung emotionally in the air for Horizons, the sixth album from Danish prog/power geniuses Anubis Gate. Horizons is shimmering, bright, and almost mercury-coated in its cleanliness. Layers of tasteful synths play as much of a role as the thick, crunched-up guitars, and bleep-blooping electronics are all over the place. But, as it was in the beginning and shall be again, here it's all about the songs, which are graced with arcing riffs, soaring, stately vocals, and lush atmospherics. Anubis Gate is too beautiful for this world.

Arcana Coelestia – Nomas (Avantgarde Music)
Along with Germany's Zeitgeister collective and Sweden's Ancient Records, the (mostly) Italian bands under the ATMF umbrella are producing some of the most wonderfully idiosyncratic music the metal underground currently has to offer. Arcana Coelestia's immaculate black/doom shies away from the uglier, more hermetic side of the genre in favor of grander pastures, almost like a Swallow the Sun raised on Emperor instead of Katatonia. At other times, Nomas feels like a cosmic extension of Beatrik's magnificent Requiem of December. Whatever you call it, however you hear it—Arcana Coelestia knows the sadness of the stars.

Astrophobos – Remnants of Forgotten Horrors Triumvirate Records)
If reading the names Dissection, Sacramentum, Dawn, Vinterland, Necrophobic, Unanimated, Naglfar, et al. sets off a flurry of involuntary air-tremoloing, then brothers and sisters, Astrophobos is for you. This Swedish band is hardly interested in breaking new ground, but given the fact that this particular style of melodic black metal seems to have fallen out of favor since its mid- to late-'90s heyday, Astrophobos's pitch-perfect assimilation of that sound comes across like a frigid blast of fresh air. These songs are so confident, so anthemic, so triumphant, that it's not hard imagining a better world where this kind of thing filled the role of arena rock for ice giants.
Black Magic – Wizard's Spell (High Roller Records)
This is a bit of a hodge-podge, since the four proper tracks that make up the A-side are pretty stylistically different from the three proper tracks on the B-side (taken from the band's 2010 demo), but the relevant point is still: Black Magic's Wizard's Spell could hardly sound more 1983 if it wanted to. The A-side is loose and limber metal that walks all sorts of tightropes, from the razor-thin line that separated NWOBHM from nascent thrash (i.e., there's a lot of stuff that sounds like Kill 'em All and Di'Anno Iron Maiden) to the other razor-thin line that separated '80s metal from the occult botherings of black metal's earliest ancestors (i.e., there's a lot of stuff that sounds like Mercyful Fate and Show No Mercy). The B-side tilts to primitive, Frost-y black metal, and sure, "Embraced by the Occult" treads far too close to Darkthrone's "In the Shadow of the Horns," but as the latter is the best black metal song ever penned, it's hard to be too put out. High Roller Records puts out albums for lovers.

Exordium Mors – The Apotheosis of Death (Iron, Blood & Death Corporation)
You know you're in for something special when you listen to an album and think, "Huh, this is kind of like if Absu got even MORE grandiose and megalomaniacal." After a decade of activity, New Zealand's Exordium Mors cranked out this absurdly fun debut full-length of violent yet sophisticated black/thrash while winking slyly at Venom's At War with Satan by filling the whole A-side with a six-song suite of giddy, overblown riffcraft. You want humility in your heavy metal? Look elsewhere. But if you don't mind traditional heavy metal classicism and ornate compositions in your black/thrash, Exordium Mors is exactly the sort of fully realized ambition you need in your life. Abandon all hope, ye who bring inferior riffs.

Funereal Presence – The Archer Takes Aim (The Ajna Offensive)
Since it's a solo project from one Mr. Bestial Devastation of Negative Plane, that Funereal Presence plays a reverb-drenched take on spooky-as-balls black metal should hardly be a surprise. That he has managed to warp a fairly standard black metal template into songs that stretch routinely past 12 minutes without devolving into either trite repetition or over-stuffed compositions is something of a minor miracle. Occultation's Silence in the Ancestral House is the better of the Negative Plane-related releases this year, but The Archer Takes Aim is a sharp demonstration of how atmosphere and inventiveness can enliven a style whose constituent elements have barely changed in the last twenty years.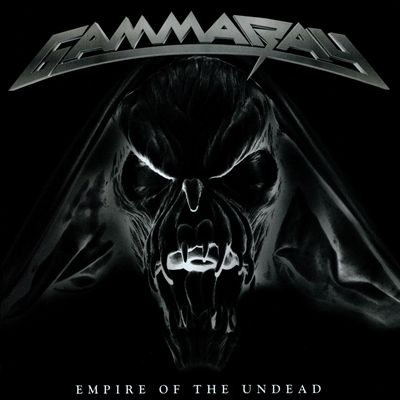 Gamma Ray – Empire of the Undead (earMUSIC)
Though I know plenty of folks were all atwitter over Falconer's Black Moon Rising, my pick for power metal from the old school tracks a bit older, with Gamma Ray's Empire of the Undead. (NB: If you ditched the execrable ballads from the new Unisonic album, it might have made a good run at Gamma Ray.) The band's pedigree is clearly impeccable - even if their back catalog hasn't always been - but on Empire everything you know and (hopefully) love about post-Helloween power metal is in full flower: speed metal riffs, immaculately arpeggiated solos, nonsensical lyrics, and glorious choruses. On the absolutely MASSIVE album opener "Avalon," Gamma Ray explore a wider range of moods than plenty of power metal bands do in an entire album, and even call to mind a bit of Avantasia's first two albums (whereas the chorus to "Hellbent" summons Painkiller-era Priest). Even the ballad "Time for Deliverance" leans more classic rock than a lot of the atrocious garbage power metal ballads often entail, sounding rather like Elton John by way of Queen. Nothing short of a masterclass in how to craft a power metal album in 2014, Empire of the Undead is damn near essential.

The Great Old Ones – Tekeli-Li (Les Acteurs de l'Ombre Productions)
To deal with the preliminaries first: Yes, The Great Old Ones are French, and yes, they play a thick, churning, often discordant style of black metal, and yes, they adorn their albums with impeccable, pitch-perfect artwork. The damnedest thing, though? They really don't sound anything like Deathspell Omega. With their second album Tekeli-Li, the band has crafted a concept album linked to H.P. Lovecraft's masterpiece, the novella At the Mountains of Madness. And while Sleep Research Facility's Deep Frieze will always be the perfect accompaniment for At the Mountains of Madness for this particular knucklehead, Tekeli-Li makes a hell of a go for it, with songs that are by equal measure bleak and beautiful, lightless and anthemic. At times, you can almost hear TGOO as though the paragons of French seriousness (Deathspell, Aosoth, Arkhon Infaustus, et al) were being interpreted by a band like Moonsorrow. It's a devilish thing to describe, but an absolute treat to hear. Wandering the Antarctic wastes never sounded quite so appealing.

Innsmouth – Consumed by Elder Sign (Abysmal Sounds)
Nothing but the creepy-crawliest of riffs and blown-out vocal husks form this Australian band's debut. Consumed by Elder Sign is crammed full of crude, simple, yet eerily memorable death metal that never sounds exactly like any particular forebear. Imagine their countrymen Sacriphyx falling down an OSDM rabbit hole, or perhaps very early Samael by way of mid-period Darkthrone. However you slice it, these riffs drip with a hair-raising sheen of unnaturalness, in all the very best ways. Grimy music for grimy people.

Johnny Touch – Inner City Wolves (Shadow Kingdom Records)
I'm not quite old enough to remember the time when heavy metal existed without subdivisions, but Inner City Wolves, the debut album from Australian classicists Johnny Touch, plays like a love letter to that pre-genre-spliced time. This is all the more heartening given the fact that Johnny Touch shares members with Cauldron Black Ram, Stargazer, and others. The point: No matter how gnarled and nasty their day jobs, now and again everybody loves a good old-fashioned gallop. For goodness's sake, the album has a cover that looks like Wendy O. Williams brandishing a shotgun while riding through a post-apocalyptic urban wasteland on the back of a giant wolf, and features a song called "Radiation Axeposure." The vocals might be a warble too warbly for some tastes, and the songwriting sometimes attempts to pull in more threads than needed, but did I mention there's a song called "Radiation Axeposure"? Quit posing (unless it's with an axe) and stuff your ears with this jubilation.

Manimalism – Manimalism (Adversum)
Depending on your inclinations, the progressions that black metal made as its second wave burned itself out were either utter bullshit or fascinating and inspirational. For those of you who lean to the latter, this long in the making debut from Manimalism calls to mind the very best of those years ('95-'98ish, say) when Black Metal Got Weird. Of course, given that Manimalism counts among its ranks a former member of black metal's Ur-weirdos Ved Buens Ende, this makes a particular sense. These seven songs are gloomy, twisting, melodramatic things, with the same sort of bewitching vocal approach that has made Virus such a unique sound. If your giblets get to tingling at the thought of Fleurety, In the Woods, Ved Buens Ende, Solefald, Ulver, as well as more modern avatars of the wildness within as Virus, Code, Vulture Industries, and so on, then Manimalism is your ticket to ride. Get it punched.

Noble Beast – Noble Beast (Tridroid Records)
Gross generalization alert: Americans don't really like power metal. Of course, that's an unfair, oversimplified indictment of my peers, and yet, it rings sharply true, inasmuch as if Americans actually liked power metal, Minnesota's Noble Beast would have been immediately showered with all the wenches, mead,and loincloths our fair country can muster upon releasing this album. The band's self-titled debut album is a thrilling, shit-kicking affair in the mode of early speed/power Blind Guardian. Muscular enough to avoid being flowery but fleet enough to not quite hit trad territory, Noble Beast is the real thing, and I weep for my power-less country.

Old Wainds – Nordraum (Negative Existence)
With all due respect to the masters Immortal, these days Russia's Old Wainds are the true blizzard beasts. After a few of their albums gained wider exposure when they were picked up for reissue by Southern Lord some years back, Old Wainds has slipped into reduced visibility. The good news, however, is that Old Wainds sounds like the kind of band that wouldn't give ten shits about recognition if they were co-headlining with Iron Maiden at Donington. Thus, the Old Wainds formula remains unchanged: frigid, flinty torrents of tremolo riffing, cruelly unremitting blasting, and ice-demon sermonizing. Like Tsjuder stranded in Siberia, or early Dark Funeral with better riffs: Old Wainds wants you for dead.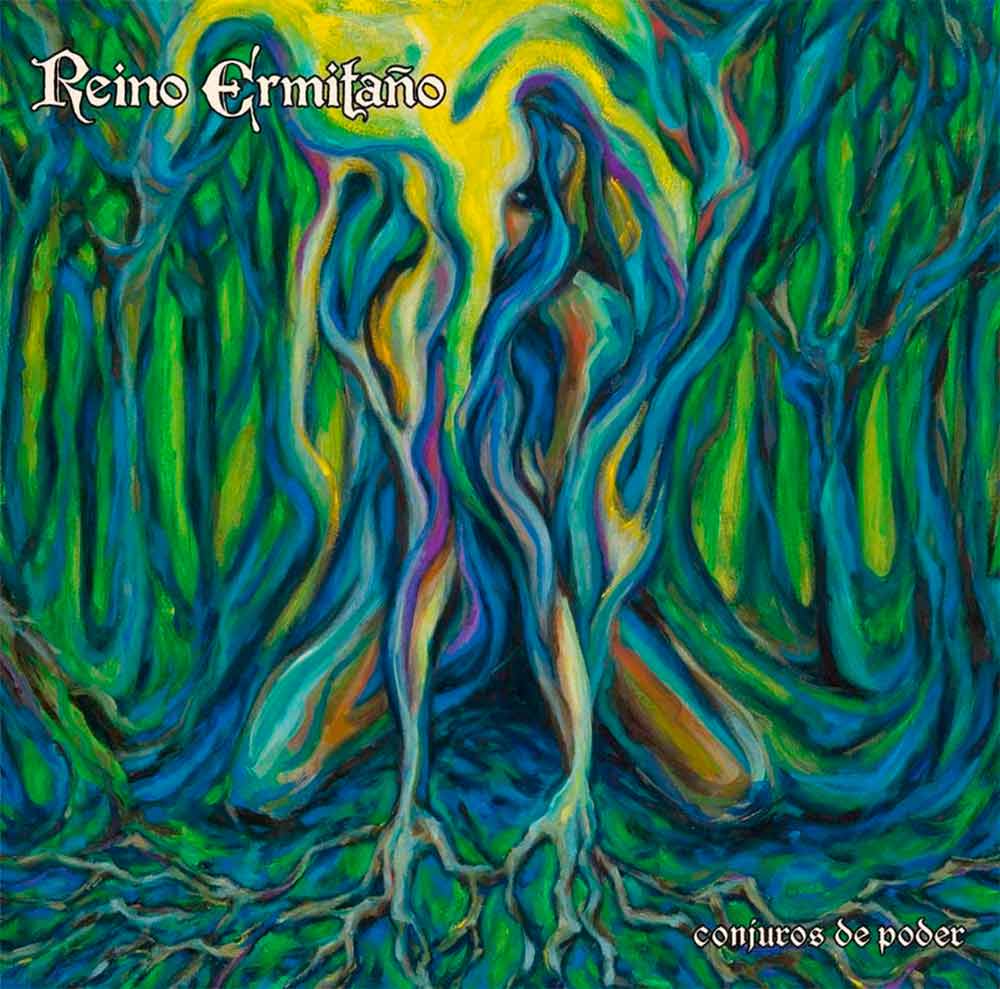 Reino Ermitaño – Conjuros de Poder Ogro Records)
Not that my sample size is particularly large (in fact, n = 1), but it is nonetheless with great confidence that I can proclaim Reino Ermitaño my favorite Peruvian doom band. Over the course of five excellent albums, they have steadily found a formula that weaves pure magic, by pairing their familiar sort of warm-amp riff-forward doom with healthy doses of psychedelic accents and the gritty, inimitable alto of singer Tania Duarte. Reino Ermitaño is practiced at shorter rock-centric songs, but they really shine when they allow themselves to stretch out, as on album highlights "Estigma de Cain" and the brilliant, flute-assisted "En mi Mente." This is probably the band's best album since 2006's Brujas del Mar, and well-worth investigating for the born too late among you.

A Sound of Thunder – The Lesser Key of Solomon (Mad Neptune)
With their fourth album The Lesser Key of Solomon, A Sound of Thunder continues their streak as one of America's best-kept secrets. This may be partly due to their tradition of independence—this, as with several previous albums, was crowdfunded via Kickstarter—but it's also a hard truth that the band's muscular, dramatic take on power metal is deeply unfashionable. Of course, for the devotees, that makes the album's delirious triumphs all the richer. Nina Osegueda turns in another show-stopping performance, with an unparalleled charisma and conviction, while the songs themselves spin out in myriad directions, pulling in speed metal, prog digressions, sturdy doom, and brilliant theatrics in the best King Diamond tradition. I will repeat: If you fancy yourself a fan of traditional and power metal and aren't yet listening to ASoT, please clear some time in your schedule.
Oh, and "Elijah" is the best metal song of the year.
Spectral Lore – III (I, Voidhanger Records, Greece)
As black metal solo projects go, Greece's Spectral Lore is almost in a category of its own. Far from the Burzum-descended hordes of slit-wrist mopes, Spectral Lore's vision contains entire universes. His latest, the double-album III, pulls in whatever elements it needs to explore its many shifting moods, from cosmic black metal (Krallice by way of a sun-warmed Darkspace) to psychedelic flourishes, and from dark ambient to melodic leads that evoke the ghosts of Gothenburg. III is a sprawling, meandering, definitely over-long album, but in this case that too-ambitious scope suits the music perfectly. This is an album to get lost in, as each listen reveals such laser-fine attention to detail that we may still be unlocking its secrets five years from now.

Striker – City of Gold (Napalm Records)
If you allergic to fun, this is not the album for you. Everyone else, please sidle up and drink your fill of this full-bore throwback to when hi-tops were hi-tops and small furry creatures from Alpha Centauri were small furry creatures from Alpha Centauri. Canada's Striker (because, of course they're Canadian) is about as underrated as it gets, despite City of Gold landing via alternately venerable & risible peddlers of pomp, Napalm Records. More to the point, though, City of Gold is jammed full of hot licks and kick-splits, hearkening to a genre-agnostic style of metal that's not quite power, not quite thrash, not quite hair, but that pulls liberally from that whole trough of wonder. The singer occasionally goes Dickinson, but more often tilts Belladonna, and the arrangements crack with the raw energy of dudes who want to solo so hard that they only impatiently settle into hard rock riffs. Better than Cauldron, and better than a 2x4 to the marbles and/or lady marbles, so pump your fists and scream with "Rise Up": "To live! And die! A freeeee maaaaan!"

Tengger Cavalry – Ancient Call (Metal Hell Records)
For folk metal to be true to its name—i.e., with folk related to the German Volk, meaning 'the people'—then it ought to sound a bit different depending on what people it purports to represent. Where Taiwan's Chthonic too often ends up sounding like Children of Bodom with slight regional differences, China's Tengger Cavalry grafts a more fully formed folk music onto its frame of galloping heavy metal and melodic death metal. Indigenous folk instrumentation plays a more prominent (but also more natural-sounding) role, but the real draw is how Tengger Cavalry have so effortlessly surpassed the novelty factor by writing damned sturdy heavy metal songs. Ride with these nomads of the steppes.

Töxik Death – Speed Metal Hell (Demonhood Productions)
When I reviewed this album back in February, I said it was "exactly the sort of busted jaw brilliance you need in your life if you've worn out multiple copies of Voivod's War and Pain and Sodom's Obsessed by Cruelty, and if you love Aura Noir but really wish they played a bit sloppier." If anything, my estimation of this ferociously inviting little album has only grown since then. Töxik Death scratch a comfort itch while never sounding fussed-over or postured. Stack Speed Metal Hell next to Aura Noir's The Merciless and Condor's self-titled album, and prepare yourself for a ghoulishly good time.

Wreck & Reference – Want (The Flenser)
Although it comes late in the album, the song title "Machine of Confusion" is a pretty decent summation of Wreck & Reference's music. A drums & electronics duo shouldn't theoretically be capable of producing as much discomfort and dread per capita as W&R do, but that's a large part of why Want, like No Youth and Black Cassette before it, is such a riveting document. One gets the sense that if the body-horror film genre ever needed to be translated to pure sound, it would be best done by acts like Wreck & Reference, Pinkish Black, Loss of Self, Have a Nice Life, and so on. By the time the album closes with "Apologies," you'd be hard-pressed to identify who is apologizing, and to whom. I think that's the point.
So, what about you? What albums did you love this year that seemed to fly a bit below the general radar?
More From Invisible Oranges