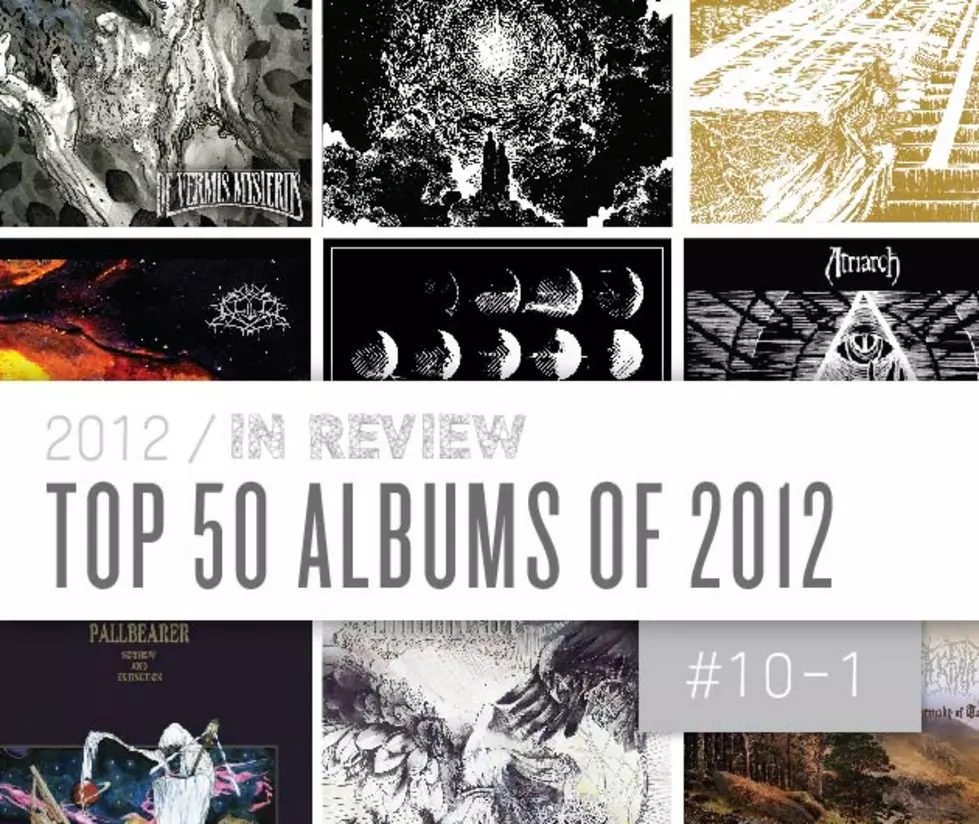 Top 50 Albums of 2012: 10 to 1
For an explanation of how we determined our Top 50 albums of 2012 (and for a look at albums 75 to 51), see our first post in the series, Top Albums of 2012, 75 to 51.
10. Samothrace - Reverence to Stone
Samothrace gave us only two songs on their follow-up to 2008's Life's Trade. Long songs, still, at 14 and 20 minutes, but frustratingly short after a 4-year wait. We know there's more, a lot more, that they could give us, but their restraint and our yearning makes their atmospheric doom all the more precious. Bassist Dylan Desmond's other project, Bell Witch, is similarly satisfying, with only bass, drums, and vocals. — Vanessa Salvia
Samothrace - "When We Emerged"
9. Winterfylleth - Threnody of Triumph
Winterfylleth's Anglo-Saxon black metal is far too mournful to count as folk metal, but more focused on deeds of history than the average black metal band. As a result, their conceptual identity has been hard to pin down until now. Here, they recast themselves as bards of lost Albion, playing droning black metal not for past glories but for a place that never was. The sound is deep and cavernous, like winds across the empty moors of a forgotten England, and the result is one of the best English black metal albums of recent memory. — Rhys Williams
Winterfylleth - "The Glorious Pain"
8. Atriarch – Ritual of Passing
Atriarch's Ritual of Passing often sounds like a call to arms—an impassioned plea for change on the societal level that vocalist and self-proclaimed anarchist Lenny Smith has previously said (much more eloquently than I am here) necessitates a dismantling of the powers that be and a rethinking of how we treat and relate to one another. Smith screams, wails, and ominously speaks his message across seven incredible tracks, from the sludgy, chugging deathrock opener "Parasite" to the psych-drenched and shapeless "Outro". If Ritual of Passing is a manifesto, I became a follower at Saint Vitus in Brooklyn in November when Atriarch entranced the crowd, Smith menacingly (those eyes!) belting out his lyrics while the rest of the band effortlessly moved from blackened doom to headbanging rock. — Wyatt Marshall
7. Mutilation Rites – I Am Legion
While Brooklyn's Mutilation Rites are black through and through, they let enough space in for a serious thrash attack, with a crusty scab bleeding through now and then. I Am Legion is revised and re-recorded versions of previous songs, so it's short—three tracks clock in at only 17 minutes on a one-sided 12-inch. Dose yourself with punk whiplashed black metal and build up your tolerance for the next round of Rites. — Vanessa Salvia
Mutilation Rites - "Terrestrial Hell"
6. Pig Destroyer - Book Burner
Did anyone doubt that this would rule? Five years is a lot of silence to endure for a half-hour of grindcore, but it's difficult to imagine anyone being bummed about the follow-up to 2007's genre-defying/defining Phantom Limb. Book Burner is just as good, only leaner, meaner and considerably more unhinged. — Brad Sanders
Pig Destroyer - "The Burning Palm"
5. Dawnbringer - Into the Lair of the Sun God
Perhaps years of writing Nachtmystium lyrics left Chris Black weary of playing the villain or the victim. On his second LP with Profound Lore, Black celebrates the archetypal hero, in all of his glory and his naivete. Into the Lair of the Sun God is a multifaceted gem, and functions as much a single suite as a collection of great songs. Black has written the first great rock opera of the 2010's. — Joseph Schafer
4 High On Fire - De Vermis Mysteriis
Everything came together for High on Fire this time. The songs had enough hooks to stick, but not enough to disturb the signature turbulence. The production was clear, but not too clear. Every song could be someone's favorite on the album. With all the little details in place, the big picture emerged bigger than ever: blood, thunder, earth, smoke, and, yes, fire. Years of pushing the Wheel of Pain have made this sonic Conan unbeatable. — Alan Smith
High on Fire - "Serums of Liao"
3. Krallice - Years Past Matter
I don't think it's possible for me to gush any more about YPM than previous, so I'll defer to myself from earlier this year: "Years Past Matter further solidifies a sound so singular and realized from Krallice that it renders their competition unlistenable, or unable to compete at the very least. Despite their prolific decimation, they manage to inspire rather than discourage, joining the ranks of artists who've historically set the bar for others to better." — Aaron Maltz
2. Converge - All We Love We Leave Behind
Converge has come a long way in the eyes of the metal community: once a metalcore interloper and bugbear, now a consensus critical darling. This perennial IO favorite has mellowed a touch with age (22 years!), but they still shred, and their songs dart right through that chink in your armor and into your guts. All We Love We Leave Behind continues Converge's unimpeachable post-2000 run. Here's to 22 more years. — Doug Moore
Converge – "All We Love We Leave Behind"
1. Pallbearer - Sorrow & Extinction
This unassuming Little Rock four-piece quickly became 2012's biggest metal success story, and for good reason. Sorrow and Extinction is a masterful piece of doomed art, a testament to both the grand traditions of the old guard -- Candlemass, Saint Vitus, Pagan Altar -- and the genre's boundless potential for improvement, progression, and desolation. Pallbearer's debut is steeped in sorrow, in hopelessness, in dead-end jobs, Southern melancholia, and darkened days. Wreathed in a luminous guitar tone, the riffs gasp and crawl, shuddering along beneath Brett Campbell's soaring, startlingly evocative voice and breathing new life into old ways. It's a doom album for the ages; grief is universal, and no band has managed to capture and distill its pure essence the way Pallbearer have done so effortlessly. This is their redemption. — Kim Kelly
More From Invisible Oranges