Top 10 Most Metal Guitars Ever Made
I am a complete guitar nerd, and love scoping out what axes bands heft onstage. The more ridiculous and aggressive, the better. This is metal, after all. Below are my 10 picks for the most metal guitars ever made. (Click on each image to enlarge it.) I employed one rule: all guitars had to have three-dimensional appeal. They couldn't just be normal guitars with fancy paint jobs. You'll quickly see what I mean by three-dimensional.
Ikon Customs Slime Guitar - Trey Azagthoth Model
Houston-based Ikon Customs made this one-of-a-kind guitar as a tribute to Morbid Angel's Trey Azagthoth. It accurately captures the slimy neon green aesthetics of the Domination album. Carved into the top of this Ibanez Universe are the faces from the Altars of Madness cover. Sick!
KxK Karl Sanders signature WarriorV
KxK Guitars, another custom shop, made this radical design for Nile's Karl Sanders. It's futuristic, like Egypt via Stargate. The WarriorV name is apt, as the headstock is rather spear-like. See Sanders wield it here and here. Also, check out its various options, like different woods, ankh inlays, and a mind-blowing double-neck (here and here).
Ibanez SHRG1Z - HR Giger Limited Edition
The SHRG1Z is Ibanez' second collaboration with HR Giger, creator of Alien and pal of compatriot Tom G. Warrior. The first guitar collaboration was more along the lines of "fancy paint job." This one has detailed engraving in the body, which this time is the super-sexy Ibanez S shape. I love the "barbed wire" inlay snaking through the fingerboard. For more pictures, see here, here, and here.
Emerald Alien
Speaking of aliens, here is the Alien by Emerald Guitars, an Irish custom shop. Above is the super-sexy back of the guitar. You can see its front here. I learned about this guitar (and several others here) through the fantastic Guitar Noize blog. Check out also this post about another Emerald Guitar called the Bahamut, which is even crazier. The design is a dragon with frickin' lasers on its head.
Amfisound Routa - Arctic Kelo finish
This guitar, by Finnish guitar makers Amfisound, screams "pagan metal." Truly, it is worthy of serenading Valhalla. A blacksmith forges the metallic parts, and the overall finish takes eight months to complete. You can see more pictures and read about it here.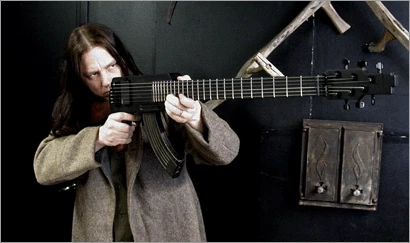 Amfisound Lopashnikov 2008
Amfisound also made this custom baritone guitar for Sami Lopakka (Sentenced, KYCK). Its body comes from a replica of a Kalashnikov AK-47. This beauty has neckthrough construction, an Earvana nut, locking tuners, and a single EMG81 pickup. Talk about machine-gun riffing! See more pictures and read about it here.
Johnson AK87/91
Speaking of gun guitars, here is an absurd one by Johnson Guitars. It is one of three machine gun designs; see the other two here. Johnson makes all sorts of strange guitars, including fighter plane and Egyptian shapes. Maybe Karl Sanders should look into the latter.
ESP Armor Custom
The next three guitars come from the lunatics at ESP's Custom Shop. It must be a nice job to turn people's deranged ideas into reality. (See, for example, the least metal guitar ever.) The Armor Custom guitar screams "power metal." You can see a nice photo of it here.
ESP Shinigami
Careful with that axe, Eugene. See more photos here.
ESP Masaki Kyomoto Custom Samurai Special
Speaking of weapons embedded in guitars, ESP's Samurai Kyomoto Special features an actual samurai sword that one can pull out. See photos here; it's redonkulous. This is a one-of-a-kind guitar made for a Japanese actor in samurai movies, so it makes sense. Sort of. I could see Dethklok doing damage (to its audience) with this.