The Unbearable Lightness of Deafheaven
"Whatever happens, I love you"
I heard this sentence slurred in a low voice by guitarist Kerry McCoy from behind a cigarette and under a blanket of heavy and humid air. It happened just seconds before Deafheaven took the stage for their 4th sold out show in a row. The words seemed to resonate and bounce across cinder blocks in the dark hallways behind Brooklyn venue 285 Kent. What could have quite possibly been a simple, drunken statement of affection to bandmates is given considerable weight in the context of a band who's history has been riddled by uncertainties. A band whose members have managed to defeat the obstacles of expectations, unstable line-ups, and the occasional stint of homelessness.
Perhaps the most impressive quality in Deafheaven's composition is their ability to turn uncertainty into expansion. So it only makes sense that in one conversation over the course of my three days with Deafheaven, vocalist George Clarke would claim confidently, "Being content is one of the worst things someone could do to themselves".
Separated by only a few feet in the small back room of a Greenpoint apartment, I sat next to George in front of a buzzing window-unit air conditioner while we discussed one of the major influences behind the philosophy of their latest record Sunbather, Milan Kundera's 1984 novel, "The Unbearable Lightness of Being". I recognized a line from the book underneath the harsh layers of corrosive yet serene noise in "Please Remember".
"I've just always enjoyed it and definitely related to it, to the character Tomas. He's interesting. He believes in love, but he also believes in sex and that the two are different. That you can have one without the other. He has this very selfish behavior, but it's completely human and I feel like I've gone through a lot of that, to view them separately. At the same time though, it's one sided. He can't handle the idea of his own feelings being used against him. It's just massive insecurity, trying hard to be faithful and not succeeding. That passage just sums up a lot of what I see in myself."
Considering the feelings of lightness that him and the remaining members of the band feel towards many aspects of life, it's apparent that band is their individual heaviness realized.
"To a fault, I have a lot of apathetic viewpoints to a lot of different things. Politics, occasionally relationships, occasionally friendships. There has to be something grounding, and that's definitely what Deafheaven is. People are surprised when they meet us that we're not these serious, brooding people. Those aspects are definitely there, but they go towards the art that we make."
Spend an hour with them in the van or in a green room, at brunch, or even swallowing mixed drinks in a backyard and you'll barely ever see anything other than friendliness; a playful and far-from calculating band that doesn't fully recognize their own clairvoyant ability. It's these characteristics that shape the explosive, yet reserved honesty found in Sunbather.
It's a record that balances the delicate nature of idealism with real world consequences with melancholy. It's the soundtrack to vigorously bargaining between desire and immorality. Even the artwork boldly suggests an invented yet hopeful reality.
"Though most of the subject material is negative or depreciating, I've learned to embrace how beautiful human emotion actually is. Deafheaven is my celebration of the ability to feel, because most of the time I don't feel anything at all."
After one sold out show at Brooklyn's Saint Vitus and another at Boston venue TT & The Bear's (both part of a larger tour with Marriages), they were back in New York City for a hastily stitched-together show at the "DIY" warehouse venue known as 285 Kent, almost twice the size of the venue two days before. The room fills quickly during the opening acts, and it was clear that this was going to be another sold out evening.
Deafheaven is welcomed with explosive applause, and never ones to break their introverted, self-centered aesthetic, they barely react. Standing still, instilling an awkwardness which silences the room. It's not out of confidence or cockiness. Instead there's an endearing quality coming from this group of individuals who are about to bring their deeply personal craft to an anxious crowd.
George leans over the first row of people, one foot on a battered monitor, his weight placed on the mic stand. Kerry looks back to drummer Dan Tracy and guitarist Shiv Mehra before filling the room with the opening notes of the track "Dream House." The apocalyptically seductive chords are met with a level of excitement I've rarely seen before. Tracy and bassist Stephen Clark begin battering the graffiti covered walls and corrugated steel ceilings with jarring blasts. Hands reach for George and he finally breaks form, but only to hold the ones reaching for his. Once the vocals begin, Clarke snarls and snaps with his eyes focused intently on every individual in front of him, his free hand exploring his own body, face, and even mouth.
A testament to precision and purity, the song winds through delicately composed movements by the triumphant guitar work of McCoy. At the climax, Clarke straightens and falls backwards into raised hands. Just as the song began, it also ends drenched in trenchant serenity. A visibly exhausted man, riddled with the burden of both lightness and weight, floating above a sea of hands. Swaying atop movement he's responsible for creating, and all out of fear of inadequacy. And this is only the first song.
Deafheaven at Saint Vitus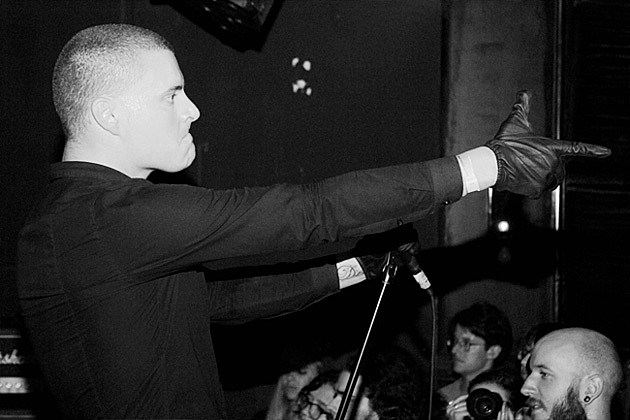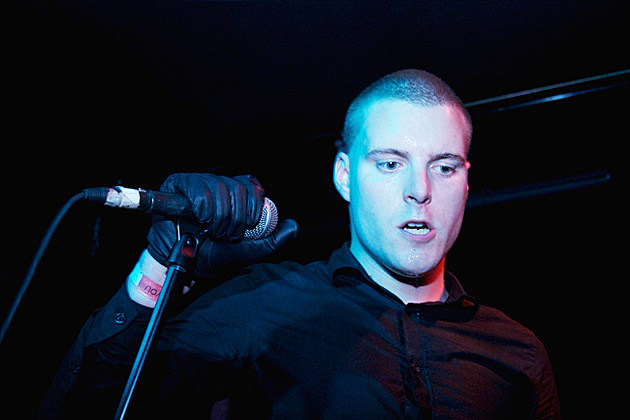 More From Invisible Oranges