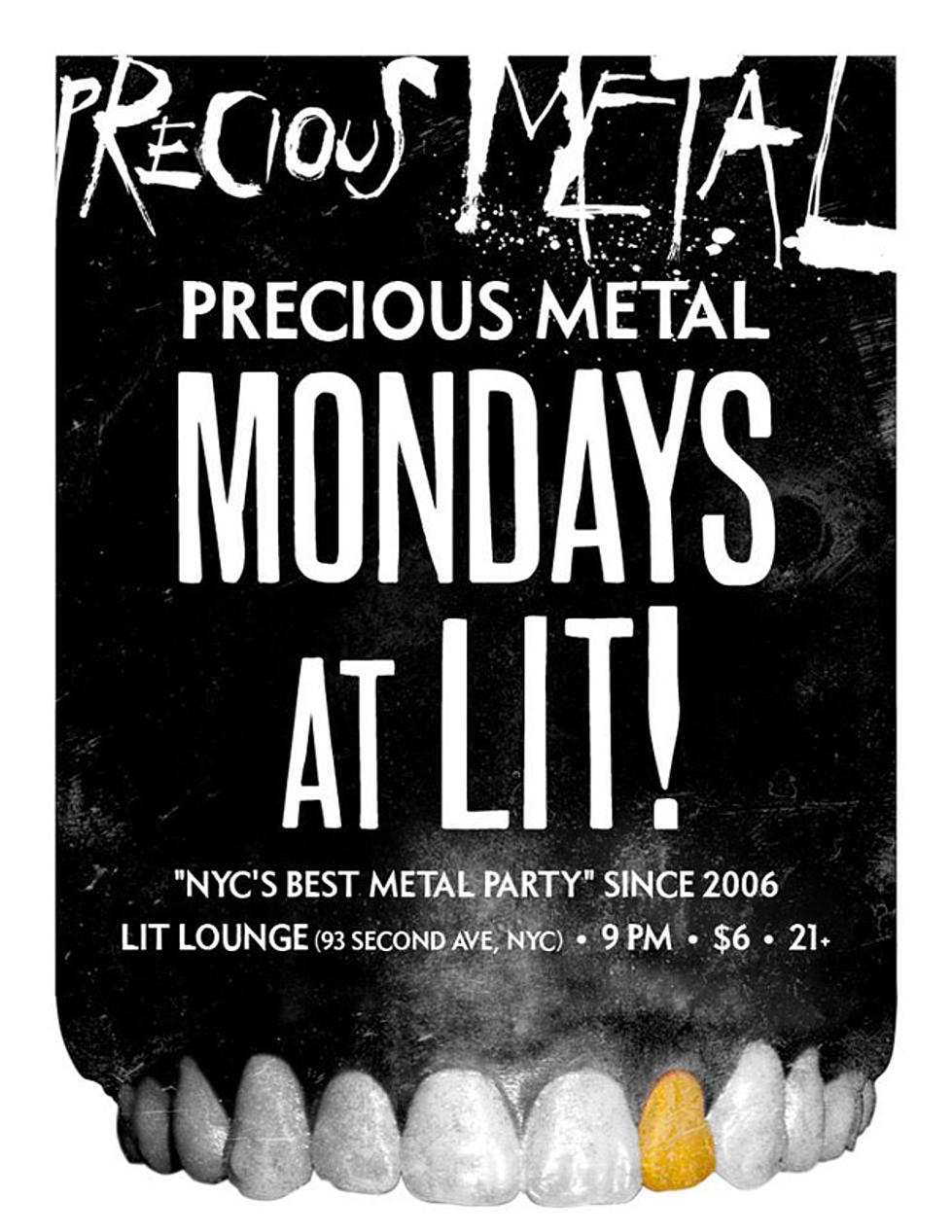 The End of Precious Metal: NYC metal staple bids adieu
After over 300 shows and 6.66 years, Curran Reynolds' Precious Metal showcase series is coming to an end tonight.
Since 2006, Curran has been hosting Precious Metal parties almost every Monday in the basement of the Lit Lounge, an otherwise-fashionable bar in Manhattan's East Village neighborhood. (The intersection between Precious Metal's grubby audience and Lit's normal crowd was always amusing.) On its face, the Lit basement has little going for it as a show space—it's cramped, acoustically crummy, and suffocatingly hot during the summer.
Still, I'll miss those sweaty basement shows. New York City has a paucity of DIY basement venues, compared to other major East Coast cities. Precious Metal shows were the best way to experience the thrill of watching unsung bands in claustrophobic environs. The series delivered the goods with an intimacy that was exhilarating, scary, and typically a little smelly.
Considerable goods they were, too. Curran is a stalwart of New York metal, and he used Precious Metal to help launch the careers of countless homegrown bands (including my own). He booked scads of notable out-of-towners too; the complete Precious Metal event calendar sports a dizzying array of highlights, from Misery Index and Ramallah to Ehnahre and Lord Mantis. Over the years, Curran displayed a gift for picking out future buzz bands before the broader metal press cottoned on to them: Landmine Marathon in 2006, Trap Them in 2007, and Liturgy in 2008, among others. He did all of this while maintaining an open door; Precious Metal was communitarian, not elitist. IO founder Cosmo Lee called it "Manhattan's epicenter of underground metal" for a reason.
During Precious Metal's run, the NYC metal scene has grown into one of the most vibrant and productive in the country. I caught up with Curran by e-mail to discuss his memories of the series.
Why is Precious Metal coming to an end?
The time has come! I did everything I hoped to do with Precious Metal—and more. I booked over 300 shows that featured bands from almost every state in the US and ten other countries. I met people who would become my best friends, my bandmates, my colleagues, my clients. I think many people would tell you similar stories—it was a meeting place in which a scene grew. This scene is thriving now and Precious Metal is a chapter in the ongoing story of New York. By giving it a decisive end, it will remain a positive thing in my mind and hopefully inspire others to make their own mark and do cool stuff. There's so much talent and drive here, I know the void will be filled right away.
You've run Precious Metal for nearly seven years. Can you describe the changes you've witnessed in the New York City metal scene during that period?
I was pretty deep in the New York metal scene for six years before I started Precious Metal. I was the publicist at Earache Records' New York office from 2000-05 and played around town in my own band Wetnurse during that time. Many of Wetnurse's shows were ones I booked myself. The first New York show I ever booked was in 2001. It was the odd pairing of Cattlepress and Cannibal Ox at a diner in the Lower East Side. Another highlight from that era was the time in 2003 I booked Between The Buried And Me and Premonitions of War at a tiny basement bar in the West Village. 
Some of the people still active in the New York metal scene today were around through all of that. Many were not. When I started Precious Metal in 2006 I already felt like a veteran. Little did I know how much the scene would change in the following years. Social media surely played a part in it, making it easier to connect with people and creating this visible representation of things—a mirror of sorts. There is now a clear network by which to get things done, which didn't exist so much before.
Seems to me, things really started booming in the late 00s. By that point there was a long list of promoters putting on really good shows around town—people like Brandon Stosuy, Fred Pessaro, Rich Hall, Dave Castillo, Joanne Filipone, and Adam Shore—as well as a bunch of powerful New York-based sites like Pitchfork, Stereogum, BrooklynVegan, MetalSucks, and MetalInjection, all covering metal. Then there was the opening of two excellent venues here dedicated solely to heavy music: Saint Vitus and The Acheron. 
You have a knack for booking unknown bands that go on to great things. Which bands are you proudest of discovering and showcasing at Precious Metal?
What were your five favorite Precious Metal shows?
I put on over 300 shows under the Precious Metal banner so it's tough to choose five. Some fond memories include: Landmine Marathon's first appearance, the night Steve Austin (of Today is the Day) performed Johnny Cash and Skid Row covers, my first anniversary show with Mick Barr (of Krallice), my third anniversary show with Trap Them (and Barney Greenway in the crowd!), and every time Tiger Flowers played. 
As a drummer, I want to make a special shout-out to all the drummers. I learned so much from seeing all these different players play, week in, week out. And some of my best memories are non-musical: the times my dear friend and door man Matt Kepler would bake erotic birthday cakes for everyone to enjoy, for example.
A complete list of every show is here.
Also check out Justina Villanueva's nice photographic tribute here.
What's the weirdest thing you ever saw happen in the Lit Lounge's basement?
There was the night a guy broke a bottle and calmly cut his own arms while standing front and center watching Abacinate.
Other weirdness resulted from the upstairs/downstairs culture clash, but this was always a good thing in my opinion. For most of Precious Metal's reign in the basement, Lit hosted a party called Hugs on the main floor that, at its peak, drew hundreds of people—more of a fashion and art crowd. So with these two parties happening simultaneously we'd get some crossover. People from upstairs would wander down to check out the noise or vice versa, people would go upstairs to dance and look at celebrities. I think this diversity was a factor in Precious Metal's success. It's what New York is about. It wouldn't have been as fun if we were off in some isolated room somewhere. 
What's next? Will you book or curate other metal shows in the future?
I'm a publicist for bands—my PR work continues. I play drums in Today Is The Day - we have new music on the way and we're headlining a US tour in March and April with Black Tusk, KEN mode, and Fight Amp. My band Wetnurse has a new album in the works and I made a solo record under the name Body Stuff that will be out this spring. 
As for future bookings, the sky's the limit. In the meantime, venues like Saint Vitus and The Acheron are doing a great job.
Yes, always! Thank you. And thanks to everyone who made Precious Metal what it was—all the bands and DJs, writers and photographers, metalheads and party people, and the owners and staff of Lit.
Anyone in New York, come out to the Grand Finale tonight! It's a benefit for The South Sound, a Brooklyn music studio destroyed by Hurricane Sandy. The South Sound is owned by John Lamacchia whose band Candiria was an inspiration to me in the 90s when I first moved to New York. Giving a little something back to John felt like a fitting way to end the series.
The lineup for the final show is as follows:
More From Invisible Oranges