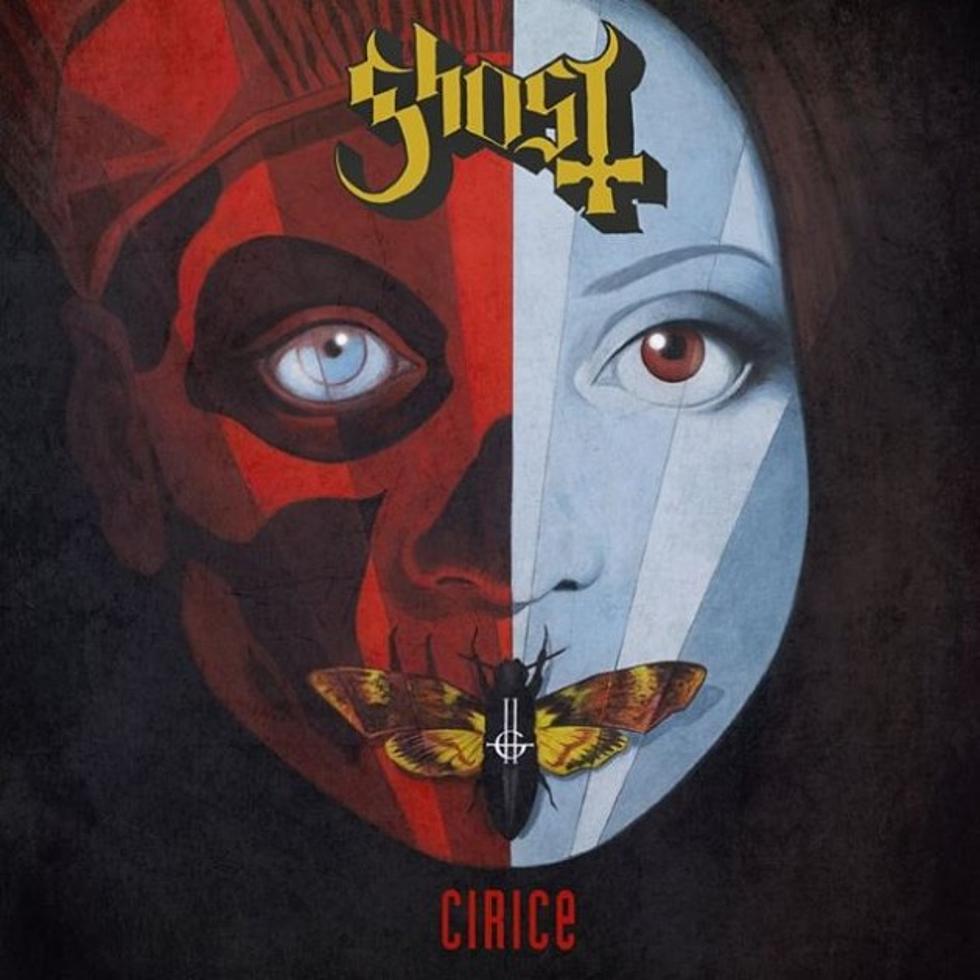 Ten Songs I Want Ghost to Cover
At this point, Swedish theatrical metal-rock outfit Ghost require no introduction, though it's worth mentioning how much I love not having to type "B.C." after their name.
The anonymous-ish group is about to release a new album, Meliora. Like its immediate predecessor, Infestimassumam, it's got some excellent songs and some crap ones, which is about what I expected. Their debut, Opus Eponymous, is pretty much the True Detective Season 1 of metal: a fully-formed masterpiece of light plagiarism that won't tolerate a follow-up, even if that follow-up is in its own way more interesting.
At this point in time, I'm way more interested in hearing Ghost's covers. Their reworking of The Beatles' "Here Comes the Sun," still wows, and the brief If You Have Ghost EP provided four more very good (if less musically ambitious) covers.
What makes Ghost's covers so good is not just that they're well-performed, recognizable echoes of the originals with reworked instrumentation, but also that they all lyrically fit the occult themes found in their original songs. When they adopt another artist's work, they fold it into their ongoing storyline which is the actual core ethos of the band even after abandoning garagey doom for a more produced sound.
It makes sense that the guys in Ghost make great covers: from the go the primary selling point for the band was the obvious promise that the men behind the masks had great taste. Listening to Ghost is like listening to the person who sold you all your first records conjure music out of their imagination.
If I were a betting man I'd put money down that we're going to hear more covers from the band on this upcoming album cycle, maybe at some of the band's upcoming acoustic shows. For the sake of fun, here's ten tracks that I want to hear Tobias "Papa Emeritus" Forge flex his limited-but-growing vocal chops on.
Q Lazzarus - "Goodbye Horses"
I'm shocked this one hasn't actually happened yet. Most people know "Goodbye Horses" for the memorable part it played in one of the more iconic sequences in the film Silence of the Lambs, which makes it ideal fodder for Ghost's film obsession--plus the art for "Cirice"[above] directly references that film's poster. Separate the song from "Would you fuck me? I'd fuck me," and marvel at how deep its groove actually is—perfect for Ghost's tight rhythm section. The coos that enter in the back half of the song stick with me, and could suit Papa Emeritus.
Blue Oyster Cult - "Godzilla"
Perhaps this suggestion is a bit too on the nose, but people frequently compare Ghost to Blue Õyster Cult, and a cover might illustrate how similar the bands actually are or are not. Songs like "Dominance and Submission" fit Ghost's image better, but "Godzilla" has a killer riff, and nobody's ever done a great cover of it (get out of here, Fu Manchu). Plus, a Ghost re-imagining of the original Godzilla poster needs to exist sooner or later. In my mind this needs to be the full eight-minute version complete with Dave Grohl as the Nameless Ghoul performing the centerpiece drum solo.
Sisters of Mercy - "Dominion"
Keeping with the theme of comparing Ghost to other bands, I actually don't buy into comparisons of Ghost with B.O.C. or The Doors, at least not anymore. When I hear Infestimassumam and Meliora, I hear Meat Loaf. Both bands aim for music-as-theater. Trouble is, Papa Emeritus could never sing like Marvin Aday. That said, Meat Loaf mastermind Jim Steinman produced bits of Floodland, the second album by goth rock royalty The Sisters of Mercy (one of my drop-dead favorite albums). Honestly Ghost could probably cover the whole album front-to-back, but Steinman's flair for the dramatic oozes particularly out of opening track "Dominion." Note: The above video lacks the "Mother Russia" outro on the album version.
Perfume Genius - "Queen"
Speaking of theatrical rock, Ghost could try a different kind of queen on for size. When not listening to metal, I've developed a taste for creepy modern R&B, including acts like Perfume Genius, whose 2014 album Too Bright was well received last year. Honestly only about half of the record hits home (mostly the back half, especially the song "Long Pig"), but the hype around its lead single, "Queen," was deserved. The song packs some serious sexual menace for what is ostensibly a gay pride ballad—in particular the lyric "No family is safe when I sashay." Ghost sprinkle a little queerness into their image anyway, so a song like this that's popular and a little more modern might loosen the band's well-defined image in a liberating way.
Beach Boys - "Never Learn Not To Love"
Dennis Wilson adapted this song from a different song called "Cease to Exist," written by his sometimes-compatriot Charles Manson. Yes, that Charles Manson. The details are available in audio form in this episode of Karina Longworth's wonderful You Must Remember This podcast (I highly recommend listening to her entire output if you are any kind of film enthusiast). Covering Manson is more something Uncle Acid and the Deadbeats would do, but since Ghost nailed a Beatles song, trying the other great four-part-harmony band of the '60s feels appropriate. Plus, even after being re-written, it's a creepy song.
Justin Timberlake - "Cry Me A River"
So, take a moment to get past the name of the artist and really listen to this song. The entirety of the early '00s dancepop craze can be forgiven if only because it produced "Cry Me A River." There's no satanic panic to be had in it, but the lyrics are creepy enough to suit Ghost. Those faux-Gregorian chants at the start are just begging for it. More importantly, Justin Timberlake doesn't actually have a very large vocal range, so Forge might be able to nail it. The best part of the original is Timbaland's guest spot. Imagine Ghost bringing Nergal in to growl it; like Justin Timberlake he had a high profile break-up with a pop singer, so he might be able to bring some gravity to the part.
Lee Hazelwood & Nancy Sinatra - "Some Velvet Morning"
One duet deserves another, and Mr. Hazelwood and Ms. Sinatra are my preferred pop pairing. "Some Velvet Morning" remains the duo's darkest, most psychedelic collaboration. Hazelwood's brooding opening verse is pure Ghost fodder. The band's prog rock chops would let them nail the sort-of-tricky time signature change that recurs in the song whenever the singers trade off. In my imagination, Lana Del Ray plays the Nancy Sinatra; it wouldn't be the first time. That said, I'd love to hear some more obscure options.
Sue Rany - "Wait Until Dark"
Henry Mancini wrote the music to this song for the soundtrack of the 1967 home invasion thriller of the same name (it's my personal favorite Audrey Hepburn film)—imagine the Nameless Ghouls trying to make riffs out of his jazzy string arrangements. "Wait Until Dark" is completely in the Ghost wheelhouse as a pop song from a classic horror movie. The band's great success with "Here Comes The Sun" was taking a happy song and twisting it into something more sinister, and "Wait Until Dark" is built entirely around its ambiguity. It's both a love song and something scarier. It's worth noting there's also a cover of the song by Scott Walker.
DJ Shadow - "Organ Donor"
For my money, the most valuable member of Ghost is the keyboardist. He's the most fanciful and adventurous musician in the band. and he needs a place to shine on this hypothetical covers album. DJ Shadow built "Organ Donor" around an organ line from Giorgio Moroder's "Tears," and it's probably the best hook on his classic debut album Endtroducing. It's one of the only tracks from the record that he regularly keeps in his sets. Ghost's instrumental "Genesis" remains one of the band's best songs, and I wish the group would write more instrumental tracks. "Organ Donor," as a no-vocal cover, hits two of the band's strengths at once.
The Police - "Wrapped Around Your Finger"
When it comes to the Faustian bargain in pop music, The Police's "Wrapped Around Your Finger" remains the high watermark. Sting's ethereal vocal melodies run counter to the grimness of his lyrics, which tell the story of a young magician turning on his teacher. Sting's talent for blending great hooks with interesting subject matter and poignant lyrics makes him one of the songwriters I most respect. The title suggests a love song, but the content is occult—it's the precise schtick that makes the Ghost machine run. In fact, there's the title of the hypothetical covers album—...in the Machine—with the cover sending-up The Police's classic Ghost in the Machine album art. This cover seems so obvious to me that I'm a little surprised the band hasn't tried it. If you're out there, Nameless Ghouls, make it happen.
More From Invisible Oranges