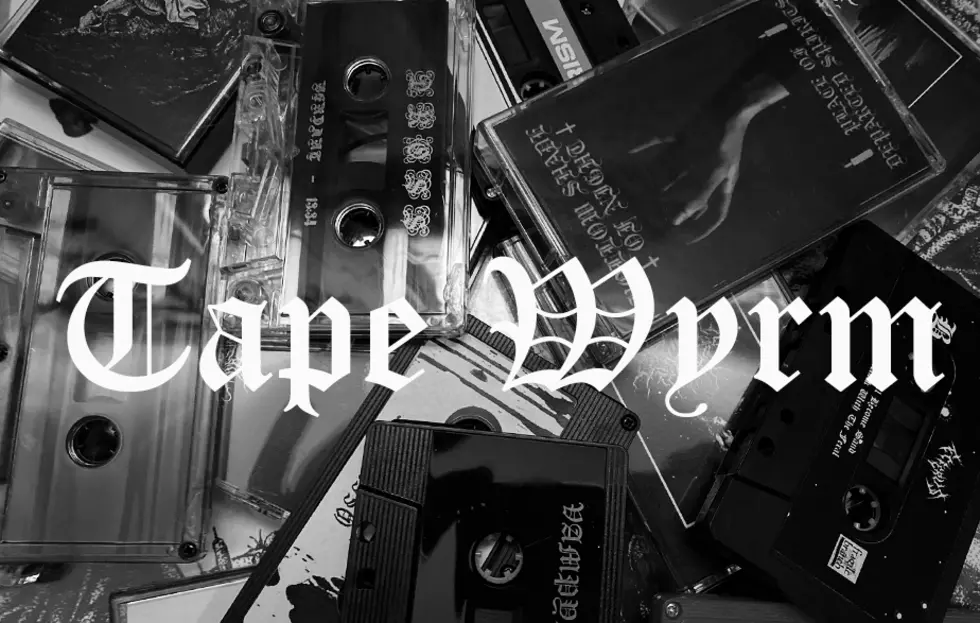 Tape Wyrm #1: In Search of Hideous Aesthetic
Image credit: Jonathan Carbon
---
Judging an Album By Its Cover
When I set out to write about music, I wanted to use my time uncovering things that few people knew about. This could be unearthing gems from the past, or being at the front for anything new being released. Most of my Tape Wyrm blog has been constructed by just browsing through new releases on Bandcamp and picking up anything with a cool looking cover. I also supplement this very scientific process by absolutely hijacking recommendations from friends who also do the same thing. Through this delicate balance of hyping, judging albums by its cover, and blatant theft of discoveries, we can all get excited about new things. While I'm known for my writing about dungeon synth, I also enjoy doing roundups of new metal that sounds disgusting and vile. Some of these are already hyped up, while others still have three or four supporters on their page. There are little guidelines on what makes it here other than it sounding cool and having a cool cover.
...
...
Hey, we are going to start with this which is going to be like a DPS check for the rest of this article. Can you hang with a self released raw black metal which sounds like the cold embrace of swirling death? Yes? Cool, come on in—we have drinks in the fridge. No? It's okay; you can actually move on, I was just joking. Sermon I is a 13 minute demo from the German act and also the inaugural release from Eroding Light of Revelation. It is also the inaugural release from the zine / label Burned By Light. There is little information about both of these entities but all signs point to it being a small operation perhaps in a castle somewhere cold. With guitar tones that sound like sheets of rain whipping against stone walls, the short yet complete demo is a wonderful presentation from a mysterious act. This mystery and atmosphere of this demo is meant for a small audience but those 14 people are going to absolutely love this sound.
...
Total Dissonance Worship is self described as a boutique label specializing in left field extreme metal. Similar to small yet aesthetic minded labels like Throatruiner, Mystískaos, and Vrasubatlat, Total Dissonance Worship is bent on bringing music in their own way which in this instance is upside down and chalk full of nightmares. Rejoice! The Light Has Come sounds like a post rock band from the mid 00's (and has the song titles to back up that joke) but is in fact something more akin to the musical manifestation of a FromSoftware boss. Untitled I/II is a compilation of all previous material releases over the past few years which might not be as long as other compilations but where the running time might be lacking the hooks and terrors are still present. With the power of avant garde progressive black, the main take away from the compilation Untitled I/II is the inversion of reality until things feel like the onset of a terrifying hallucination. The music is fully produced and with the lack of lofi production, the listener can experience those nightmares in full color.
...
...
Swarn is from Estonia and Whispers From Beyond is the band's second full length. From the Bandcamp, the trio describes themselves as "dream-infested hallucinatory death metal" and by the shattered sounds of the vocals on the opening track "Grimoire XIII", one could see how the music is more like a bad dream that you keep waking up to. Swarn has the right amount of grit and grime on its edges to make its music still feel dangerous and blasted from Hell's garage. Swarn possesses an incredible amount of craft in both their album covers, promo photography, as well as their music. Everything feels right for this one and I am sure only a few could make something this greasy feel entertaining throughout its running time.
...
...
Wherever there is punk-inspired black metal, I am usually there to dig through its garbage can. Fantasma is an Italian born project now living in Germany and playing around the world much like a cat hisses into the night. Benevento Black Metal is the self released debut that I am pretty sure would have been made if anyone was listening or not. This release just feels like something you find in the woods and bring back to your house to later be cursed. The eight minute track "Fantasma o gli echi delle rovine romane" is a striking and competent construction of black metal which for a few fans is nothing less than a party in a cursed house. Both irreverent and full of fury, Fantasma feels like a project that has existed for all time and we are now just discovering it.
...
...
I had to double check the history of Hellshock since all signs point to this being a stellar debut from a new band rather than the fourth album from a long time punk / death act. Hellshock is the newest full length in more than 10 years from a band that by all accounts has the same lineup. I have no idea what the band was doing but it is great to hear such energy which sounds like it is tearing its way out of the speakers with a switchblade. Hellshock exists for people who both enjoy the power of fantasy in their death metal as well as socially relevant lyrics in their crust. Hellshock has all of the hype that is usually present for new bands but hell, let's cheer this on since I am sure the band has put in the time to deserve it. Whether a new act or a legacy act that has been biding its time, Hellshock fits into the current landscape of extreme metal without much straining and maybe they will be around in the next 10 or 50 years.
...
...
If there is anything I love, it is the sound of hardcore / death being shouted in a different language than English. Ósserp is a Spanish outfit and Els nous cants de la Sibil·la is the third full length from a band that makes music that is similar to a collapsing roof. If one was looking for a record that possesses the same energy as Nails but way more interested in mythology, this is probably a good start. At a healthy 42 minutes, Els nous cants de la Sibil·la is the first since 2017 and by all accounts feels like the band picking up exactly where they left off. At many points throughout this record I was surprised and elated at the direction taken by the band as they combine ferocity and the deep values of atmosphere into a record that feels massic. Els nous cants de la Sibil·la is a solid choice for people who enjoy death and grindcore but also want to be terrified by distant screams from the netherworld.
...
...
I am going to admit that I usually do not seek out post metal or at least I do not see it as much compared to black and death. When post metal is thrown at me from an unknown party, then I usually can not avoid it. This one feels okay since it has the weight of eternity around it. Ab·est feels different, or maybe post metal is venturing into darker circles. Molten Husk is the third full length from this German three piece and despite my ignorance in the development of this sound over the past ten or so years, I am thoroughly entertained and perhaps intimidated. Leaning on quicker and more complete tracks that often run under three minutes, the ferocious succession of tracks blast the listener. Without relying on any one trope or aesthetic laurel from the sound, Ab·est dips and vies through its sound creating a vibrant and imaginative world of darkness and drama.
To date there are only two bands with the name "Bone" and this Bones from Belgium is the only one who plays straight death metal. How does the word "Bones" only have two bands using the name when Legion has like 41? This is one of life's mysteries. Sombre Opulence is the debut full length for a band that has been operating since 2014. Through many demos and side releases, Bones feels ready for their entrance which would probably be on some sort of carriage of steel and skulls. Bones possesses an entertaining appach to death metal which feels slightly drunk and incredibly dangerous. With guitar solos that are flung into the night with abandon, Sombre Opulence feels like a midnight raid where there is little light to illuminate the chaos.
...
...
We are going to enter into the realm of unknown raw black metal from an unknown location with demos titled in Roman Numerals. For many, this feels like familiar territory for weirdos who sit around abandoned churches. "Anchoret" is a term for a religious person withdrawing from society to lead a solitary and devotional existence. Anchoret, the black metal act, could be through the same thing just with a more grim atmosphere and at least a wardrobe full of black robes. Though there is little information to go on, one does not have to look far to see the death worship and viortrolic aesthetics which decorate the halls of this demo. The music for II feels like a very accessible entry into raw black as nothing is too jarring and its drums provide the foundation to swirling chaos. Both the demos from this project are well worth anyone's time who seeks a solitary and dismal existence.
...
...
If there is anything I love it is music that sounds heavy and is perhaps without any stable genre or style to attach itself to. What is Czerń and how would you define Czerń? Czerń is a 2022 EP which was just released like 3 days ago. Part of my question about the genre is the beautiful amalgamation of hardcore / sludge / non afllitated anger which makes up the majority of this sound. Czerń follows a long line of successful, and under appreciated releases, from a band that has been working for close to a decade. Once you define Czerń or give up on trying to come up with a genre, enjoy the party of dismay and a disaster.
More From Invisible Oranges