Stream: Jucifer – "Shame"
Jucifer at The Acheron in Brooklyn, NY, 7/11/13

As discussed, Jucifer's new LP, the fan-friendly titled за волгой для нас земли нет, will hit on July 17th. As such, the nomadic doom duo have released an album teaser AND a new track from the LP. Stream "Shame" for the first time below (alongside the lyrics and an explanation), and order your copy via Handshake Inc/Mutants of the Monster. The release makes two in as many months for Jucifer, who recently dropped a polished version of their Nadir demo which spawned the video for "Crossless" (viewable below).
Jucifer's white wall of destruction hit Acheron in Brooklyn last night (7/11), part of their current trek. Pictures from the painfully-high volume show, and all tour dates, are below.
— words and photos by Fred Pessaro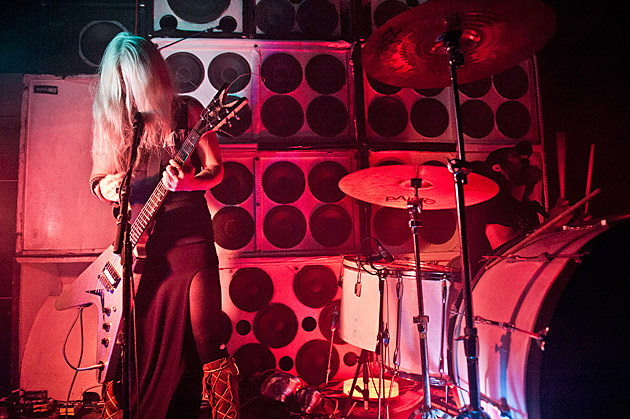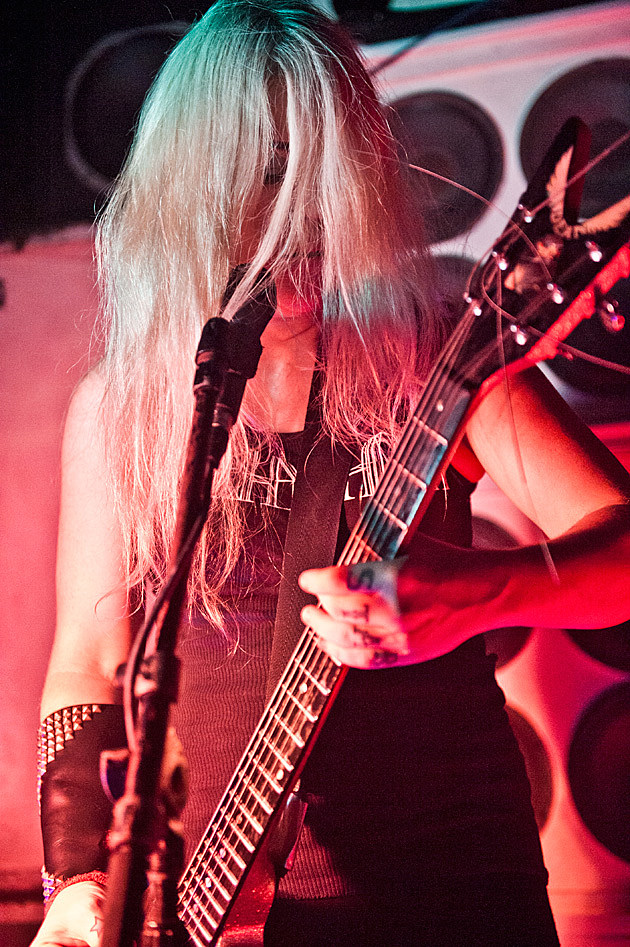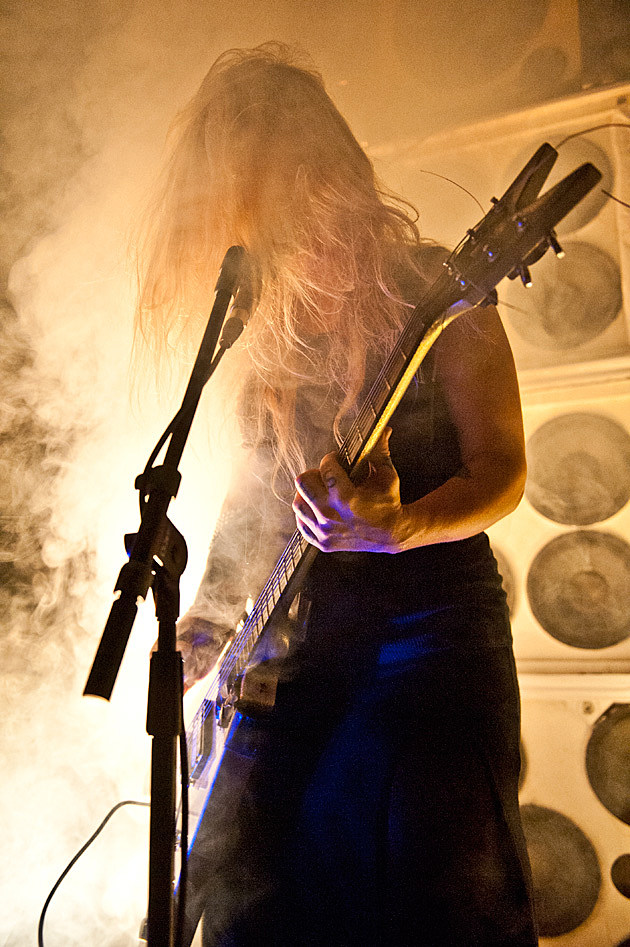 ПОЗОР :: SHAME
The 1077th Anti-Aircraft Regiment consisted almost entirely of young female recruits. Poorly supplied to engage aircraft, they found themselves under attack not only from the sky but also the Germans' 16th Panzer Division, a tank unit. The Soviet regiment turned its M1939 guns against the tanks and fought until (it is believed from records) the 1077th was completely destroyed. Though the women died trying to hold their line, they destroyed or damaged 83 tanks, 15 Nazi vehicles, and shot down 14 aircraft.
YOU ARE THE SHAME
OF THE PANZER WAFFE
YOU SHOT CORPS LEADERS DOWN
JUST LIKE THEY WERE CLAY
YOU SHOT CARRIERS DOWN
YOU KEPT THEM AT BAY
YOU HELD YOUR BUFFER ZONE
AIRFIELD GUMRAK ... BEYOND THE GRAVE
YOU SHOT FOUR HUNDRED ROUNDS
CUT THROUGH
YOU SHOT FOUR HUNDRED ROUNDS
SO BRAVELY
YOU GOT NOTHING TO PROTECT BACK HOME
YOU GOT NOTHING
YOU GOT NOTHING TO PROTECT BACK HOME
YOU GOT NOTHING
PATIENCE, PATIENCE
YOU'RE NOT A MOTHER NOW
PATIENCE, PATIENCE
IT'S JUST CLAY
YOU SHOT THEM BRAVE
(BEYOND THE)
DO NOT GRUDGE YOUR FORTUNE
YOU GOT NOTHING TO LOSE
THERE WILL BE NO FUTURE IF
YOU GOT NOTHING
YOU GOT NOTHING:
PATIENCE, PATIENCE
YOU SHOT ANOTHER DOWN
THEY CAN'T STAY IN OUR CITY
THAT'S ALL RIGHT
YOU SHOT FREE
YOU ARE THE SHAME OF THE PANZER WAFFE
YOU SHOT THE FUCKERS DOWN
BRAVELY
BRAVE WARRIOR
YOU SHOT THEM DOWN
JUCIFER - 2013 TOUR DATES
7/12/13 ASBURY PARK, NJ @ ASBURY LANES
7/13/13 PHILADELPHIA, PA @ KUNG FU NECKTIE
7/14/13 ATLANTIC CITY, NJ @ THE BONEYARD
7/18/13 WASHINGTON, DC @ BLACK CAT **ALBUM RELEASE SHOW**
8/8/13 IEPER, BE @ IEPERFEST
8/11/13 KIEV, UA @ BARREL
8/14/13 ROSTOV-ON-DON, RU @ PODZEMKA
8/16/13 VOLGOGRAD, RU @ MARKSBAR
8/21/13 YEKATERINBURG, RU @ DABAR
8/22/13 PERM, RU @ CUSTOM HOUSE
8/24/13 MOSCOW, RU @ MOSCOW HALL (W/GODFLESH)
8/26/13 SAINT PETERSBURG, RU @ ARTICA
8/28/13 KORTRIJK, BE @ THE PIT'S
8/29/13 PARIS, FR @ GLAZART
8/30/13 NANTES, FR @ LE FERRAILLEUR
8/31/13 SAN SEBASTIEN, ES @ TBA
9/1/13 GIJON, ES @ TBA
9/2/13 LEON, ES @ TBA
9/3/13 MADRID, ES @ TBA
9/5/13 LISBOA, PT @ TBA
9/6/13 BARCELOS, PT @ TBA
9/7/13 A CORUNA, ES @ TBA
9/8/13 BILBAO, ES @ TBA
9/9/13 BORDEAUX, FR @ HERETIC CLUB
9/10/13 TOULOUSE, FR @ SAINT DES SEINS
9/11/13 CLERMONT-FERRAND, FR @ BAR RAYMOND
9/12/13 MONTPELLIER, FR @ BLACK SHEEP
9/13/13 TORINO, IT @ UNITED CLUB
9/14/13 MILANO, IT @ TBA
9/15/13 ROMA, IT @ INIT
9/16/13 CALENZANO, IT @ ASD FACTORY
9/17/13 MILANO, IT @ TBA
9/18/13 LAUSANNE, CH @ ESPACE AUTOGERE
9/19/13 LUZERN, CH @ BRUCH-BROTHERS
9/20/13 BASIL, DE @ HIRSCHENECK
9/21/13 WEIKERSHEIM, DE @ CLUB W71
9/22/13 GERMANY TBA
9/23/13 BERLIN, DE @ BERGHAIN KANTIN
9/24/13 KIEL, DK @ ALTE MEIEREI
9/25/13 COPENHAGEN, DK @ KB18
9/26/13 MALMO, SWE @ INKONST
9/27/13 NORWAY TBA
9/28/13 STAVANGER, NO @ CHECKPOINT CHARLIE
9/29/13 OSLO, NO @ JOHN DEE
9/30/13 STOCKHOLM, SWE @ TBA
10/2/13 JYVASKYLA, FI @ LUTAKKO
10/3/13 HELSINKI, FI @ LUUDES KINJA
10/4/13 TALLINN, EE @ SNAKE HOUSE
10/5/13 RIGA, LV @ TBA
10/8/13 GDYNIA, PL @ DESDEMONA CLUB
10/9/13 POLAND TBA
10/10/13 POLAND TBA
10/11/13 OSTRAVA, CZ @ PLAN B HARDCORE CLUB
10/12/13 LEIPZIG, DE @ MANFRED
10/13/13 PRAGUE, CZ @ KLUB 007
10/14/13 BRNO, CZ @ KLUB BRNO
10/15/13 BRATISLAVA, HU @ FUGA
10/16/13 BUDAPEST, HU @ DURER KERT
10/17/13 CROATIA TBA
10/18/13 ILIRSKA BISTRICA, SI @ MKNZ
10/19/13 LJUBLJANA, SI @ GROMKA KLUB
10/20/13 CROATIA TBA
10/21/13 CROATIA TBA
10/22/13 ZAGREB, CR @ TBA
10/23/13 GRAZ, AT @ TBA
10/24/13 WIEN, AT @ TBA
10/25/13 AUSTRIA / GERMANY TBA
10/26/13 WINTERTHUR, CH @ GASWERK!
10/27/13 STRASBOURG / BESANCON / FREIBURG TBA
10/28/13 DIJON, FR @ DEEP INSIDE
10/29/13 LIEGE, BE @ LA ZONE
10/30/13 MULHEIM, DE @ AZ
10/31/13 AMSTERDAM, NL @ WINSTON
11/1/13 UTRECHT, NL @ DB'S
11/2/13 MARBEHAN, BE @ FUZZFEST
11/3/13 LILLE, FR @ TBA
11/4/13 REIMS, FR @ TBA
11/5/13 KOLN, DE @ SONIC BALLROOM
11/6/13 TILBURG, NL @ LITTLE DEVIL
11/7/13 BRUSSELS, BE @ MAGASIN 4
11/8/13 ATHENS, GR @ SIX D.O.G.S
11/9/13 THESSALONIKI, GR @ EIGHTBALL CLUB
More From Invisible Oranges