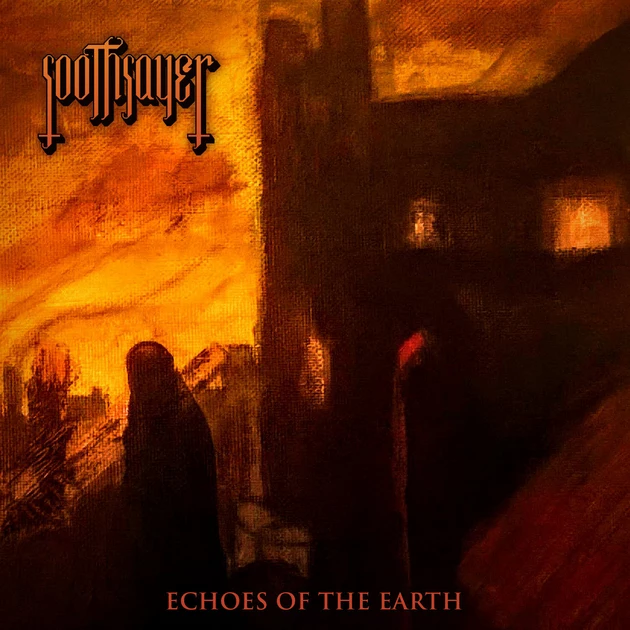 Soothsayer and Eugene Robinson Embrace Heaviness on "War of the Doves" (Video Debut)
---
When discussing heaviness, one must accept that it exists in a spectrum, ranging from Codeine's quiet contemplation to Vulvodynia's ignorant slams. If music sets out to have some sort of depth, it is… heavy, but then there's music which sets out to be heavy, suffocating, and all-encompassing. On their newest video, Soothsayer team up with Oxbow frontman and vocal powerhouse Eugene Robinson to make something heavy, but also atmospheric (another end of the heaviness spectrum). Following a disturbing intro, it isn't until about two minutes in that Soothsayer fully push their sound to a riffy, massive extreme. Soothsayer, as it is with a lot of music, is heavy, but it's their atmosphere and psychotic character (largely thanks to Robinson's own unhinged performance) sets them onto a different wing of what makes heaviness… heavy. Watch the new video for "War of the Doves" below.
...
...
From the band:
"Where does one find sanctuary when even the birds of peace are at war?
The feeling of impending doom as an entity, operating within parameters beyond your sight and your control.
Go straight through it.
Push forward through the war.
As we have entered this new phase we must unite and move forward.
At times, the sheer frustration can be dreadful, grinding and visceral. Just keep going.
Go straight through it...
The War Of The Doves.
The song encapsulates a cry of despair as you trudge through your own battlefield, no matter how big or small it may be. Written and recorded before the concept of a pandemic was in the public zeitgeist, War of the Doves has become somewhat prophetical in it's emotional outburst.
The line "Don't go outside... all the streets have been quarantined off as the virus takes effect", became a harsh reality almost exactly a year after the song was recorded.
The restrictions and lockdown that have been enforced upon us since the pandemic hit is only charging the energy of the song with time. It's soaking up our frustration. It will be a wonderful release to be able to express it in a live setting once again.
Having Eugene Robinson contribute his own voice and lyrics to the song is something we are very happy with. What he brought to the track was the missing piece of the song's puzzle.
For him to also film his parts for the video is amazing, Eugene is one of those very special individuals that humanity does not produce a lot of. He is a unique and powerful creative force with an intense fury and intellect. He is a powerful Soothsayer and truly something of a living legend. For him to contribute so much to this song is an incredible honour.
The video was put together by Hill Rituals Media that features Rodge of Cursed Monk Records, an exciting Irish label producing high quality underground metal and drone/ambient. Rodge also created the video for our first single, Outer Fringe.
We are The Soothsayer.
Believe in the love, believe in the whole of the law."
...
More From Invisible Oranges