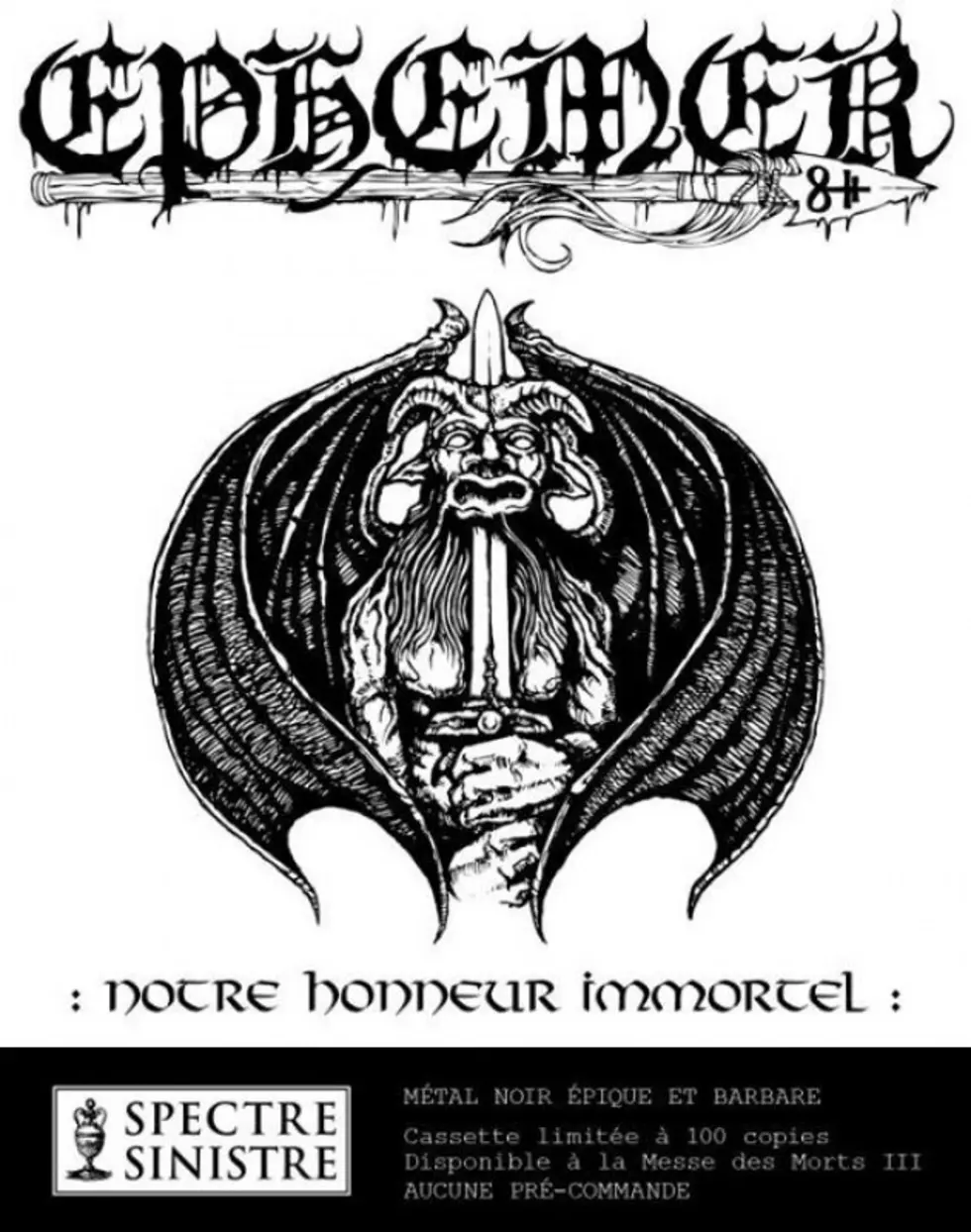 Song Stream: Ephemer – "Vers d'Anciennes Cités"
There's something about black metal that comes out of Quebec. Chalk it up to climate, chance, something in the water, whatever. Bands like Forteresse, Monarque, Ziel Bevrijd, Csejthe and others play relatively simple takes on black metal that are just so god damn rich in feeling and atmosphere. Take Forteresse, arguably my favorite of them all. It's pretty straightforward—combine guitars, fast-but-not-too-fast rhythms, killer vocals, and a willingness to embrace melodies and voila, you've got my favorite album of 2011. (Forteresse's latest, Crépuscule d,'Octobre, came out way late in 2011, so most year-end lists missed it.) I shouldn't forget to mention the intangibles, some of which seem attributable to production and format, that give Quebec black metal an epic and timeless quality—a lot of the Quebec black metal scene embraces lo-fi (but not too lo-fi) production and puts out their material on tapes.
Given the above, it's not too surprising that Ephemer is great. Ephemer features members of Forteresse and Csejthe (and, previously, according to Metal Archives, Monarque himself) and plays mid-tempo atmospheric black metal with a penchant for the grandiose. Ephemer's only previous output, a 2011 cassette demo called Guerre et Gloire, was limited to 100 copies and initially went on sale at Montreal's awesome Messe des Morts festival (we're hoping for some IO presence this year). They were supposed to perform at the second Messe des Morts, but, due to an injury, they had to cancel, meaning, I am pretty sure, that the band has never performed live.
Given that Ephemer was a collaboration project and the band hadn't put out anything since that demo, I thought that Ephemer might have quietly disappeared. But no! A couple of days ago, an awesome new Ephemer track appeared on Youtube. And it's even better than Guerre et Gloire. "Vers d'Anciennes Cités" ups the epic-ness and presents Ephemer in a new light—this song is full, blasts, and has some huge and gorgeous clean vocal parts. It's catchy as hell, too, and lends itself to repeat listening. It's a new page for Ephemer, and I can't wait to see what's next.
Listen to "Vers d'Anciennes Cités" and a full-demo stream of Guerre et Gloire below. "Vers d'Anciennes Cités" is off of Ephemer's forthcoming second demo, available at this year's Messe des Morts and limited to 100 copies.
More From Invisible Oranges