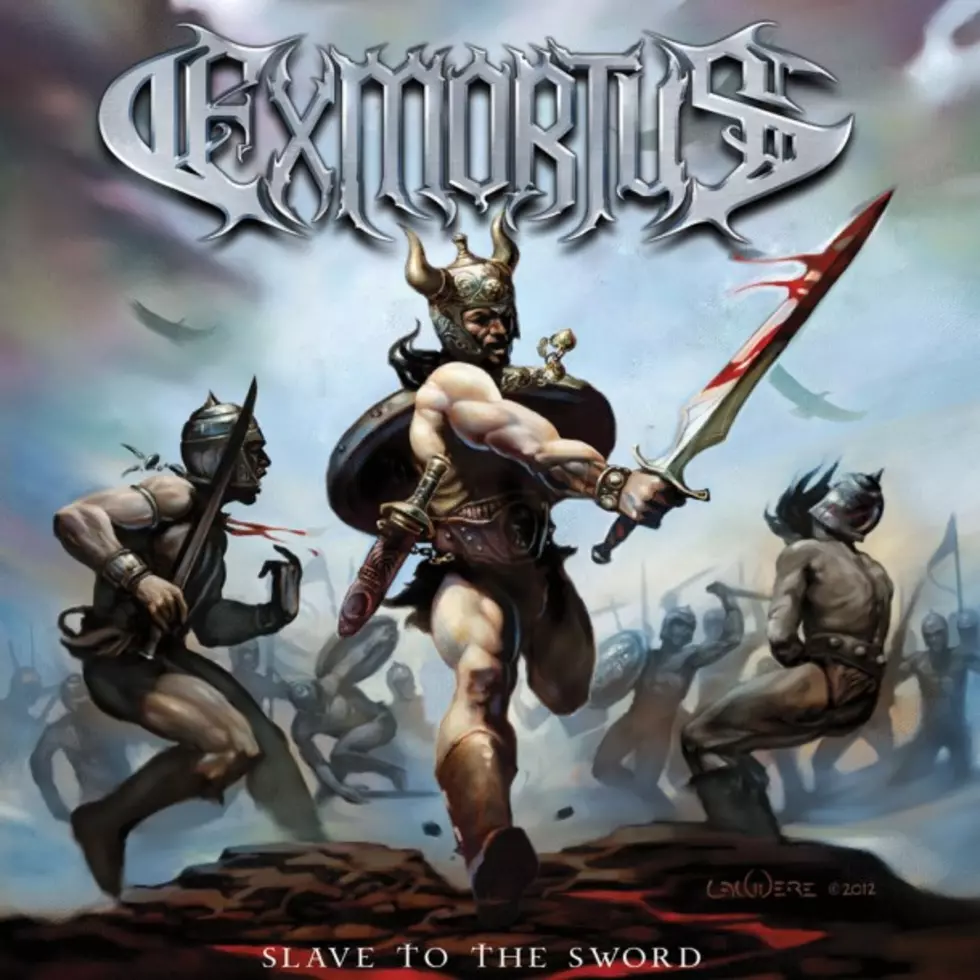 Song debut: Exmortus – "Moonlight Sonata (third movement)"
More than anything else, shred is a state of mind.
Of course, in order to shred credibly (shredibly?), one has to put in the endless hours of practice required to attain technical mastery of one's chosen instrument. But ultimately, the most important ingredient in shred isn't instrumental prowess. It's desire. It's the desire to hear more of things that are excellent, and to hear them faster, and more precisely, and then to hear them even a little bit faster still. A committed shredder might glance at a page of staff paper already overstuffed with notes and think, "Hmm, needs more notes," in the same way a diacritic enthusiast might look at a line of Finnish and think, "Hmm, needs more umlauts."
Slave to the Sword, the third album from Californian melodic death/thrashers Exmortus, lives and dies by its unswerving commitment to shred. This band moves in an orbit not entirely dissimilar to, say, Revocation, but their collective musical upbringing clearly bears the mark of obsessive amounts of At the Gates, Arch Enemy, and the classic tandem guitar attacks of Mssrs Downing/Tipton, Murray/Smith, Hanneman/King, et al. Even when Exmortus's songs are sturdily constructed and passably memorable — as they often are — they remain principally vehicles for shred, solos, shred, chromatic riffs, shred, whiplash, and more shred.
Today we're presenting an exclusive premiere of Exmortus's interpretation of Beethoven's "Moonlight" sonata (which sounds much more metal in the original German, by the way: "Mondschein"). This is not the famously lugubrious, glacial triplet-based first movement of the sonata — which might be familiar to anyone in my general age/nerd-bracket from "Earthworm Jim" — but rather the third and final movement, "presto agitato." (If you don't mind me dropping some knowledge here, presto agitato is Latin for SHRED.)
If you're of a dour sort that disdains smiling in public, then you might dismiss this as silly, laughable, ridiculous, and even execrable. "Why, my heavy metal would never stoop to such cosmically absurd shenanigans." Well, friend, kindly get a grip. Of course this is ridiculous: it's shred; that's the point. Splayed across an entire album, this sort of thing is equal parts exhausting and refreshing. Nonetheless, it's pretty easy to forgive Exmortus some Manowar-ish posturing, as on the album closer "Metal is King," because there's something eternally endearing about a band whose slogan seems to be "We can — and will — shred anything."
Slave to the Sword will come out on February 4 via Prosthetic Records. Stream a second song from the album — its title track — and take a look their extensive run of upcoming tour dates (largely as support for Dark Tranquillity and Omnium Gatherum) below.
1/23 Anaheim, CA – The Juke Joint
1/27 Tucson, AZ- The Rock
1/28 El Paso, TX- Larry O lounge
1/29 Laredo, TX – Cold Brew Rock Bar
1/30 New Orleans, LA – Siberia
2/1 Atlanta, GA – The Masquerade #
2/2 Baltimore, MD – Soundstage #
2/3 New York, NY – Stage 48 #
2/4 Worcester, MA – The Palladium #
2/5 Montreal, QC – Foufounes Electriques #
2/6 Quebec City, QC – Dagobert #
2/7 Ottawa, ON – Mavericks #
2/8 Toronto, ON – The Opera House #
2/9 London, ON – London Concert Theatre #
2/10 Cleveland, OH – Peabody's #
2/11 Columbus, OH – Skully's #
2/12 Joliet, IL – Mojoes 22 #
2/13 Lawrence, KS – Granada Theater #
2/14 Denver, CO – Bluebird Theater #
2/15 Salt Lake City, UT – In The Venue #
2/17 Vancouver, BC – Rickshaw Theater #
2/18 Seattle, WA – El Corazon #
2/19 Portland, OR – Hawthorne Theater #
2/20 San Francisco, CA – DNA Lounge #
2/21 Las Vegas, NV – LVCS #
2/22 West Hollywood,CA – House of Blues #
2/23 Tempe, AZ – Club Red #
2/25 Dallas, TX – Trees #
2/26 Houston, TX – Scout Bar #
2/28 Louisville, KY – Diamond Pub & Billiards #
3/1 Pittsburgh, PA – Altar Bar #
3/2 Philadelphia, PA – Trocadero #
3/7 New York, NY – Blackhorn 51*
3/8 Trenton, NY – Back Stage of Champs*
3/9 Richmond, VA – Strange Matter*
3/10 Charlotte, NC – Milestone*
3/11 Columbia, SC – New Brooklyn Tavern*
3/12 Savannah, GA – Dollhouse Productions*
3/13 Jacksonville, FL – Atticus*
3/14 Miami, FL -Church Hills Pub*
3/15 Tampa, FL – The Brass Mug*
3/17 Johnson City,TN – The Hidaway *
3/18 Murfreesboro, TN – Main St LIVE*
3/19 Columbus, OH – Ace of Cups*
3/20 Cleveland, OH – Now Thats Class*
3/21 Rochester, NY -The Bug Jar*
3/22 Florence,MA – JJs Tavern *
# with Dark Tranquility & Omnium Gatherum
* with Lich King
More From Invisible Oranges