Show Report: Black Anvil, Fantom Warior, Psalm Zero, and Yellow Eyes at Saint Vitus
Black Anvil swung into Brooklyn's Saint Vitus to play their new release Hail Death in its entirety. The set from the NYC crew highlighted a bill destined to elicit responses like, "Holy hell, that happened?" Joining the blackened thrashers were Yellow Eyes, Fantom Warior, and Psalm Zero. But as master photog Greg Cristman later made clear in an enthusiastic early morning email, the night belonged to Black Anvil.
As you can see in the videos below, deep red stage lights provided the right ambiance for Black Anvil, turning the caked-in-grime players into a mass of mysterious shadows. Statuesque, they seem to rise menacingly above the front row. Vocalist/bassist Paul Delaney does bounce about, adding extra verve to the thrashier riffs by bobbing and weaving in front of the mic stand. His lost-in-riff reveries are contagious, getting the audience to move with him. Though small in size, the crowd appears appreciative, especially when Black Anvil are joined on stage by Fantom Warior's John Chernack.
Fantom Warior reformed in 2012, releasing a single that same year. Known mostly for their 1986 demo Morbid Invasion and 1987 core-tinged ripper Fantasy or Reality, it's nice to see the New Jersey quartet back in the game. Though their original run is recognized by a dedicated cult, there's a real chance they could break big nearly 30 years later. Fantasy or Reality in particular cooked with what rethrash has warmed up for a new generation.
Speaking of newer bands, Psalm Zero put on a blistering set of songs culled from their brief but accomplished career. Charlie Looker (Zs) and Andrew Hock (Castevet) are ingenuity incarnate, invigorating a well-worn formation, the drum-machine-assisted duo, with fresh timbres. Looker and Hock both appear to be generational talents, creating fully-realized concepts in scenes too often content with happy accidents.
Finally, Yellow Eyes' melodic USBM has pastoral intentions if the Encyclopaedia Metallum-listed lyrical theme of "peasant sadness" is to be believed. That's probably a bit tongue-meets-cheek, but it's poetically accurate. After all, their minor chord mini epics certainly are affecting. And the buzzy band continues to grow into their sound, one that's becoming more wide-open and adventurous with every pressing.
Black Anvil, Fantom Warior, Psalm Zero, and Yellow Eyes. Holy hell, that happened? Sure did. Hail death.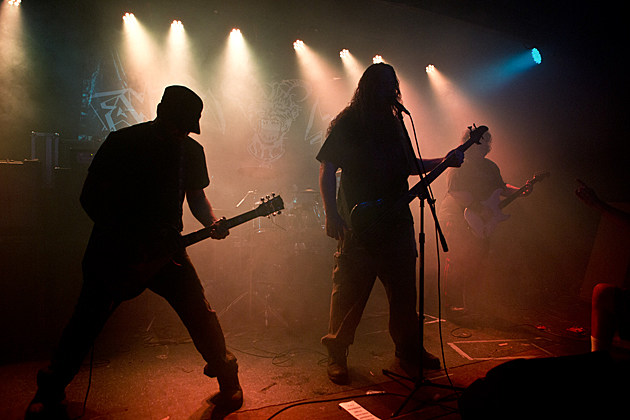 More From Invisible Oranges