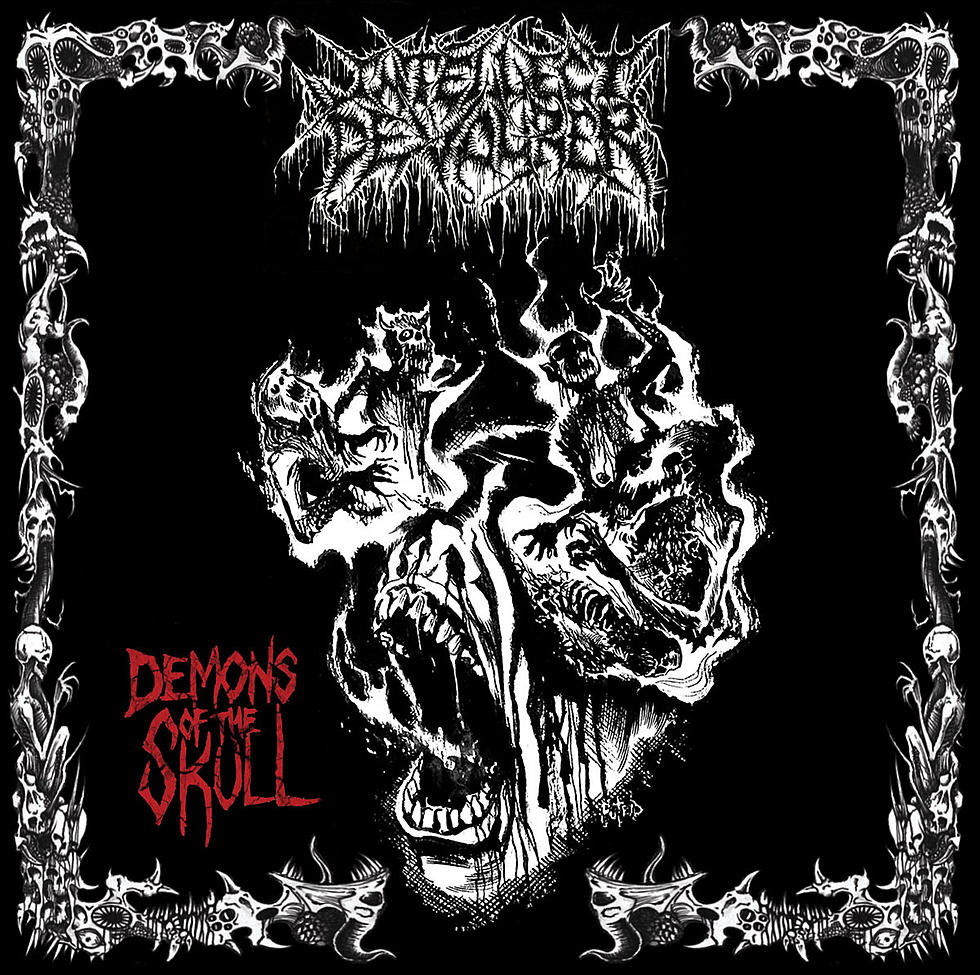 September 2020 Release Roundup
---
In basically every roundup post we've done this year, we've talked about how fucked up things are -- sadly, no improvement yet. Coronavirus is still around (see: recent events), and we're all going slowly insane, but at least we can get Pumpkin Spice Lattes and listen to some cool music while it all burns down.
September was a fruitful month in the lands of Invisible Oranges -- we launched a podcast, which you'll see more of very soon, premiered a ton of interesting metal, and covered Judas Priest's classic album Painkiller's thirty-year anniversary with staff retrospectives and a deep dive into its production.
Besides all that, we found the time to cultivate our own personal picks from the month's yield of albums -- we cradled them gently and admired their excellence while trying to tune out the faint screech of a fiddle amongst the fires outside.
---
Old Nick -- The Night Of The Ambush And The Pillage By The Queen Ann Styl'd Furniture, Animated By One Of The Dozen Or So Spells That Thee Eastern Vampyre Has Studied (T​.​N​.​O​.​T​.​A​.​A​.​T​.​P​.​B​.​T​.​Q​.​A​.​S​.​F​.​A​.​B​.​O​.​O​.​T​.​D​.​O​.​S​.​S​.​T​.​T​.​E​.​V​.​H​.​S)
September 4th, 2020
It's definitely in the running for longest album title ever, but T​.​N​.​O​.​T​.​A​.​A​.​T​.​P​.​B​.​T​.​Q​.​A​.​S​.​F​.​A​.​B​.​O​.​O​.​T​.​D​.​O​.​S​.​S​.​T​.​T​.​E​.​V​.​H​.​S is interesting for reasons beside the damage it wreaks to Bandcamp's layout. This is lo-fi black metal meshed with a host of similarly lo-fi synthesizer melodies and pads, detailing -- among other things -- the exploits of a rampaging yard sale. It's an addicting combination once you get a taste for it, and appreciation for this album has spread like a parasite within the Invisible Oranges staff -- I initially listened out of curiosity, but by the middle of "The Abysmal Chess Masters Plate of Fruits, Figs, Cheese, & 3 Varieties Of Apple," as whirling strings, organ, and a horn section make an appearance in-between and on top of pummeling black metal riffs, I was already penciling it in for this roundup.
Treble-rich, crunchy guitar is all I really want out of raw black metal, and that's pretty much the main element here -- plus, it's used with tact, crafting clever riffs and hooks that go beyond tremolo picking out four chords for a few minutes. These motifs harmonize with the incredibly varied synthesizer elements, often seeming more like bizarre Baroque compositions with indecipherable screams attached than anything else.
The longer you look or listen, the stranger it gets: note the album art, faithfully depicting the core concept of the album in a way that makes the whole thing seem almost sensible -- but then recall how long the name is. Numbers and irrelevant details occupy almost every song title (a notable exception being the very important, very critical "Weeping Mystery Trench Coat") -- perhaps there's a devilish reasoning behind all of this, but our minds were not shaped to know it.
---
Intellect Devourer -- Demons of the Skull
September 15, 2020
Mean, evil, crunchy shit that bends minds as strongly as it crushes pure concrete. As Jon said in his premiere of the entirety of Demons of the Skull, "The name being a bit of a fake-out (and perhaps featuring the occasional knuckle-dragging riff), Intellect Devourer's multifaceted approach, ranging from early 1990s minimalism to all-out bass shred, offers a holistic approach to death metal." Damn straight it does: this album moves and sways like the best of the groove-laden death metal bands but hones a razor-sharp edge on technicality and progressive whippage too. All in for this Australian supergroup.
---
Deftones -- Ohms
September 25th, 2020
I've heard a lot of people call Ohms the best Deftones album since Diamond Eyes, and honestly, that's an understatement. Not that Deftones have had any really lulls in their discography, but this is an especially top-tier Deftones albums, up there with classics like Around the Fur and White Pony, both of which were produced by Terry Date like this one was. Deftones told Kerrang! earlier this year that they've always had a volatile relationship with Terry, who either quit or came close to quitting every time he worked on an album with them, but it's impossible to deny that he knows how to make Deftones sound better than anyone else does.
From a pure production standpoint, Ohms is easily the best sounding Deftones record in a long time. As good as the songs on the last few albums are, the production could veer off into polished radio-rock territory, but on Ohms they sound like the band they were always meant to be. It has a rawer, more modest sound, but Terry still perfectly captures Deftones at their biggest, clearest, and most atmospheric. Even with Deftones' influence being heard all throughout the current metal and hardcore underground, it'd be understandable if Deftones' own new albums still felt a little too radio-friendly, but that won't be the case with Ohms. Songwriting wise, they still sound ambitious enough to headline arenas, but the overall vibe of the album has them sounding like the cult band they've been for a very long time.
---
Plague Organ -- orphan
August 28th, 2020 (close enough)
This is a thing of wicked power, mighty enough to give me panic attacks and send me spiraling into terrified thoughts of death and the permanency of that silence. For real, the first time I listened to this record, I was squirming in my seat, feeling choked nearly to death by dread. That's a testament to the primal emotive power at play in these cascades of swarming notes, buzzing and moaning like insects or creaking half-petrified wooden flesh. It writhes like a haunted tree, howling in pain. It's tremendous.
---
Svalbard -- When I Die, Will I Get Better?
September 25th, 2020
When I Die, Will I Get Better? doesn't cement Svalbard's status as one of the most vital voices in heavy music — they've already proven as much with their 2018 full-length It's Hard to Have Hope. On their latest record, the Bristol quartet continue their onslaught against the music industry and heavy music subcultures and the wider society in which they are nestled, wrapping the fury of guitarist and vocalist Serena Cherry's lyrics inside a gorgeous drape that pushes the group's blackened hardcore to floatier and more atmospheric extremes.
Cherry combines introspective dissections of her own turmoil with savage teardowns of the rampant misogyny in the music press ("Click Bait") as well as both the music industry and much of its fanbase ("The Currency of Beauty"), and victim-blaming rape culture ("What Was She Wearing"). She and co-vocalist Liam Phelan deliver her surgical assaults through the screams and howls now familiar from previous releases as well as a healthy number of tender, cleanly sung passages that signify the record's tangible proximity to weightless post-rock dreamlands.
Even the record's most delicate moments are conscripted in service to the band's unwavering philosophy. As resplendent as When I Die, Will I Get Better? is with billowing melodies and cathartic resolutions, Svalbard keep their fingers firmly clenched around your throat, making casual enjoyment of their music impossible -- and to the chagrin of those who'd prefer to avoid confronting these problems, that's the point.
---
More From Invisible Oranges