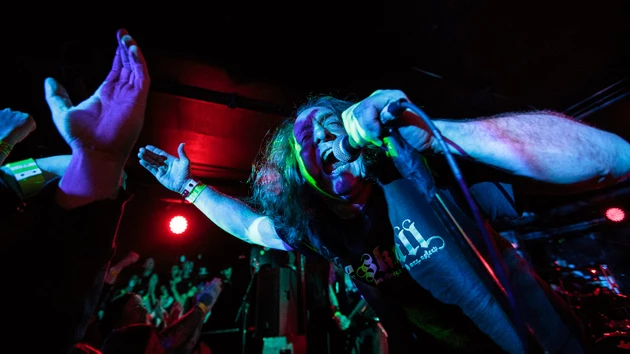 Saint Vitus Live at Cambridge, MA's Middle East Downstairs
Words and photos by Ben Stas
Doom metal pillars Saint Vitus reactivated as a version of their classic lineup – vocalist Scott "Wino" Weinrich, guitarist Dave Chandler and bassist Mark Adams, with drummer Henry Vasquez replacing the dearly departed Armando Acosta – in 2008. While touring on setlists leaning heavily toward Wino's original studio era, they released their first record in nearly two decades in 2012. On their current tour, however, the band offers up an alternate history lesson.
While Wino busies himself with the resurrection of his other early doom outfit The Obsessed, original Vitus vocalist Scott Reagers rejoins the band on the road. As the new-old lineup proved on a recent October sixth in Cambridge, the resulting Vitus looks quite different from the one you might've caught in the past few years, but equally vital. The group's instrumental core remains sturdily unchanged between Adams' and Vasquez's rumbling rhythm section and Chandler's wah-fried riffing, but Reagers brings a different vibe to the table. Wino exudes a stoned gravitas in his stage presence, but Reagers embraces the crowd's energy and dives headlong into the wild-eyed narrative role in his songs.
Kicking off the night as local openers, retro heavy metal purveyors Magic Circle performed a strong set that felt much more at home on this stage than at another recent gig opening for Skeletonwitch
Portents of doom future and past in Witch Mountain and The Skull accompanied Saint Vitus as tourmates.
Porland, OR doom quartet Witch Mountain have been an intermittently active concern since 1997, but last year's addition of vocalist Kayla Dixon in place of the departed Uta Plotkin signaled a new era for the band. Dixon's arresting stage presence and show-stopping voice – a range from soulful croon to throat-shredding roar – suggested during this set that bright horizons await the new lineup.
Fronted by founding Trouble vocalist Eric Wagner (joined by longtime bassist Ron Holzner), The Skull have the DNA of early Saint Vitus contemporaries. Live, a mix of their new tunes and some Trouble classics exhibited a tight and polished classic doom sound. Wagner had an easy confidence about him, and treated the set like a headlining affair. An enthusiastic audience response made it feel that way too.
Naturally, the setlist for the evening's headliners focused heavily on Vitus' first two pre-Wino LPs, along with 1995's Reagers-fronted Die Healing. The band unleashed nearly the entirety of their 1984 self-titled debut, dispensing plenty of seasonally appropriate ghoulishness in "Zombie Hunger" and the lurching "Burial at Sea." Reagers delivered each vocal with frantic conviction, and you could feel the scuzzy SST atmosphere of the original recordings in the air. An encore of "Born Too Late" provided the single Wino-era song of the night, and while its introspective tone set it apart from the rest of the set, it's just too much of a Saint Vitus essential to leave out. Chandler dedicated the song to the crowd before jumping into their midst to finish one of the all-time great anti-conformity anthems amidst its people.
More From Invisible Oranges