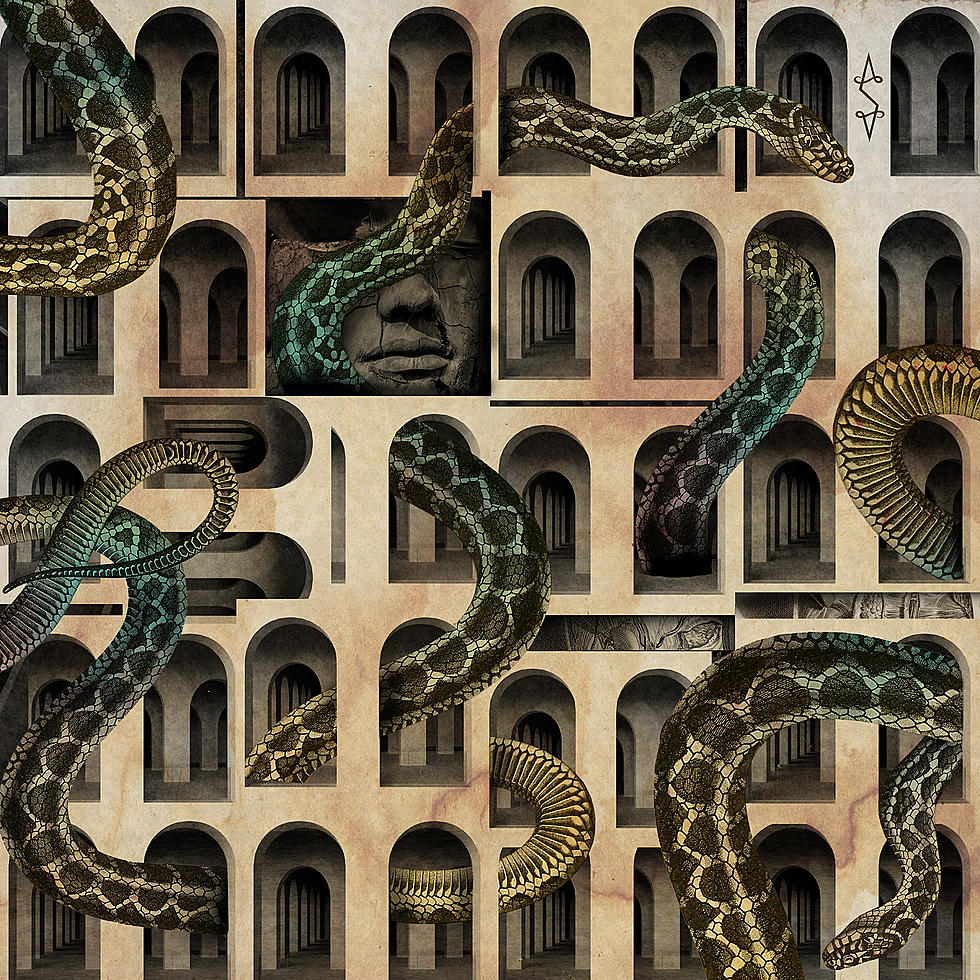 Psychosis in Deconstruction on -S-'s New Album (Early Track Stream + Interview)
---
Polish experimental artist -S- (formerly just S) has been a captivating entity since its initial unveiling in 2013 on the Dead Body Temple and Death Knell Prod labels. An unusual mixture of bass, drums, howling vocals, and clarinet, -S- takes black metal and distills it into an atmosphere, an idea, and expels it as violently as possible. Using tension as a weapon, -S- bends the listener's psyche to a splintering point. Paired with gruesome artwork, -S-'s untitled debut was a peculiarity which was then met with an equally unsettling silence.
Almost a decade after the project's debut, -S- returns with the confusing Dom, w którym mieszkał Wąż (translates to "A House Where Dwelled A Snake"). Finding comfort in a more surreal world, Dom, w którym mieszkał Wąż shows -S- approaching a precipice in which the listener's own mental health can be called into question, let alone its performers. Heavy in their own way, -S-'s clean, ambiance-forward sound is a descent into a bizarre world of shouting and rumbling. Listen to an exclusive premiere of "Piorunoschron" and read an interview with the band below.
...
...
-S- uses atypical instrumentation to express something akin to black metal. What first led to you choosing bass and woodwinds (saxophone and clarinet) as primary instruments for this sound?
First of all, note that we don't use the saxophone. It is the sound of the clarinet that marks -S- specificity right now. It has this pensive touch that no other woodwind instrument has.
But let's recap. The choice of instrumentation happened accidentally to a large extent. -S- started as a duo eight years ago. I played bass and had been learning drums by then and found out the heavy-delayed bass sound to fit my idea and playing style. After moving to Wrocław I met a friend who shared similar musical and philosophical interests and happened to play clarinet, despite the fact that he has been a fan of orthodox black metal. For some time we just experimented with the sound. After a while we decided that eventually we didn't need any other instrument/member to complete our vision (although a guitarist had been considered), since in that case the less could be more. Through this simplified instrumentation we found a new way to express also our other important musical inspirations we shared: dark ambient, cold wave, jazz, funk, post-rock, classical and minimalistic music.
Although Bohren & Der Club of Gore, Miles' Ascenseur pour l'échafaud soundtrack and Badalamenti's compositions for "Twin Peaks" were major inspirations for us in imagining the prefered usage of woodwinds, it is the way in which Roger Döring from the Dictaphone project enchanted clarinet into minimalistic electronics that got us pinned down to this instrument definitely. For the newer records I still wanted the clarinet to be used somehow - no matter to what extent - to underline the initial concept. That being said, it's not excluded that maybe we'll use sax in the future or that we'll continue without any woodwinds for some other recordings as well. Right now we perceive -S- as a "drum & bass" core, since the clarinets were recorded by guest musicians.
The heavy bass-and-drums rhythms act in juxtaposition to the woodwinds' more airy and atmospheric sounds. What were you looking to achieve in pitting these two sounds against each other?
I'd describe my vision as a disquieting, cinematic soundscape that would happen to unite these contradicting universes as you aptly named them: aggressive, dynamic and black metal & funk-driven drums and bass lines and the simple, ambient-like, melancholic, flowing layers of clarinet long notes and melodies. I don't want to create a perfect harmony here though, it's all about the play between grooves, melodies and dissonances that would eventually form an unexpectedly coherent and playful style.
The band's name, a single letter in length, leaves a lot to interpretation. What does "-S-" mean in relation to this project?
This "name" came first of all as a dream. As the sigil in a form you can see on the cover of the first album, with a gnostic eye in the center caught up between two ribbons of broken infinities. By that time the project concept had been deeply rooted in Gnosticism and occultism and this symbol neatly captured that aspect.
The "-S-" notation is a necessary simplification of this symbol. You can also note that on the later emanations of the project we changed it, as our inspirations and ideas shifted towards less precisely defined occultism. It was i.e. because of the line-up shift and the fact that we moved away from the gnostic and satanic themes and found wider and more relevant inspirations.
Hence you can read the -S- notion as a shortening for "sigil." Indeed it is a sigil in itself as it changes its content and context with every album. The title and lyrics grant it a new meaning, so you should read the whole album as a particular piece and use that sigil as a key to visualize and meditate on the stuff we're playing about.
You create obscure soundscapes and textures, resulting in an uncomfortable listen. How do you want the listener to react to your music?
We're still developing the style we'd like the -S- to stand for in the greatest measure. And in the recent albums you can still actually only hear that to some extent. The ideas are being merged as we slowly shift from creating the music for ourselves and a form of intimate expression without particular end, towards something that could be arranged and directed towards the listener with some clearer intention.
I don't reckon our music to be "uncomfortable," I rather perceive it as quite straightforward and funky (even if in some gnarled sense). I'd like to create an immersive, deep, and disturbing atmosphere for the listener. In fact that's why we call our albums "meditations," because for us this is a musical meditation and practice. It should eventually lead to being able to feel comfort in discomfort, a peace in unrest, and vice versa. I'd like the listening to that stuff to be an exercise in musical imagination and in emotional consciousness, the way I treat the music personally.
This is the -S- project's second full-length. The first featured particularly gruesome art, but Dom, w którym mieszkał Wąż features something more surreal. How does visual art interplay with -S- core? With such an unusual and singular style, how would you classify -S-? Is this something to which you pay any mind?
The visual side of our work has not been clearly defined from the beginning. It is still something we're experimenting with and looking for a proper style and inspiration. As I've said, each album so far presents a bit different approach towards the musical style we aim at carving, so each one requires a different topping. Personally I have quite a clear vision of how I'd like the cover art and design to look like, but I lack proper skills and time to do it alone. That's why finally I decided to give that piece of work either to dead artists (as with the "Zabijanie czasu") or the living ones that would improvise to a given theme. The work of Bartosz Katastrofa for the new album is actually a really successful example of the latter. With his proposal he brought a new perspective to the music and the concept itself. This surrealistic touch is something we'll most likely keep for a longer while. My sense is that we either go more abstract or mix Hoppe's spatial melancholy with unobvious occult motifs. Or both.
So yes, we do pay attention to the subject of "style," but now it's more focused on music itself than the visual side. Musically we have quite a clear vision of what we'd like to achieve and develop musically. -S- plays "dark funk" at its core, but in the recent albums this aspect is not fully grasped yet, as other influences are more apparent, hence we implement them to some extent within the albums descriptions. But ultimately that's the desired form we'd like to crystalize. This should actually happen soon as we're finishing material that would convey this idea in the most straightforward way to date.
...
Dom, w którym mieszkał Wąż releases April 22nd on I, Voidhanger Records.
More From Invisible Oranges