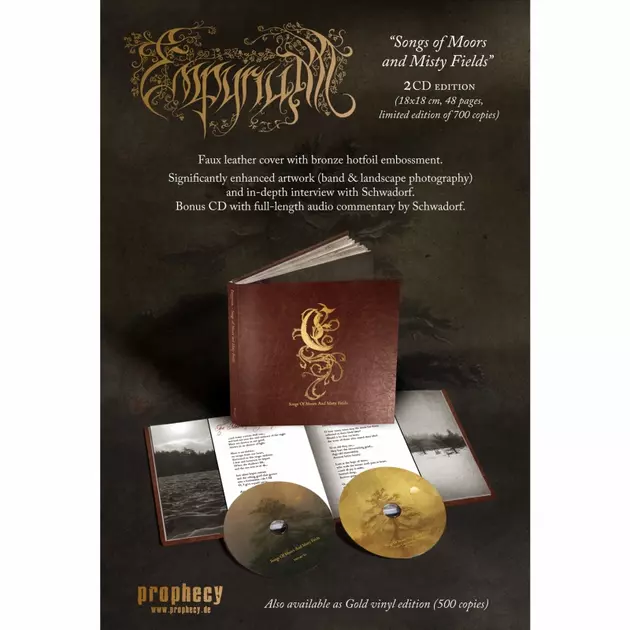 Prophecy Announces Empyrium 2CD, Features Invisible Oranges Interview
Prophecy Productions has announced a new hardcover 2CD of Empyrium's landmark Songs of Moors and Misty Fields. This new edition will feature a faux-leather cover with hot-foil embossing, enhanced artwork, a second disc of commentary from Markus "Ulf Theodor Schwadorf" Stock, and liner notes featuring our lengthy interview with Stock from November 2017.
A masterpiece of monumental and bombastic Dark Romantic Metal

With "Songs Of Moors And Misty Fields" (1997), Schwadorf perfected his dark Metal full of classical Romanticism and traditional folklore. The album relates back to the band's debut "A Wintersunset ...", but also delivers the blueprint for their later development into more tranquil folk sceneries.
Edition details:
2CD in hardcover book (18x18 cm, 48 pages) with faux leather cover and bronze hot foil embossing. Featuring significantly enhanced artwork (band and landscape photography) and in-depth interview with Schwadorf. Bonus CD with full-length audio commentary by Schwadorf. There will be 700 copies available.
Prophecy Productions has announced a festival in Brooklyn this coming November, sponsored by Invisible Oranges. Read more about the festival here.
Become an Invisible Oranges Patron.
More From Invisible Oranges