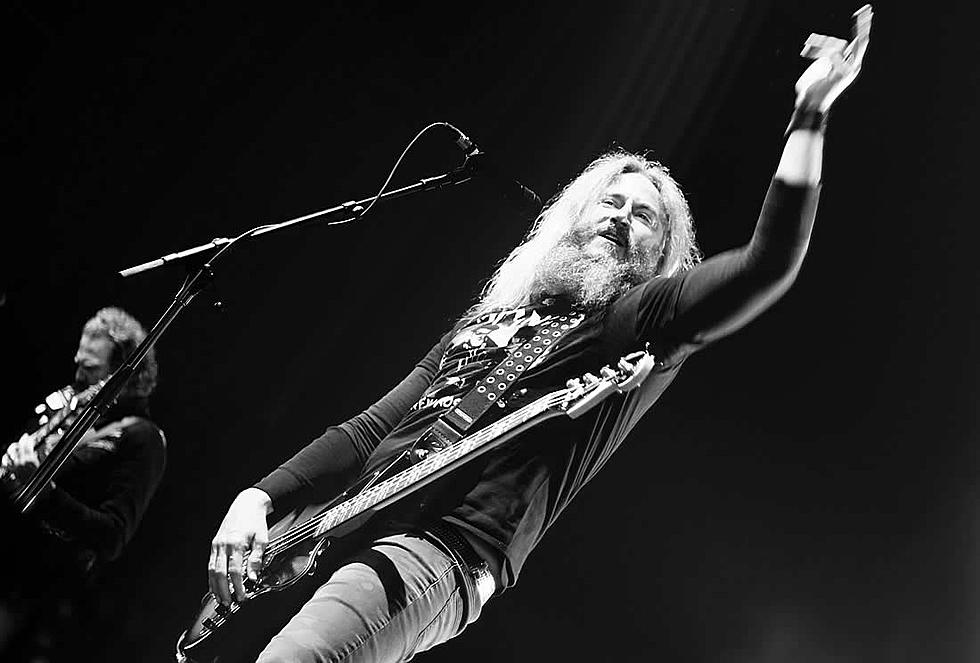 Primus & Mastodon @ Ford Amphitheater at Coney Island Boardwalk
photo by Christopher J Harringto
On the shores of Coney Island, two behemoths floated in with the tide: Primus and Mastodon, giant globes of expression. Two bands I've loved for many years. Primus since 1994 (I bought Pork Soda on cassette from Coconuts), and Mastodon since 2004 (I picked up Leviathan after reading a recommendation from an interview with Pearl Jam bassist Jeff Ament in Rolling Stone). I hadn't seen Claypool and company for 18 years, and Mastodon for nearly a decade, so I was due.
Well, holy shit, what a night of art and realness. After all these years they once again showed me the special little inner-portal to infinity. A place that is unique, because you can really smile in there. Really find some happiness and inspiration.
Primus and Mastodon share a similar trajectory, and this is a tour that was years in the making. The two groups both grew out of the heavy metal scene; and both stood out because of their experimental and other worldly bent. But both eventually dislodged from that very confined, very conservative nexus of a scene, and both evolved into something truly individual. It's not to say that heavy metal isn't a crucial element to their existence, because it is, most definitely. It's just that it's a little fragment of their completeness, and that's the key function. These are two bands that transcend genre. The fast riffs, the grind, the mosh-ness: that's all fun stuff, all stuff to grab hold off and move with, because it's youthful. But it's really about the deep connection now, and both groups showed that Sunday night.
Mastodon worked an interweaving set that included songs from Leviathan to last year's Emperor of Sand. I was a staunch champion of their early records back in the day. The last time I saw Mastodon, that's all I wanted to hear, and they sounded best when playing those old songs. When Crack The Skye came out in 2009, the more progressive nature didn't sound quite functional yet. The Hunter was intense, though, showing that progressiveness grown stronger in little pockets here and there, combining the old grind-ish fluidity with truly high songcraft. For me, their records just keep getting better.
Once More Round The Sun and Emperor of Sand are masterpieces of rock and prog. They contain songs that stick with you lyrically and melodically, the way the instrumental sections of the old songs (Remission, Leviathan, and Blood Mountain) did. Mastodon figured out how to sing songs as well as they played them, and to me, this made all the difference. When drummer Brann Dailor sat behind the kit singing "Steambreather" (off Emperor of Sand) toward the end of the set, there was a moment. You know that moment: the moment where you're really there, really know you're seeing something real, something with all the heart in the universe.
I'll always love the whole Mastodon playbook, but listening to those old songs I still can't make out the lyrics -- you just can't hear them. That's the problem with a lot of extreme metal. If you can't make out the words, it seems insane. If you really listen, you can hear how much stronger Mastodon's new stuff is. Their set was like a lifetime of imagination spread out across a sea of colors, because that old stuff is still so good, complementing the newer material like mirrors upon mirrors. The band has come so far and still keep traveling towards the eternal light, picking up quasars and cloud dust.
Primus has been my favorite band of all-time on many occasions: I mean, when someone asks you to list your favorite bands in order, Primus has been number one for me many times. Always top five. I grew up on Primus. I feel like I am Primus. They are equal hippie and punk. People dance and people slam. They're so multi-headed. I swear, the only two times I've ever seen someone dragged out of a pit unconscious, has been at a Primus show. And this is right adjacent to the flower power section, really digging the groove peacefully. Primus hits on all cylinders, cylinders you don't have, I don't have; cylinders that are out there just to make up out of thin air.
The trio of Les, Larry and Herb The Ginseng Drummer (Tim Alexander), cracked open something I wasn't prepared for: A psychedelic awakening (again). Squeezing legendary hits from Frizzle Fry, Pork Soda, Sailing The Seas of Cheese and Tales From the Punchbowl (maybe Brown Album, too: remember the mind of stone), in-between a complete performance of their new record, The Desaturating Seven, the group showcased the depth of their resources and mindfulness. I realized then, that I didn't give the new record enough time, because live, it has immense power. Things have changed so mightily the past few decades in terms of musical tactility. In the '90s I had cassettes that I played repeatedly. You grew up with whole albums and you lived with them for a long time. When I heard The Desaturating Seven recently, I was already looking for something else to listen to while it still played. It's an "on to the fucking next thing" reality these days. So, I missed the real uniqueness to that album. It's all about harsh noise, and strange intensity, sequenced with "old school" Primus technicality and thump. Live it was almost grating and then wonderful, an experiment in tonality and patience. Primus hasn't lost a single thing in the 18-year span of my live witnessing of them. They were so good it was almost unbelievable.
Mastodon obviously hasn't lost a thing either. Both bands were like the happiest and greatest things I've experienced in many a year. I was dreaming when I left the beach in the drizzle (I'm still dreaming). "Grab yourself a can of Pork Soda, you'll be feeling just fine," echoed through my brain; and then, "I wonder where I stand, I'm afraid of myself." I couldn't sleep last night. I was high on the whole thing!
More From Invisible Oranges