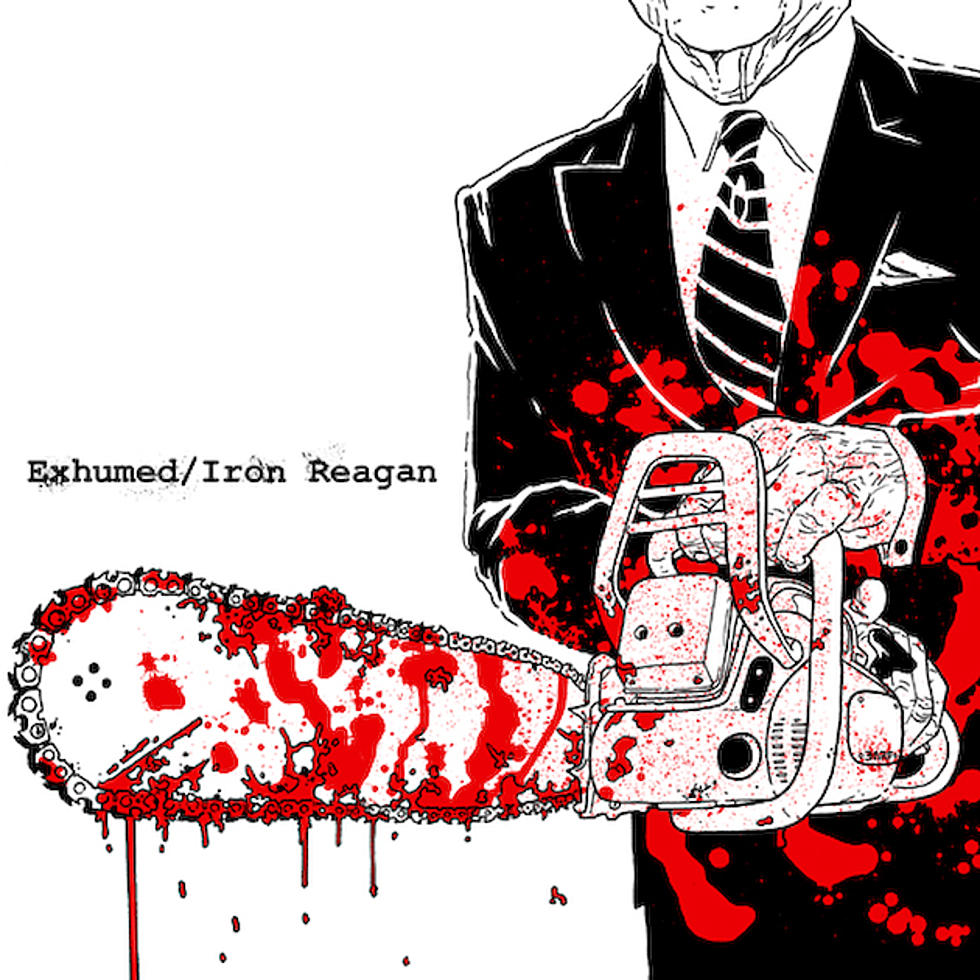 Premiere: Iron Reagan's "Mini Lights"
Iron Reagan rocked some worlds earlier this year with their pissed off whirlwind of a debut full-length, Worse Than Dead. That album, with songs that average around a minute-thirty and nail the punk and hardcore divide with a thrashy attitude, thematically resurrects the spirits of Cold War-era fears to take on today's politically charged topics like gun control and reproductive rights. For such serious business, Worse Than Dead sure is a fun listen.
For those not familiar, Iron Reagan's the output of Ryan Parish and Paul Burnette, both formerly of Darkest Hour, and Municipal Waste's Phil Hall and Tony Foresta. Foresta's voice is certainly a defining characteristic in Iron Reagan, but this isn't MW 2.0. "Mini Lights" is from the band's forthcoming split with Exhumed, with whom Iron Reagan just kicked off a tour. Surprise: it rips.
The split 12" is out on January 7, but a pre-order deal on Tankcrimes will get you the split mailed out and a digital download in your inbox on December 16.
12/8 Las Vegas NV @Cheyenne Saloon
12/9 Oakland. Ca @The Metro w/Necrot
12/10 San Deigo Ca @The Casbah
12/11 Anaheim Ca @Chain Reaction w/Witchhaven
12/12 Tempe Az @Rocky Point Cantina
12/14 Denver Co @Denver Black Sky Fest
Iron Reagan/Power Trip/Mammoth Grinder Tour
12/15 Oklahoma City,Ok @Conservatory w/Windhand
12/16 Dallas,TX @Club Dada w/Windhand
12/17 Austin,TX @Red 7
12/18 New Orleans,LA @Siberia
12/19 Tampa,FL @Epic Problem
12/20 Pembroke Pines,FL @The Talent Farm
12/21 Gainesville,FL @The Atlantic
Iron Reagan/Gwar/Battlecross
12/27 New York @Irving Plaza
12/28 New Haven Ct @Toads Place
12/29 Richmond Va @The National
More From Invisible Oranges