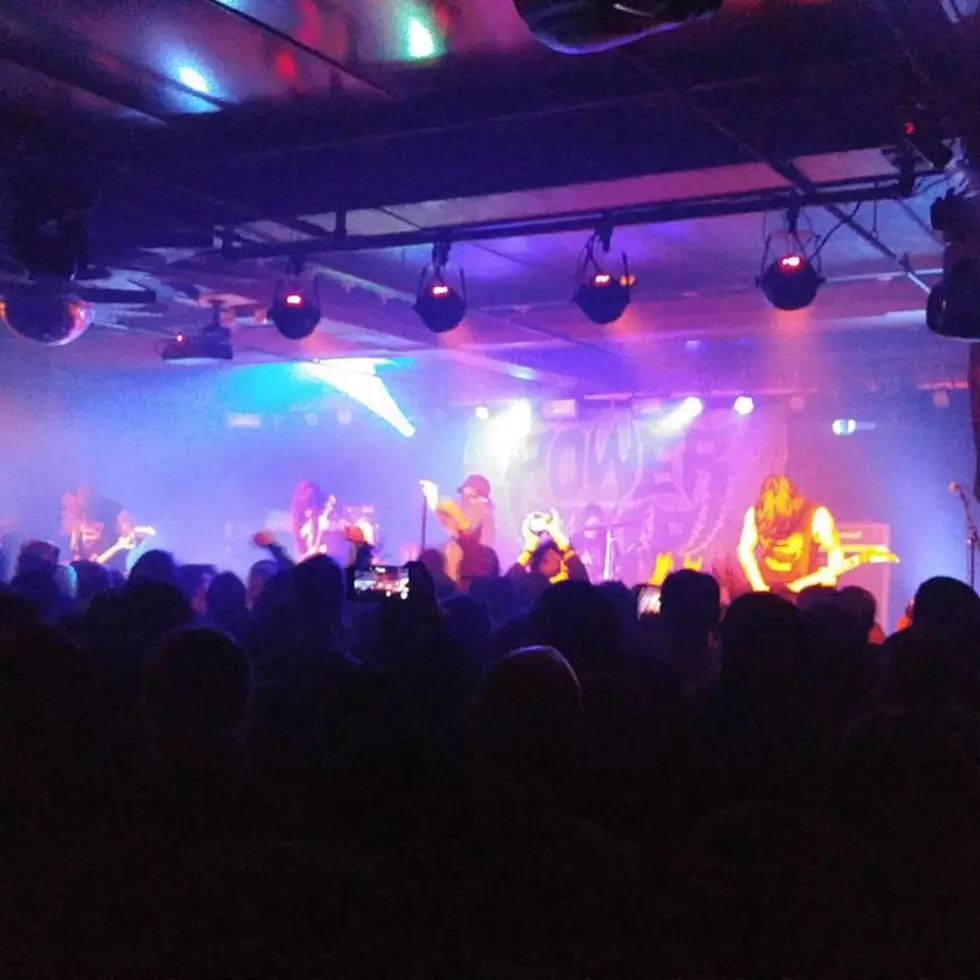 Power Trip & Iron Reagan Live at New York's Webster Hall
Power Trip photo by Tom Campagna
...
A cold blustery night on the lower east side of NYC wouldn't be complete without a visit to Webster Hall; with the powerful duo of Iron Reagan and Power Trip on tap, bodies would be sure to be warmed, necks made to be broken, and pits invariably circled. The floor was buzzing from the recent release of Iron Reagan's Crossover Ministry, whose cover art was prominently displayed in the background of the stage when Tony Foresta and Landphil (of Municipal Waste fame) brought their now-3-albums-deep project to the stage. Iron Reagan blasted through "Dying World" to open their set; that's when the bodies started to fly.
Foresta; a scene veteran shows no signs of slowing down, despite the gray in his beard, always an energetic front man. Known for their humor, Iron Reagan made sure to disperse tidbits about their songs such as "This song is about having sex with the person next to you" (Fuck The Neighbors), and "this song is about stabbing out someone's eyeballs" (Eyeball Gore), the tongue-in-cheek aspect of the band made for a tremendous palate cleanser before things got more serious when Power Trip hit the stage.
Power Trip are a band more polarized than ever by the recent election results; the writing process happening during the events of the Orlando shooting and the election cycle itself; they are a throwback to the Reagan-era in their political approach and their overall disgust with the state of this country's monetary elite. Opening with the energetic "Soul Sacrifice"; Power Trip launched headlong into their fight with bureaucracy. The Marlin Room is the middle floor of Webster Hall; regardless of that it felt like these Texans would still blow the roof off of the entire building had they continued their furious pace.
Riding high on their set from This is Hardcore and their nationwide tour of exposure in support of scene veterans Anthrax and Lamb of God in early 2016; Power Trip are becoming a force on their own and thanks to all of the more recent exposure, Nightmare Logic's release is garnering all of the right praise. The excellently titled "Executioner's Tax (Swing of the Axe)" gave way to crowd participation during the chorus and a raucous wave washed over the crowd. The choice tracks off of the band's Manifest Decimation debut hit harder and were balanced out by new tracks, time and again.
The night culminated in "Crossbreaker; much to the delight of the crowd and more camaraderie amongst the concert goers. The music is about upheaval of governmental powers and also about unity within this very divided country and if Power Trip has their way; maybe we can have a real discussion about what is going on in this country, and maybe have a little fun along the way.
-Tom Campagna
...
...
Power Trip video courtesy of Max Volume Silence
...
More From Invisible Oranges