IO-SXSW pics: Power Trip, KEN Mode, United Nations, Single Mothers, more
Power Trip @ Red 7 -- 3/20/2015

Among the metal shows at SXSW this year was the BrooklynVegan Friday day party at Red 7, co-presented by Invisible Oranges. It was a multi-genre party with 13 bands (it would have been 14 but Walter Schreifels' band Vanishing Life unfortunately dropped off at the last minute), and heavy music was represented in one form or another by United Nations, Power Trip, KEN mode, Pianos Become the Teeth and Single Mothers. Pictures of those bands are in this post.
The first of these to take the stage was Single Mothers in the inside room. While definitely more punk than metal, there's no question they played a totally heavy, pissed-off set that made for a great transition into their fellow Canadians, KEN mode. KEN mode have actually been toning down the metal in their sound too. They previewed a handful of tracks off their upcoming Success album, and it sounds like they're moving further towards AmRep-style noise rock. They do it great too. After them came the always-killer crossover thrashers Power Trip, who had the place in a total frenzy the whole time. Headlining was United Nations, the band fronted by Thursday's Geoff RIckly that pulls more heavily from powerviolence and '90s screamo than the sounds Geoff's former band was associated with. Their set was super powerful, and their stage banter was as sarcastic as their often-indecipherable lyrics are ("this song got best new music on Pitchfork so you know it's bullshit" is how Geoff introduced "Serious Business").
United Nations' rhythm section is also in Pianos Become the Teeth, who played the outdoor stage in between Single Mothers and KEN mode. While Pianos stuck mainly to new material (which is great but a little outside IO's usual coverage), their first two albums are as heavy as a handful of bands we cover on here, so we'd be remiss not to mention those guys too.
Thanks to our sponsors Dropkloud, Esurance (who let 30 people skip the line each day) and MailChimp for helping make the party possible. If you unlocked our party playlists on your phone with the DropKloud app, you can go listen to them now. If you're still in Austin, you can still unlock them when at Red 7 with the app installed on your phone. Thanks also to Sailor Jerry for helping keep all bands hydrated.
Also, BrooklynVegan's Thursday party had Canadian hardcore/stoner riffers Cancer Bats. They're on tour with Exalt now. If you're in NYC, you can see them at Saint Vitus on Saturday (3/28) (tickets). A shot of Cancer Bats' set, followed by more pictures from the BV/IO show, below.
Single Mothers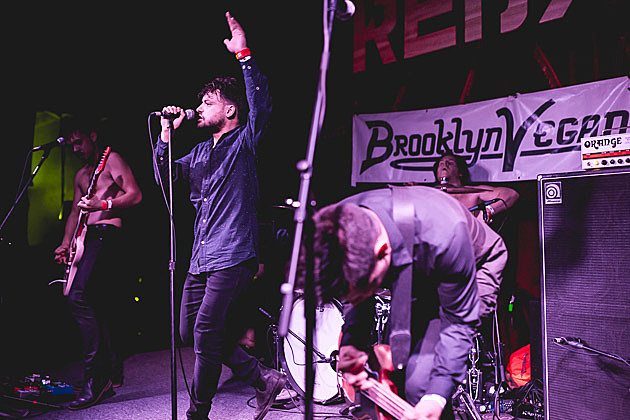 Pianos Become The Teeth
KEN Mode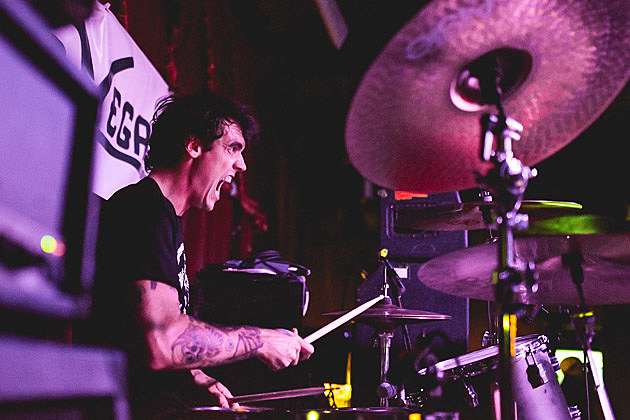 United Nations
More From Invisible Oranges