Photos: Iron Lung, Dream Decay
...
Seattle powerviolence duo Iron Lung have been out on the road for close to a month now, playing dates with Dream Decay including Saturday at Death by Audio (3/30) in Brooklyn, NY. Support at the show came from the trio of Brain Slug, the always amazing Shoxx (now with a pair of guitarists and a new drummer) and the crusty No Tomorrow. Pictures of the touring bands are below.
One of the biggest disappointments of the evening was amplifier hum on Jon Kortland's guitar, not so much that it hindered the Iron Lung's performance, but that the first half wasn't peppered with drummer Jensen Ward's dry & sarcastic jokes in between songs. That changed as the evening rolled on, and the band's start-stops and thundering blasts surpassed the razor sharp on-stage wit.
Dream Decay was the most surprising act of the evening, channelling noise rock and Swans-y no-wave into a single slithering, feedback drenched pummel. Drummer/vocals are at the center of this Seattle band's sound, which also featured a saxophone to add Contortion-y squeals over top of it all.
Iron Lung are touring in support of White Glove Test, the band's new LP that comes in three versions: the regular LP, a noise LP and a combination of the two. Dream Decay also has a new LP, N V N V N V, out now via Iron Lung Records. Stream both below (beside pictures from the show), get hard copies on the road, or snag a digital of both at the Iron Lung bandcamp.
— photos by Keith Marlowe
...
Dream Decay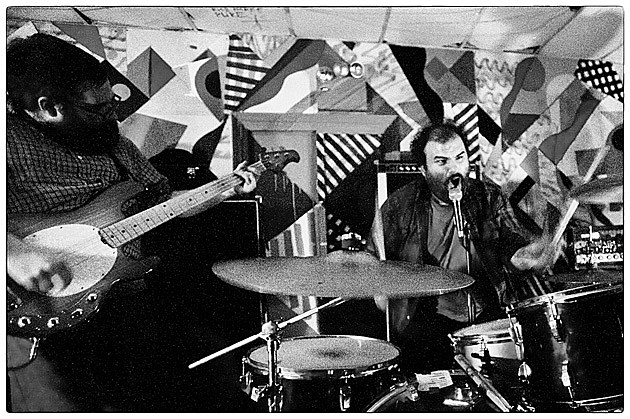 Iron Lung