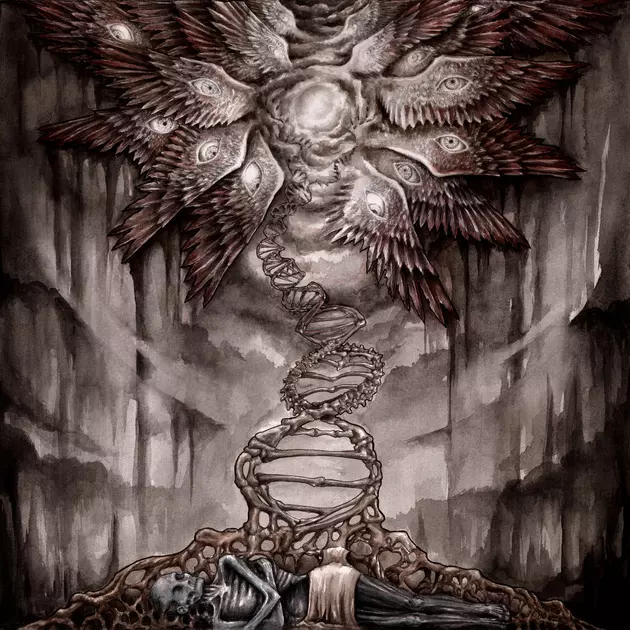 Palace of Worms – 'The Ladder' (Album Premiere)
Though black metal has certainly progressed over the past decade, there are moments in which I ask myself, "Okay, so what's next?" Sure, bands are taking the sounds pioneered by their predecessors and "expanding" upon them, maybe adding elements of post-rock (which is so overdone now - hey fledgeling post-rock black metal bands, do something else) or a minute extra-genre influence to make at least a minor mark, but there really hasn't been much which has made me tilt my head and remark on its originality. Hell, we've been stuck in the post-Romantic era for the better part of two hundred years. How can we go forward?
In its seven tracks, USBM hermit Balan's Palace of Worms takes what we might consider black metal, strip it to its bare elements, turn it on its head, and act as a master carpenter. Upon its inverted base, which, as evidenced by riffing style and harsh vocal approach, is clearly black metal, Balan ascends this eponymous ladder rung by rung, rising from genre distinction. Within The Ladder, Balan touches on gothic music and post-punk - "Wreathe" features a very apt Lycia impression, down to Mike VanPortFleet's melodramatic enunciation - post-hardcore, shoegaze, and the ephemeral avant-garde, all while maintaining a significant "self."
Throughout its many experiments, where Palace of Worms shines brightest is in its self-synchronicity - too many bands adventure from the norm and return altered and synthetic, yet Balan's many-tentacled approach retains a central sound focus. This is how a genre successfully progresses, maintaining a constant backwards gaze while reaching and clutching onto whatever might tastefully fuse. I hate to use the word "alchemy," a word I see far too often in press releases, but Balan definitely turns potentially haphazard experiments into gold. This is the first real step in "what comes next" that black metal has made in a long, long time.
"It's definitely a change of pace for me as far as sound and vision goes simply because I grew tired of living the charade of the same monochromatic 'black metal evil' that has been mined a billion times now. My life is better than when I started Palace of Worms, which has in turn reflected in my world view. There is still a lot of darkness in the record, but also an amount of light which I feel provides necessary contrast, emotionally speaking. I tried to make an album which was not one note on an emotional level because that's not how I, or anyone else, operates, despite how much of a 'grim kvlt warrior' they claim to be. I also simply get bored and want to tinker with different genres and sounds.
"The themes of the record have to do a lot with overcoming an innate corruption in the biology of our being as humans. We are rotting meat bags which will rot into eternity, and the idea of that has always frightened me when confronted with it. It's not simply being afraid to die, it's the idea of the loss of consciousness and eternity. I guess it's about accepting the inevitable. There is human depravity, then death and being okay with it."
More From Invisible Oranges