Old Spice, Windows Media & Underwear Model Kvlt: Chaos in Tejas 2013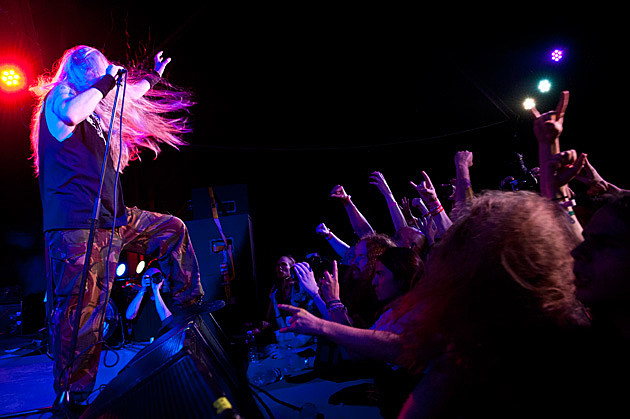 Going to another musical festival right after Maryland Death Fest sounds like a terrible idea, right? My body needed a break; my desire to see Bolt Thrower (again) and Lil Ugly Mane wouldn't let rest be a priority. Saying that I "survived" Chaos In Tejas would be a bit dramatic, but even if the fest is held on a weekend, it isn't for weekenders. Okay, so maybe the flock of dudes in matching Lockin' Out tanktops was cute, to put it nicely. And yes, most of those Framtid backpatches came from folks who had just heard them a month before. Seriously, though, you try being around all these punks. You'll be a fourth of Old Spice's income.
Bolt Thrower were leagues better than at MDF. For one, even though the 11E5 Warehouse wasn't particularly cool, it was nowhere near the micro-Houston-summer the MDF tent was. Bolt Thrower sounded like the War Masters they really are, filling the rather spacious venue with the blood of the fallen and the sweat of those that will eventually fall. "World Eater" into "Cenotaph"? How does a band make a transition that smooth and, at the same time, that warlike? That alone was worth the set. One guy even said he came out just to see "if Jo Bench was real." She is, man. She is.
Dallas' Power Trip play Austin a lot, mainly due to that drummer Chirs Ulsh is a local renaissance man, but their set opening for Benediction felt different having heard their excellent full-length, Manifest Decimation. Power Trip are a lot more straightahead live, especially without the reverb on Riley Gale's vocals that's slathered on the record. No matter – hardcore kids who don't know who Razor is were still getting down. Ulsh was a man about town during Chaos, also playing in The Impalers, Vaaska, Mammoth Grinder and Hatred Surge, the latter whom released their Human Overdose on Iron Lung Records at the fest. Hatred Surge opened the Infest show, and they're easily the most visceral of Ulsh's projects. Their powerviolence has a new death metal edge, making them quite moshable. Don't sleep on Overdose. Pinkish Black, Power Trip's peers from Fort Worth, kicked off the show, and the fest itself, sounding rejuvenated after cancelling quite a few local gigs.
Akitsa put on one of the weirdest and best sets in recent Chaos memory. Vocalist O.T. had underwear model kvlt in full effect, and his only moods were statuesque stoic or vile contempt. Akitsa are known for their punky take on black metal, but their modes were ever-shifting. They kept it fresh without going all avant-garde on our asses. One song even featured a blackened groove metal riff, simultaneously kvlt and unkvlt. Walk on home, boy. Mitchochondrion's set right before Akitsa made their Rites of Darkness performance look like a first-time rehearsal. Just when you think they would get to chaotic and lose the program, they pulled out another tangle of riffs with ease. Their sound was also clearer and heavier this time around, better fitting their mindfuckery. Anhedonist sound like the last band that would need a fan onstage – their doom-death is a far cry from cock rock. No band has looked so good while making feel bad hits for the eternal summer.
There were two bridge shows planned, but Kromosom's got so rowdy, cops shut down the one planned for the next day with Joyce Manor (yeah, yeah), Power Trip, and Hoax. Having never attended a bridge show despite being a local, I had to see why people continue to host these in the face of possible fuzz buzzkill. It has the intimacy of a house show, without the house. The people are sometimes louder than the bands, dogs were barking to be freed from their crusty abusers, and littering isn't exactly frowned upon. Then again, bars get old after a while and they have to close at 2. Keep the party raging, I say! If you want to get a group of punks to cheer loudly on a moment's notice, throw a traffic cone in the water. I myself am steamed I didn't have a chance to give Joyce Manor a taste of the river.
Timmy Hefner has diversified the festival greatly in recent years, while maintaining a punk heart. Pharmakon represented noise at Chaos, and despite her age of 23, she's got loads of experience and talent on many would-be knob-twiddlers. Punishing squeals and clangs much more nerve-wracking than any crusty could stench himself up to be. The freedom – or oppression, depending on how you look at it – of noise is enthralling, especially when you've been listening to structured music like metal your whole life. One of the most anticipated non-metal/hardcore shows was Virginia rapper Lil Ugly Mane, who was as much of a draw as the headliner, Bushwick Bill of the Geto Boys. If you're a fan of fucked up music and you somehow missed out on last year's Mista Thug Isolation, you better come correct real soon. Hotel Vegas made him sound extra bassy, sometimes obscuring his production on "No Slack In My Mack" and "Lookin' 4 the Suckin'." He didn't even have a DJ, playing tracks from Windows Media Player. Too hood. It's things like this that make Chaos...Chaos.
Any disappointments? Destruction Unit didn't set off any fireworks, unlike their show in Austin last June. C'mon, y'all aren't called Destruction Unit because you're about unity. Mobb Deep and Gehenna cancelling. The outside of Integrity's show at Red 7 opposite Akitsa smelled like Jack in the Box. Akitsa conflicted with Andy Stott and Vulgar Fashion, and eat us alive if you wish, IO likes to dance too. There were a ton of Danish bands, and none of them were Mercyful Fate. Seriously, King Diamond, can't you put a spell on Lower so they can't play ever again? Minor quips, really.
Chaos was one hell of a welcome home from MDF party. And they expected me to listen to the new Black Sabbath stream on the Monday after. Fools. We may not recover until this time next year.
More From Invisible Oranges