Noisem release new video, 'Agony Download' LP for pay-what you want
Noisem at Maryland Deathfest 2013 (more by Fred Pessaro)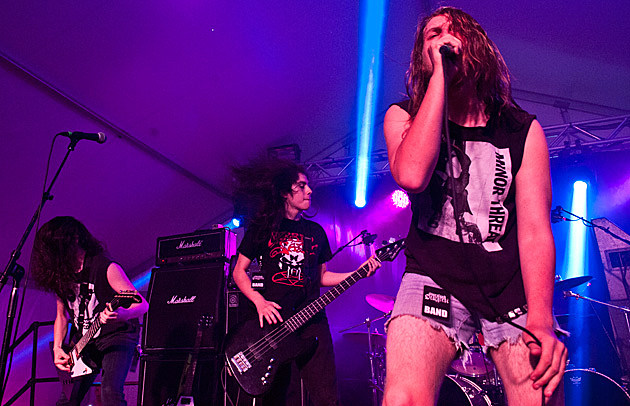 ...
Continuing in their streak of giveaways that have thus far included Full of Hell and Integrity, A389 Recordings have made the debut Noisem LP Agony Defined available for stream and pay-what-you-want-download. The thrash-y death metal release, which was released in June via the label, has also spawned a live video for "Severed" captured at MDF XI. Check out a stream of the LP and said video below. Get yours at Bandcamp.
...
NOISEM - 2013 TOUR DATES
8/16/2013 The Ottobar - Baltimore, MD @ A389 Summer Extermination
8/21/2013 Casa De Swezey - Centereach, NY w/ Burning Monk, BILLxNYE, SST, Lowlife
8/24/2013 Sidebar - Baltimore, MD w/ Wehrmacht, Strong Intention, Lifetime Shitlist, March to Victory
9/16/2013 New Brookland Tavern - Columbia, SC w/ Full Of Hell
9/17/2013 Ziggy's - Wilmington, NC w/ Full Of Hell
9/18/2013 Strange Matter - Richmond, VA w/ Full Of Hell
11/02/2013 DC9 - Washington, DC w/ Pelican, Coliseum
...