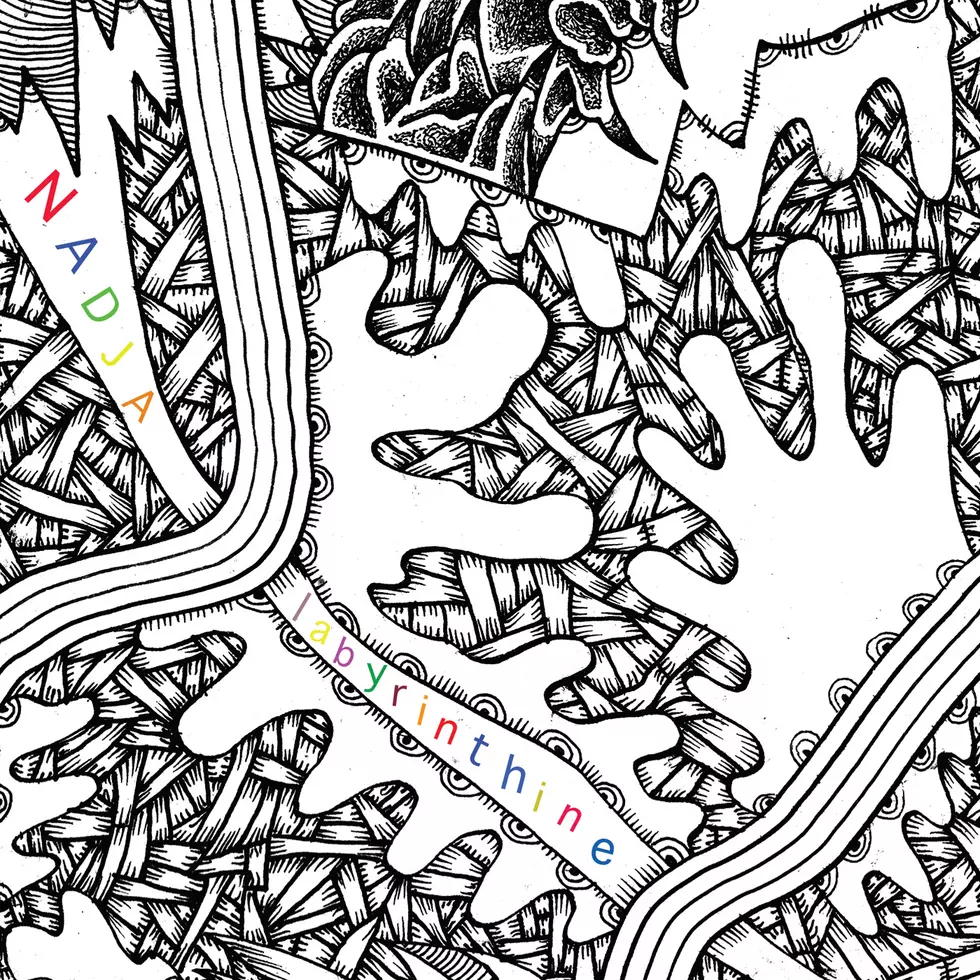 Nadja Leaves Drone/Doom Metal's Tenets "Blurred" With New Single (Track Debut + Interview)
---
I was trying to figure out how to write about Nadja again when I realized something: for all the flowery language I use, it all masks one sentiment. I love Nadja, and I have for a long time. Aidan Baker and Leah Buckareff's shoegazing take on crushing, minimalist drone/doom is both as admirable as it is unique (you wouldn't mistake them for Jesu), but it is also versatile. Take, for example, "Blurred" from this duo's upcoming Labyrinthine album. Traversing drone/doom metal's feedback worship, single note meditations, and dreamy jam sessions, Nadja, especially when paired with Elizabeth Colour Wheel vocalist Lane Shi Otayonii, who handles vocals on this song (streaming below), finds themselves offering a powerful genre survey in drone/doom art. The rest of Labyrinthine, featuring guest spots from Alan Dubin (ex-Khanate), Dylan Walker (Full of Hell), and Rachel Davies (Esben & The Witch), positions itself as a masterclass in drone/doom's wide spectrum, and is only further evidence that I Love Nadja still, even, like, 15 years later. Listen to an exclusive stream of "Blurred" (with the previously released "Necroausterity") below.
...
...
This album features guest vocals on each song–what was the process like finding these vocalists and how did you decide who would fit for each song?
We started with our usual skeletal sketches of songs, which normally we would flesh out with noise and ambient textures...but in this case, we found the spaciousness of these sketches appealing and decided to recruit vocalists as something of a different approach to our usual methods… and specifically vocalists who would fill the absence of the ambient sounds we usually use.
How do you feel vocals function in the Nadja context then? Are they simply another layer of noise or something else?
When we do them ourselves, they definitely function that way, more as another texture or melodic line, rather than a focal point. But with this album, the vocalists have such distinctive deliveries, we definitely highlighted the vocals in the mix much more than we normally do.
Did you find yourself tailoring songs with the individuals you wanted in mind?
To a certain degree, yes. We have talked with Alan for a while about doing something together, so the track we gave him we were already imagining his voice on it.
This album features a distinctly heavy Nadja which is separate from the more dreamdoom and slowcore approach from recent material. What made you want to revisit this earlier style we heard on albums like Touched and Truth Comes From Death?
I wouldn't say that was exactly intentional when we started working on the songs, more that they developed that way during the process of recording and editing/mixing. Though I had to force myself to resist the urge to add more ambient layers.
...
Labyrinthine releases September 6th. To be released on CD by Broken Spine & limited cassettes by: Katuktu Collective (US), Cruel Nature Records (UK), Bad Moon Rising (Taiwan), Adagio830 (Germany), Muzan Editions (Japan), UR Audio Visual (Canada), Pale Ghoul (Australia), & WV Sorcerer (France/China).
More From Invisible Oranges