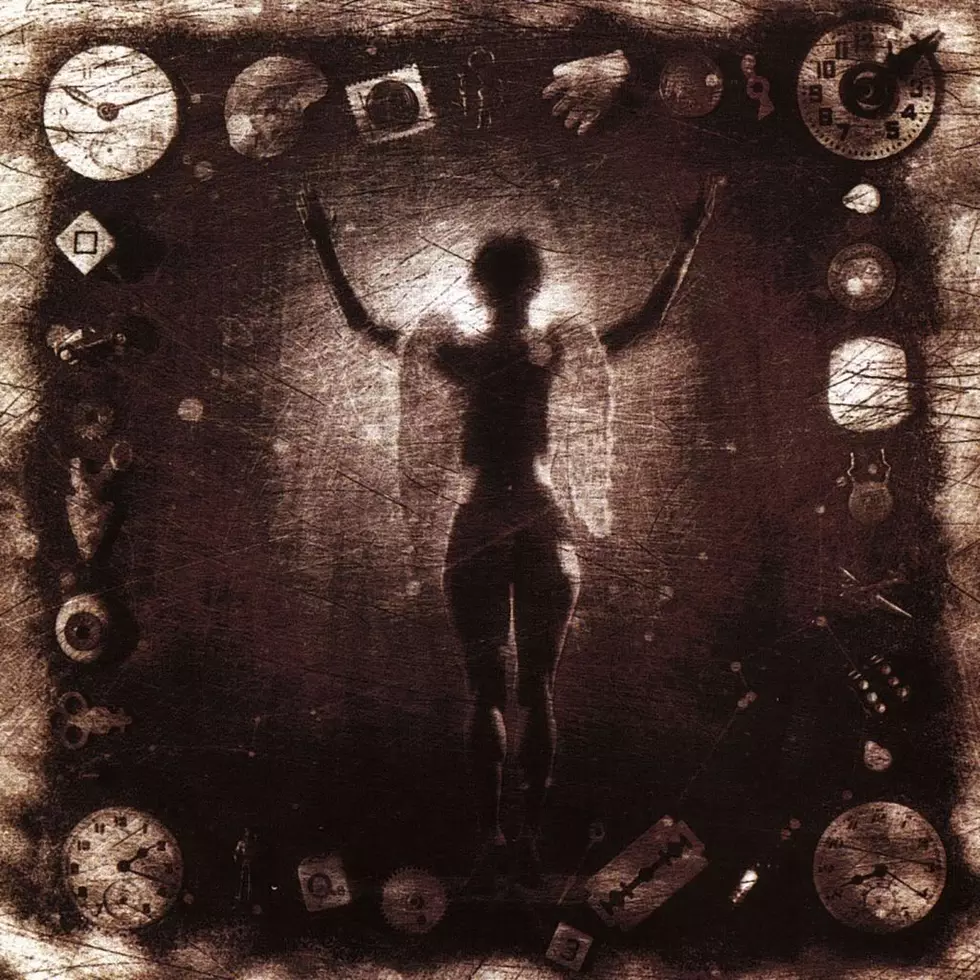 Ministry's 'Psalm 69′ Turns 20
The Land of Rape and Honey stands as Ministry's purest expression of intent—one thing, one song, done again and again, perfectly. The Mind is a Terrible Thing to Taste saw an explosion of creativity—that one song got stretched in a hundred directions, scattered to the wind, and blown the fuck up into something else altogether. Psalm 69, or ΚΕΦΑΛΗΞΘ as the CD spine calls it, took everything that came before and ripped it wide open. The guitars suddenly felt real. No longer an exotic seasoning, metal became the main course. It's Ministry's finest moment—the high water mark for industrial metal, and the template for every Ministry album from Animositisomina onward. On July 14, Psalm 69 celebrates its 20th birthday.
Right out of the gate we're hit by the two strongest songs Ministry ever wrote. "N.W.O." is a jackhammer; Al Jourgensen's resident shredder Mike Scaccia pounds out a staccato blast while the programmed drums smash concrete. It's as hard as anything Godflesh ever did, and more insidious for the hooks they don't bother to hide. Paul Barker's bass throbs like a rhythmic hip thrust, while the vocals spray political rage like buckshot. It's dance music for killing, heavy metal for fucking.
"Just One Fix" is even better. "Gimme the thorazine, man." The drums stomp like an elevated pulse as something slams into your vein. Uncle Al cries out for a fix, and Scaccia's guitar keeps him company. "Blood keeps drinking away, certain of its destination." The pulse pounds in your ears, and you're scrounging for something to put in your arm, up your nose, up your ass. Collectively, we are a fiend in need of drugs and a nation in need of oil; Jourgensen hammers home the parallel by the time the guitar throttles forward to match the pounding heartbeat. A late-blooming lead guitar sounds an awful lot like "Night on Bald Mountain", and why not? Samples scream and the noise floor builds… only to nod off and fade away.
Gibby Haynes steps out of nowhere for "Jesus Built My Hotrod", and we're off like a shot. It's Motörhead gone motorik on speed, and the metaphors just write themselves. "Psalm 69" takes us to the church of the final solution, all fervor and apocalyptic conviction, which is all the better by the time you realize they're mostly joking. Peel back the filth and the mocking samples and there's legitimate social discontent and frustration, but Al buries his screams behind a layer of distortion, keeps his face a mask behind the ever-present Aviators and that twitching junkie smile. It's hard to call Ministry's music subtle, but there's a nuance in the details, the choice of samples and pacing of the album--something they would lose in later years. "Scarecrow" is Zeppelin done harder than anyone, with a wailing sample that sounds like "How Soon Is Now?" played in a scrapyard. "Grace" is a fuck you of noise and static that almost goes on too long, but then it's over, and so is the album, and you're already jonesing for more.
20 years on, and there's still nothing like Psalm 69. Paul Barker quit too many albums ago, and he is missed. Al put the band to rest after trying and failing to replicate Psalm 69 too many times in a row. Like any good junkie, he's already back at it with his latest album, Relapse—what else would he call it? Industrial metal never produced anything else at this level, and it never needed to—not after Psalm 69 said it all and said it right the first time around. We'll always have Psalm 69, and it's all we need—listening today, the high is just as dirty, just as harsh, just as good as it ever was.
More From Invisible Oranges