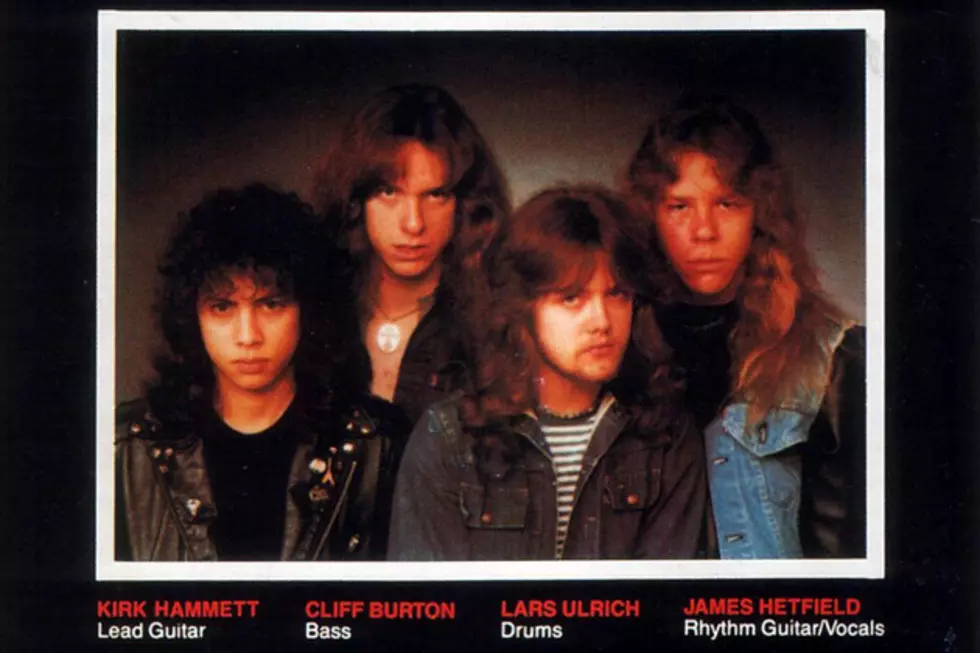 Metallica: The First Four Albums – "The Four Horsemen"
One of Kill 'Em All's charms is that its seams are visible. You can point to parts of it and go, "This came from here, that came from there". Albums two through four certainly had influences, but they're pretty much airtight. Kill 'Em All has tape and glue all over the place.
Part of the glue, of course, is Dave Mustaine. He has four songwriting credits on Kill 'Em All. The most prominent one is for "The Four Horsemen", which he originally wrote as "The Mechanix". Two years after Kill 'Em All, Mustaine defiantly put "Mechanix" on Megadeth's first album. He very much pitted his "Mechanix" against "The Four Horsemen" - for evidence, hear this 1984 interview (I've fast-forwarded to the relevant part).
The two songs present very different takes on the same material. "Mechanix" is lean and fast, so much that the main riff is a blur. It's practically one of those light-footed boogies that Van Halen did so well.
In contrast, "The Four Horsemen" is much slower, with lots of drum accents, and with palm-muting on the main riff to emphasize its swagger. In the middle, it also inserts a mid-paced riff and a slower one that, oddly, feels like the main riff in Lynyrd Skynyrd's "Sweet Home Alabama". (You can hear the comparison below. Perhaps this presaged Metallica's cover of Skynyrd's "Tuesday's Gone" 15 years later.) Over this slower riff is a lyrical Kirk Hammett solo that Mustaine would never have played. These additions are enjoyable, but they feel dropped in. They are obviously there to "de-Mustaine" the song.
So musically "Mechanix" and "The Four Horsemen" fight to a draw. "Mechanix" is tight and energetic; "The Four Horsemen" is sprawling and heavy. But lyrics break the tie in a big way.
"Mechanix" is a crass metaphor about sex:
Imagine you were at my station
And you brought your motor to me
You're a burner, yeah, a real motor car
Said you wanna get your order filled
Made me shiver when I put it in
Pumping just won't do, ya know, luckily for you
Whoever thought you'd be better
At turning a screw than me
I do it for my life
Made my drive shaft crank
Made my pistons bulge
Made my ball bearing melt from the heat
Oh yeah yeah
Compare to "The Four Horsemen":
By the last breath of the fourth winds blow
Better raise your ears
The sound of hooves knock at your door
Lock up your wife and children now
It's time to wield the blade
For now you've got some company
Horsemen are drawing nearer
On leather steeds they ride
They've come to take your life
On through the death of night
With the Four Horsemen ride
Or choose your fate and die
Oh yeah yeah
The song is ostensibly about The Four Horsemen of the Apocalypse. But on an album whose three themes are kicking ass, kicking ass, and kicking ass, it's clear that the song is also about Metallica. Can you imagine Mustaine in the photo above? No. That wasn't his destiny. He was the fallen angel cast out of Metalli-heaven - and now he's born-again. It's funny how things work.
Metallica - "The Four Horsemen"
Lynyrd Skynyrd vs. Metallica - "Sweet Home Alabama" vs. "The Four Horsemen"
More From Invisible Oranges