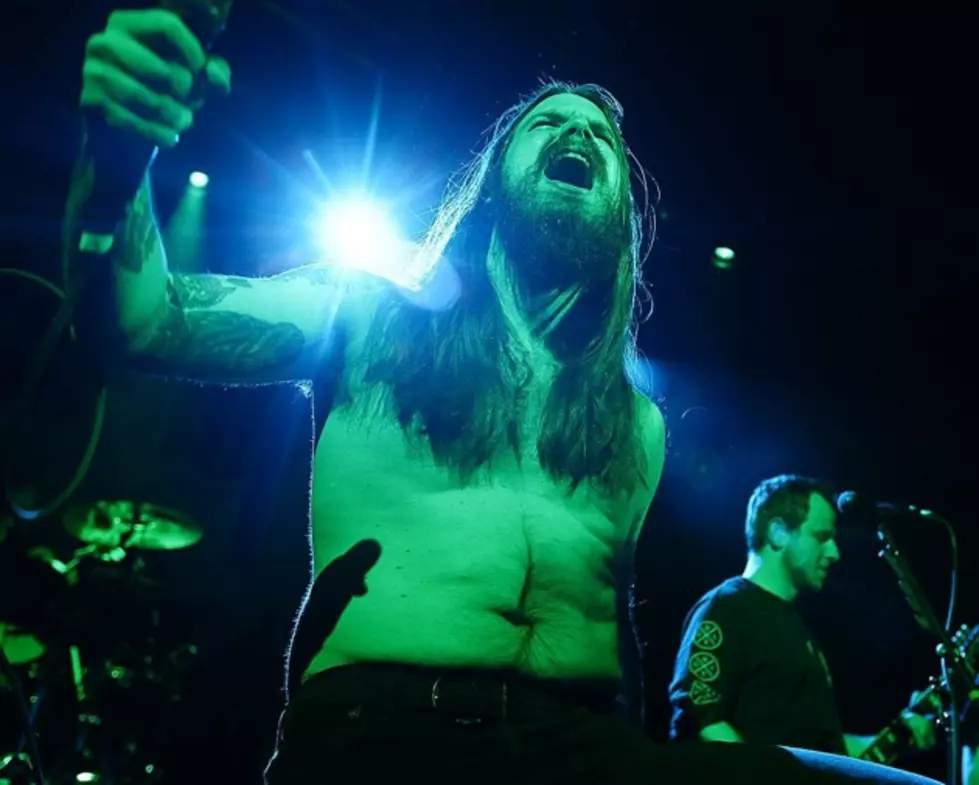 Live Review: Kvelertak, Torche & Wild Throne @ Irving Plaza
Norway's Kvelertak are about a month away from releasing their third album Nattesferd, and they kicked off a tour in support of it with Torche and Wild Throne earlier this week. It hit NYC for an Invisible Oranges-presented show at Irving Plaza last night (4/13).
Wild Throne kicked things off early with a 7:30 PM set. The place hadn't quite filled up yet when they went on, but that didn't stop the band from playing like rock stars. Wild Throne sound straight out of the proggy post-hardcore and alternative metal era of the early 2000s, the one often associated with the production work of Ross Robinson, who helmed Wild Throne's 2015 debut LP. Specifically they tend to recall The Mars Volta (whose members worked with Ross in At the Drive-In). So it's not exactly a new sound, but if you're a fan of this stuff, Wild Throne pull it off with conviction, real hooks, and they have the chops you need for it in a live environment. Their rhythm section is complex and busy, but not at the expense of having a thick, pummeling backbone. Even when singer/guitarist Joshua Holland is high up on the neck playing leads, the band sounds full without a rhythm guitar. And Holland usually is all over the place. He'll work in technical math-metal, tremelo-picked post rock, hard rock riffage and driving punk into the same songs, without ever sounding like overkill. He's got the voice for this stuff too. Even as his fingers are going wild, he'll be wailing in an upper register that nears Geddy Lee.
Up next were Torche, who were as consistently solid as always. If you've seen Torche, you basically know what you're getting. They front-load the set with the faster, poppier songs like "Kicking" and "Loose Men," and slow it down towards the end for towering sludge. They're still touring behind last year's great Restarter, but they mixed it up well with a good selection of songs from all over their career.
After Torche and Wild Throne, this had already been a great show. But Kvelertak finally came on and took it to a whole other level. I think this might have been the first time I've seen them headline (the others being opening sets and festival slots), and getting a full hour and a half of Kvelertak -- especially now with three great albums -- is one hell of a way to spend a night. I had recently sorta slighted their new Van Halen-esque single "1985," but at the live show it was one of the highlights of the set. Followup single "Berserkr" shined too with its bright addictive riffs, and the band gave us a handful of others off the new album that haven't been released yet. (A personal favorite is "Heksebrann" with a riff that nears traditional American folk-blues.)
All three of Kvelertak's albums have them finding new things to say with some of the most obvious classic rock, punk and metal influences, and it always ends up sounding highly original. It's admirable that this band has been crafting their own sound since day one and that it's arguably better than ever on Nattesferd, but I don't think about admiration when I'm watching Kvelertak live. This is a fun band. When they break out the power ballad solo of "Bruane Brenn" or the singalong choruses of "Mjød" or "Kvelertak" or the unbeatable one-two punch of "Fossegrim" > "Blodtørst" (which closed the pre-encore set), you have to try to think about just about anything. The uncontrollable urge to bang your head, raise your fist, shout, or whatever it is you do at a rock and roll show, is too strong. A band that does that to you every time can remind you why you fell in love with music in the first place. It's a refreshing feeling, and Kvelertak's show last night gave me that feeling stronger than I've had it in a while.
UPDATE: More pictures HERE.
More From Invisible Oranges