Live Report/Photos: Death To All, Anciients, Rivers of Nihil
The logic that governs the business side of heavy metal continues to elude me.
Its aftermath reawakened that cynicism with a public monetary spat between Death manager/legal custodian Eric Greif and tour organizers Sick Drummer Magazine. The dispute involved damning accusations from Greif regarding the tour's payout to Sweet Relief, the musicians' charity it was putatively designed to benefit. Its organizers also canceled two shows from 2012's limited run, presumably for lack of interest. (The NYC date I attended sold out regardless.)
It is baffling to me that the Death To All would carry on for a second year after such ugly events, and even more so that the outstanding Human-era lineup of Paul Masvidal, Steve DiGiorgio, and Sean Reinert would sign on under the circumstances. Carry on Death To All has, though, albeit under a somewhat less celebratory mood than it elicited in its inaugural edition.
DTA 2013's supporting details bear some of the blame for its limp. The crowd at Manhattan's Irving Plaza was thinner this year; where 2012's tragically AC-deprived July show was packed, moving around the venue was easy this time around. The first Death To All featured support from pitch-perfect stalwarts Gorguts, but the opening bands on this date came from a decidedly lower echelon: Metal Blade's inexplicable tech-death signees Rivers of Nihil, who have just two EPs under their belts, and the equally recent (and equally strange) Season of Mist acquisition Anciients.
Both bands played precisely and benefited from competent soundboard work, but nonetheless invited unflattering comparisons to their overt influences. Rivers of Nihil suggested where Decapitated might end up if Vogg trades in some of his virtuosity for an 8-string guitar. Anciients, who seem poised to enroll in the Baroness School of Metal Bands Whose Popularity Befuddles Me, mash influences that range from Opeth to Mastodon to Hammers of Misfortune into a jambalaya that, cannot match its ingredients' charms despite admirable effort.
Even setting aside these ancillary factors, this edition of Death To All suffered simply by being the tour's second round. The first iteration had the feel of a one-off blowout. Perhaps because of that past sensation, the second registered as perfunctory by comparison. The crowd chanted Chuck's name once again, but instead of breaking into the chant at every opportunity, they kept it up just long enough to get the point across.
Still, despite everything, this year's version of Death To All boiled down to an incredible group of musicians playing timeless songs. Paul Masvidal's onstage bouncing and increasingly huge biceps are funny, but his fluid leads remain deadly serious. The DiGiorgio/Reinert rhythm section replicated the first-four setlist like the songs were child's play. And Cynic rhythm guitarist/harsh vocalist Max Phelps utterly owned Chuck's center-stage spot. Even reawakened cynicism melts before the opening riff from "Living Monstrosity"; still, 2014's incipient Death To All tour might be better off to die.
Catch Death To All at these dates; the set list follows:
1. "Flattening of Emotions"
2. "Leprosy"
3. "Suicide Machine"
4. "Left to Die"
5. "Spiritual Healing"
6. "Within the Mind"
7. "Together As One"
8. "Baptized In Blood"
9. "Secret Face"
10. "Cosmic Sea/bass solo"
11. "Zombie Ritual"
12. "Living Monstrosity"
13. "Lack of Comprehension"
14. "Pull the Plug" (encore)
- photos by Caroline Harrison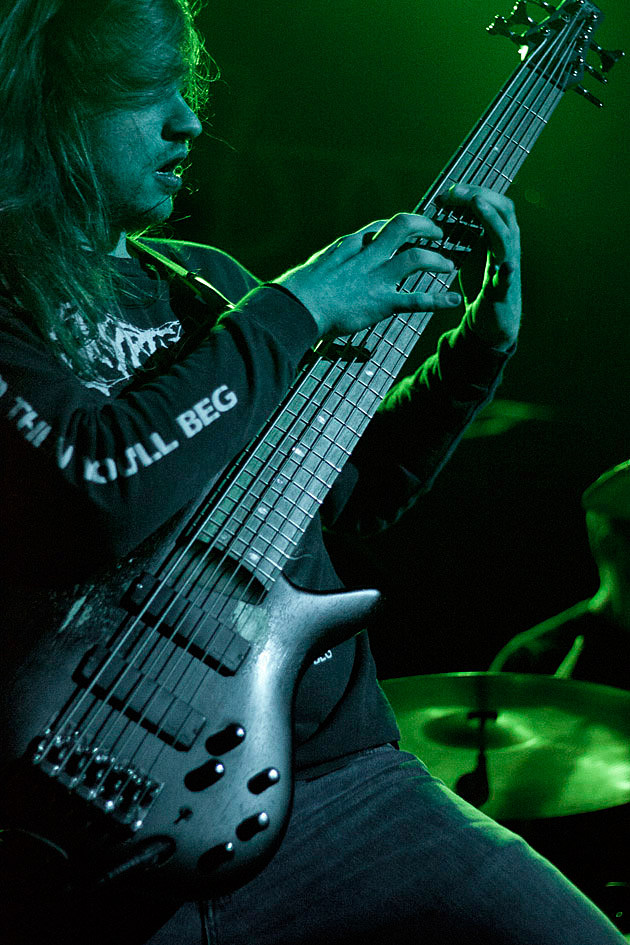 More From Invisible Oranges