Live Report: Slayer, Gojira & 4Arm at Madison Square Garden Theater
"Slayer" and Gojira. Not Slayer and Gojira. "Slayer" and Gojira.
Thus have many observers dubbed the bill for this tour, thanks to the absence of Dave Lombardo and Jeff Hanneman. Paul Bostaph is back on the drum throne, where he spent most of the '90s. Exodus guitarist Gary Holt retains the live guitar spot he's held for the past two years and looks poised to keep it.
These folks consider this version of Slayer illegitimate — a shameless exploitation of a legacy, especially in the immediate wake of Hanneman's death. The financial nature of the band's dispute with Lombardo deepens the impression, as does their decision to populate their set entirely with material from their classic first five albums. (You can see the setlist here; it nods to Holt with an Exodus cover.) Despite Bostaph's presence, the set included only Lombardo-era material — an irony and arguably a mercy.
Perhaps the current version of Slayer really is fake or exploitative in some way. Lombardo would likely say so, though the limited information available to fans makes it hard to say which party is in the right. And ultimately, I'm not sure that I care. At the least, I have a hard time holding Tom Araya and Kerry King's choice to carry the torch against them. Slayer has been a professional venture as much as an artistic one for well over a decade; their newer albums exist mostly to justify their tour schedule. Three of the band's four current members are 49, while Araya is 52. They have all been living as pro musicians for thirty years, and they now operate in a market that is more hostile than it has been since the dawn of mass-market music. These guys have no alternative résumés behind them to fall back on; their pensions will come out of their own wallets. Bostaph and Holt are basically working stiffs. Araya and King are reputedly quite wealthy, but they also have children to consider.
Put aside the unknowable nature of the Lombardo split for a moment and suppose that Araya and King's decision to continue as Slayer is purely financial. Do you blame them? If you were in their position, would you set aside the creative business that you'd built up for your entire adult life in favor of the nebulous cause of artistic integrity? Or would you do as they've done, and keep reigning?
Perhaps many of you would have King and Araya fold the band, and I can sympathize with that perspective too. Monetary disputes among aging musicians are ugly, and metal fans (myself included) dislike both the idea of art-as-commerce and reminders of the practical pressures their heroes face.
But the attendees of this packed NYC show (myself included again) were clearly glad that Slayer still exists in some form. This band continues to inspire the kind of borderline-pathological enthusiasm that is normally reserved for acts like Phish and Jimmy Buffett. Metal's unspoken law against sporting the logo of the band you're seeing has no force at Slayer shows. We saw Slayer shirts without number; Slayer hats; Slayer hoodies; Slayer jackets; Slayer tattoos; even multiple pairs of sexy Slayer/American flag leggings. (The trendy Slayer Christmas sweater was notably absent). I planned to keep track of how many times I heard people spontaneously scream "SLAYER!" between bands, but I lost count before I got past the beer line.
We missed virtually all of 4Arm, whom I was unfamiliar with before the show. The song and a half I did catch sounded quite a bit like mid-period Slayer. Do unoriginal bands feel uncomfortable when they open for the groups whose style they bite? Is there awkwardness backstage? This is one of metal's many mysteries to me.
Fortunately, I did see all of Gojira, who held their own against some extremely stiff competition. Their reverby, chugged-out grooves have always struck me as crafted with big venues in mind, and they projected an epic sense of scope in the MSG Theater's cavernous, 7,000-cap confines. I'm often disappointed or baffled by which modern metal bands get popular and which fail to find traction; it was good to witness such a deserving act delivering a fine performance to a huge and enthusiastic crowd.
But this was a Slayer show, and even the best opener ever at a Slayer show will always be a temporal obstacle between you and Slayer. And unsurprisingly, Slayer were exactly what I expected. They were not "Slayer." they were SLAYER.
They didn't entirely look like Slayer. Kerry King is slowly transforming into a bearded pierogi covered in tribal tats. Tom Araya looks and talks more like The Dude with each passing year, especially when he chides bouncers and audience members for boorish behavior. Gary Holt has a totally un-metal way of standing with his knees pointed inwards, like he really needs to pee and is trying to hold it in until the end of the set. He nailed all of his parts into the ground, but Hanneman's presence was missed nonetheless.
But they sounded right, and nothing else mattered. Slayer have inevitably lost a step with age, but their fury remains potent. I've only seen them once before, when I was in high school and the original unit had gotten back together relatively recently. Roughly a decade and many, many metal gigs later, I received the exact same berserker charge from this set.
It's amazing the way that great songs, played nearly perfectly, can strip away cynicism. When the band segued from "Raining Blood" into "Black Magic" just before the brief encore break, I was more interested in punching the entire universe in the face than in dissecting King and Araya's motives. When they deployed a huge banner of Hanneman's familiar ersatz-Heineken logo just afterwards, I got a little verklempt. Neither typical metal shows nor half-assed nostalgia acts can elicit such emotion.
And that's good enough for me. Slayer in 2013 are not who or what they used to be. Their live show is aging, but mostly superficially. They're either cynically exploiting their fans or just giving those fans what they want. It's tough to tell the difference, but the audience at this gig wasn't trying to — they were more interested in enjoying Slayer's twilight years while they last.
— photos by Caroline Harrison
In a happy coincidence, Slayer's classic debut album Show No Mercy turns 30 years old today. Stream it in full below.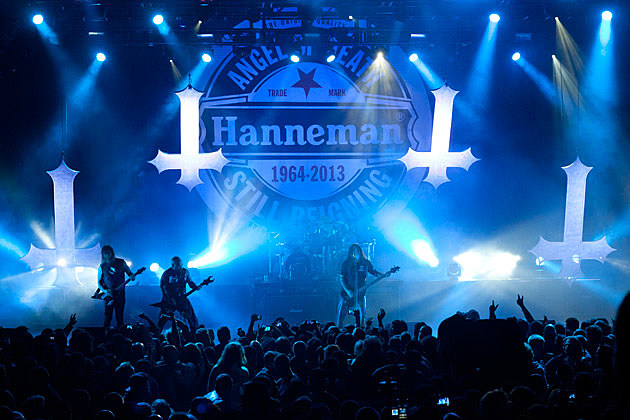 More From Invisible Oranges