Live Report / Photos: Cobalt, Lord Mantis, Alberich
Seeing metal live can be a transcendent experience. But live metal shows have a lot of moving parts: technical performance, stage presence, sound quality, crowd reaction, etc. If any of those parts fail, your transcendent experience can disintegrate very quickly.
Thus, "black metal band's first real live show on a festival stage" sounds like a recipe for disaster. Cobalt braved this gauntlet at Maryland Deathfest last Thursday. Thanks to vocalist Phillip McSorley's military career, the band had played live only twice—as a two-piece, a decade ago—before the MDF appearance. Cobalt doesn't have a full lineup of permanent members; veteran NYC musicians Michael Dimmitt (Mutilation Rites) and Josh Lozano (Man's Gin, Fashion Week, Family) filled in on bass and guitar. To further complicate matters, black metal may be the hardest metal subgenre to pull off live. And festival PAs are notoriously finicky; I've seen many excellent acts stymied by murky MDF live mixes.
I was lucky enough to interview McSorley and multi-instrumentalist Erik Wunder on East Village Radio last week. Though both men were refreshingly down-to-earth, neither displayed any anxiety regarding the quality of their upcoming performances. Their confidence, as it turns out, was well placed. As anyone who's been following this site (or any metal outlet, really) for the past week already knows, Cobalt's MDF set was a triumph.
The fest appearance launched Cobalt's first-ever tour, a weeklong trek up the East Coast with Chicago's excellent Lord Mantis in tow. One-off shows are taxing enough; even short tours can exhaust studio-oriented bands quickly. When the tour turned up in Brooklyn on Friday, I once again found myself approaching a Cobalt set with caution.
Again, no caution was warranted. I missed the local power electronics act Alberich, but the rest of the night was pitch perfect. Lord Mantis continues to earn my affection by getting the type of metal fans who call denim vests "battle jackets" to bang their heads to weird time signatures—an increasingly difficult task as the old-school-vs.-new-school divide widens. Their 2012 album Pervertor received far less attention than it deserved; listen if you haven't.
When people call small venues "intimate," what they mean is that it's easy to go up front where you can see what the hell the band is doing. This visual connection made a huge difference for Cobalt. It's one thing to hear those giant crescendo riffs blasting through big speakers, but seeing the band execute them—Wunder sweating through cluttered tom fills; McSorley, wild-eyed, manhandling mic stands and flipping off everyone and everything during each spare moment—is another. Lozano and Dimmitt deserve serious credit for their contributions as well. Aside from a few gear whoopsies, they recreated Cobalt's challenging studio material in good faith.
Cobalt was good enough that I came back and saw them again on Saturday night, the second of their two New York dates. Its sparser attendance did nothing to slow them down; if anything, they sounded better and dug into the songs more aggressively. It is one of the metal world's many small tragedies that this band can't spend more time on the road. Judging by the three times I've seen them over the past week and a half, they'd only get better.
Check out the set list and photos from Friday below.
- photos by Caroline Harrison
1. "Gin"
2. "Arsonry"
3. "Throat"
4. "Stomach"
5. "Blood Eagle Sacrifice"
6. "Witherer"
7. "Pregnant Insect/Eater of Birds"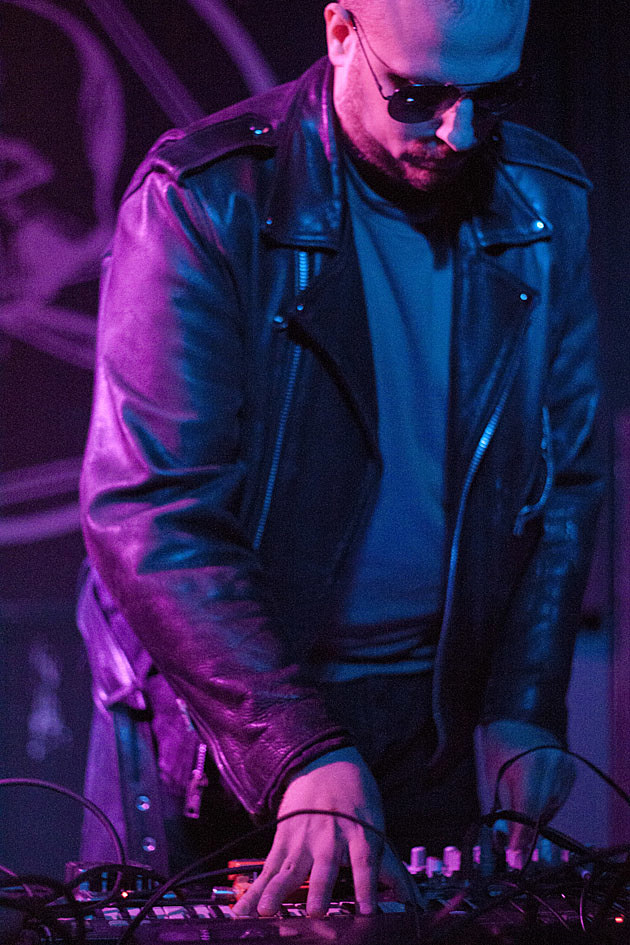 More From Invisible Oranges