Live Report: Martyrdoom Fest – Cult of Fire, Sargeist, Witchblood, Hexer
Sargeist @ Saint Vitus -- June 30, 2014

Though Martyrdoom has been razing Brooklyn's own Saint Vitus for the last three days, tonight is my first night at the festival, and I'm immediately assailed with fantastic stories. There have been booze, puke, fake blood, ill-advised hook-ups, and plenty of destructive black metal. And though it's competing with another large show (across the East River, Agalloch and Jex Thoth are reveling in their brand of magical cultist noise at an Invisible Oranges-sponsored show), Martyrdoom's fourth of five nights is packed with sweat-stained misanthropes ready to eviscerate their Monday.
The evening opens with Hexer's debut live performance, and the band, featuring three members of Mutilation Rites, absolutely kill it. Their hardcore-influenced dark thrash is riffy and energetic, and gets the crowd stoked. Next up is Witchblood, who keep the fire roaring with one solo-heavy riff-fest after another. Frontwoman Iron Meggido shrieks her guts out while her faceless, hooded rhythm guitar and bass players lurch menacingly throughout.
In black metal, the line between brutal and theatrical is a hard one to straddle, but Sargeist do so perfectly. While decked out in spiked leather gauntlets and corpsepaint, the band still feels vital and terrifying, and their grinding, melody-infused, pitch-black assault gets the crowd moving. On their albums, the Finnish quartet can sound muddy and hard to follow, but in the live arena their smoldering guitar leads cut through the cacophony and keep heads banging. It all would've been perfect, had it not been for the shitstain who kept his flash on the whole time he was filming the band with his phone, thus driving a knife straight through Sargeist's diabolical ambiance.
I'm not normally too hard on people using their phone at shows, but the proliferation of mobile videographers manages to harm Cult of Fire's performance. After a lengthy soundcheck and a stage set-up involving incense, tridents, a crossed-scythes mic stand, and an incredibly menacing banner of Kali, goddess of destruction, the band take the stage in their voluminous ceremonial robes and begin their whirlwind of ritualistic occult metal. While they are bathed in shadow, the band is terrifying, a collection of great black shapes with eyes of fire, but these moments are fleeting between the constant harsh white light coming out of all of the cell phones being hoisted in the front row. The band closes the festival well, but would have been more effective had they been allowed the atmospheric obscurity they truly deserved.
Stay tuned for our report from the other nights of the Brooklyn fest. Pictures from Monday continue below....
— Words by Scab Casserole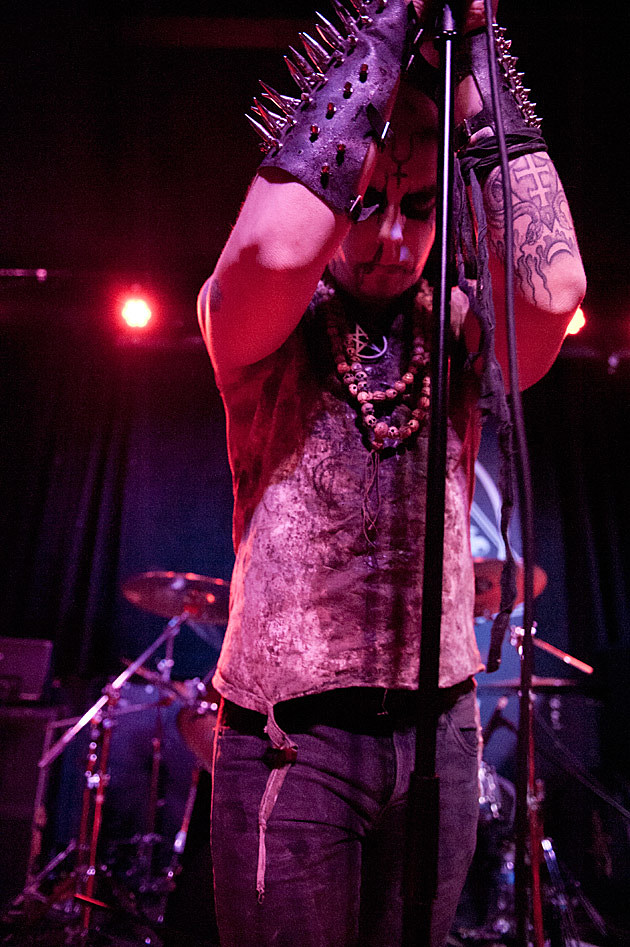 More From Invisible Oranges