Live Report: Martyrdoom 2014 at Saint Vitus Bar
Martyrdoom was a monster. Wherever you see a band's name highlighted, click for video of the band's set from the show in place of or in addition to a written review. Many thanks to (((unartig))) and Frank Huang at Pit Full of Shit. -WM
The third annual Martyrdoom Festival at Saint Vitus Bar in Brooklyn two weekends ago was a marathon. Five nights, twenty-one bands (some played twice) swamped both sides of the weekend, from Friday, June 27 through Tuesday, July 1st. On weekend days, a Martyrdoom flea market took over Vitus, too, with quite a few distros setting up shops of obscurities that typically are mail-order only. For those that made it through all that and the accompanying recreational (mandatory?) imbibing, hats off.
We didn't. We missed Friday, but have photos to make up for it. Australia's Mournful Congregation headlined that night (all lineups are below), and knowing the band was playing Tuesday as well to close out the fest, we went that route. We missed sets from Fister, Geryon, Begrime Exemious and Imprecation. Shame, shame.
We started off on Saturday, when a personal favorite, Quebec's Forteresse, was scheduled to play just their second show in NYC (third ever in the US). Vitus was as crowded as I've ever seen it, and it wasn't just for headlining bands. T-shirt watching was pretty spectacular—think MDF, but way more obscure and blasphemous. People were there early, and I wandered in to catch Sacrament Ov Impurity, a two-piece black metal band out of Washington state that impressed with forceful, memorable riffs and a wild-eyed performance from the front man. I thought they straddled the line between Pacific Northwest metal and something more sinister and old school really well—definitely a band to come back to.
Forteresse played next to a packed room, drawing heavily from their statement album Metal Noir Quebecois. For those that haven't heard it, the 2006 album helped define the Quebec scene with big, anthemic take on black metal without ever abandoning an underground sound or feel. It translated great live, and judging from crowd participation and a proliferation of Forteresse shirts in subsequent days of the festival, it went over really well. Forteresse also showed off their newer, even more frenetic sound when they played "Wendigo" off of their new split with other Quebec luminaries.
A rousing and gory performance from Norway's One Tail One Head gave way to Sargeist's first of two sets (read our review of night four here). Sargeist was utterly invigorating. The band played a few off of their excellent (and seemingly underrated at this point) album Feeding the Crawling Shadows, and the necro sound that defined that album was overwhelming, gross and disturbing. They sounded fantastic, nailing those big, sweeping melodies that they are known for with force and precision. When they kicked into "Empire of Suffering," (@16:30, video is from Sargeist's second set) the crowd went a bit nuts. That chorus! It elicited, from select individuals, one of the most blasphemous sing-alongs I've witnessed. Sargeist cemented their set as one of the best I've seen in 2014. Then Behexen played on Sunday.
By Sunday you got the feeling that those who were in it for the long haul had gotten familiar with one-another. As far as I could tell, a number of people traveled to Martyrdoom, and stories about the first couple nights were being passed around. Knowing two more nights were in store seemed to keep the momentum going, but things seemed to have settled down a bit from the night before.
Prosanctus Inferi's set certainly didn't allow for anyone to take a breather, though, and the band's chaotic black/death metal blend packs a real punch live. France's Hell Militia kept everyone amped up for Behexen, who from talking with others seemed to be the most anticipated band of the weekend. Let's just say there wasn't a shortage of opinions on the Sargeist v. Behexen debate—for those that don't know, the bands share a number of members, including big riff wizard Shatraug. I'll say that live Behexen's sound wasn't quite as good as Sargeist's, but they certainly put on an incredible performance. Playing in thick robes that concealed most of their faces, the band delivered a punishing, awesome set.
Tuesday, day five, and the crowd had understandably thinned a bit, but after an entrancing performance from Evoken, who were a highlight at the first Martyrdoom, Vilkacis and Lord Mantis delivered two of the most furious and filthy sets of the entire festival. If you have a chance to see either band soon, I recommend doing so—Vilkacis's sets are relentlessly pummeling, chock full of anthemic black metal monsters, and everything you'd assume about a Lord Mantis performance is accurate. Pure, gross venom.
Lycus slowed it down, signalling the beginning of the end for an insane weekend, and with the slow doom plodding came the realization that I was exhausted. By the time Mournful Congregation took the stage, the funereal dirges—which sounded excellent, by the way—seemed a fitting end. What a weekend. Let's see what Martyrdoom brings next year.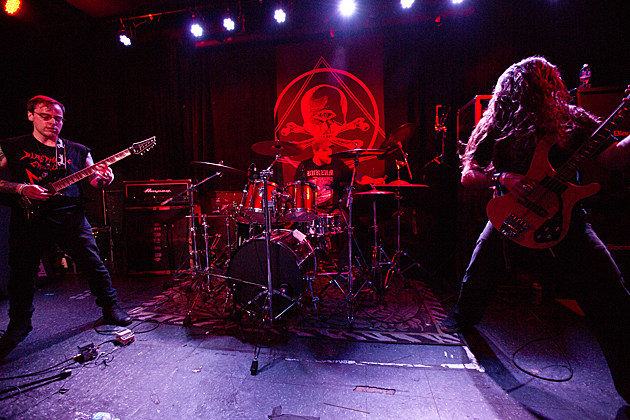 More From Invisible Oranges