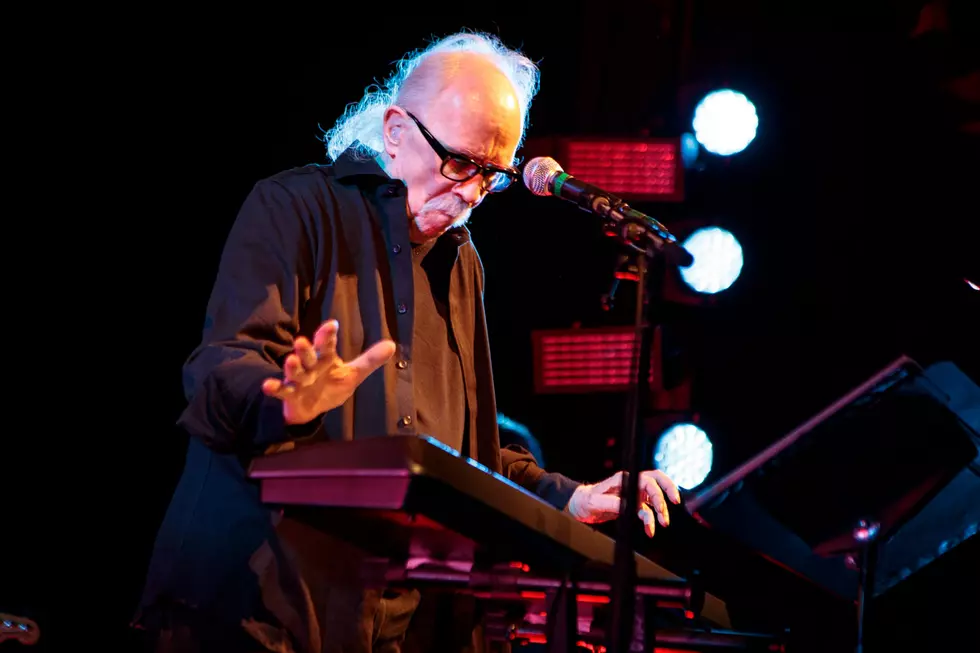 Live Report: John Carpenter At Royale Boston
John Carpenter by Ben Stas @ Royale Boston
"I'm John Carpenter, and tonight we're going to play some songs from my movies." So went the earnestly matter-of-fact intro to the horror-synth pioneer and filmmaking legend's show at the Royale, where the "master of horror" and a five-piece band had assembled to do just that.
Carpenter strikes this unpretentious tone both onstage and off. "I've never paid particular attention to the musical scores before," he recently told The Boston Globe, "they were just part of the job and something I was supplying to make the movies work." The man approaches having composed some of the most distinct and influential film scores of all time with a remarkable degree of modesty.
The show that Carpenter and his band have brought on the road this fall, supporting October's Anthology: Movie Themes 1974-1998, followed suit in Boston by delivering what it promised in sincere, straightforward fashion. The group cruised through an hour-long set focused on the Carpenter filmography, from his classic themes ("Halloween," "Escape From New York," "The Fog") to the occasional outsider soundtrack contribution (Ennio Morricone's "The Thing") and some deep cuts ("Starman," the anthology TV movie "Body Bags"). These songs were lovingly re-recorded in the modern studio for Anthology, and they sounded both reverent and refreshed in concert.
The eccentric crew of musicians – featuring Carpenter and his son Cody on synths, his godson (and son of The Kinks' Dave Davies) Daniel Davies on guitar, and rounded out by members of Tenacious D ­– played faithful renditions that wisely resisted the temptation for unnecessary flare. No attempts were made to turn the eerie minimalism of "Halloween" or the menacing pulse of "Assault On Precinct 13" into something they're not. The group did seize upon its opportunities to stretch out as a proper rock band though, particularly on a few selections from Carpenter's Lost Themes records and set-closer "In the Mouth of Madness" – a driving, borderline heavy metal outlier in the Carpenter catalog.
Clips from corresponding films played behind the band throughout the night, underscoring just how many iconic pictures Carpenter has under his belt and how integral the music is to many of them. And to whatever degree Carpenter acknowledges the power of his music beyond it being "just part of the job," he was clearly having a blast performing it. He had a tongue-in-cheek introduction for many of the songs, and led the whole band in donning thematically appropriate sunglasses for "They Live."
The evening offered few surprises, but that's hardly what the crowd spanning metalheads to horror geeks was clamoring for. The rare chance to see a master at work was more than enough.
More From Invisible Oranges