Live Report: Dark Descent Showcase in Portland, Oregon
From his mile-high throne in the frostbitten peaks of Colorado Springs, Colorado, Matt Calvert rains death upon the masses, elevating his label Dark Descent Records to the same lofty heights by snapping up handfuls of death metal's most promising acts. To celebrate his four-year reign of punishing our eagerly awaiting earholes, Calvert compiled an all-out, two day freakfest of some of the finest death metal in North America, a muscle-flexing showcase as much as an anniversary celebration. Which all raises the question: Why the hell choose Portland?
"A lot of bands on the label are from around this area, and I've done pretty well here," says Calvert. "Here," in this context, is Ash Street Saloon, a gritty mid-sized venue a block away from Voodoo Donut on Burnside. Inked-up bartenders in cutoffs sling spicy Northwest ales; bicycles hang from the ceiling. A vintage Neo-Geo cabinet bathes patrons in Metal Slug carnage from its bar-side niche. Basically, as Portland as it gets. Fred Armisen and Carrie Brownstein would be washing down their vegan fries with a few pints of Ninkasi's Total Domination if the unholy sounds emanating from Ash Street's stage wouldn't send them fleeing to their Subaru. It's doubtful Calvert would notice from his perch behind the merch booth, shaking hands and thanking the locals (and a surprising number of acolytes who made the pilgrimage from Colorado) for packing the venue to witness a nearly complete lineup of stellar acts.
Day 1: Horrendous with Anhedonist, Ritual Necromancy and Sempiternal Dusk
The running theme for the weekend was "Portland Dudes Who Play in Each Other's Bands." Local hellraisers Sempiternal Dusk boast Tim Call on drums, he of local analog upstart Parasitic Records and way too many bands to detail here. Call is a member of an elite brotherhood of death metal drummers who blast and roar, but Chris Reifert he is not, for SD ply their time-shifting death with a crusty edge and so much rhythmic trickery that we're convinced Call must have Michael Phelps-tier lung capacity to speed through his fills while casting vocal hate into the mic.
If Portal recorded at Sunlight Studios, they'd sound like Ritual Necromancy. Such is the Portland quartet's wind-tunnel-with-actual-tone appeal. When powered by industrial-strength sound equipment, the material from sole LP Oaths of the Abyss is much clearer than the analog muck and grime that spews forth from the record. Drummer KS' dead and buried kicks are startlingly resurrected into full clarity, with a delicious thunder instead of a muffled thud, and AW's completely apeshit Bob Vigna whammy bar dive bombs more than did his Dawn of Possession shirt justice.
In the weekend's only real scheduling flub, New Zealand crew Vassafor was unable to secure visas out of the land down under at the 11th hour. Instead of panicking, Calvert simply moved Anhedonist from Saturday to Friday, while also extending each band's set by a song or two. The Seattle squad obliged, pummeling a now-packed house with absolutely enthralling death-doom. Anhedonist are one of the only hybrids to emphasize the Peaceville Three's stark beauty while staying firmly in the death-first camp. The stately, unfurling earthquake that is "Estrangement" is not only the best song from full-length debut Netherwards, but also one of the finest entries into the increasingly crowded sub-sub-genre you're likely to hear. How K.H.'s mournful arpeggios wander into the abyss, spaced and punctuated by Z.S.' understated mid-paced double bass. When everything finally coalesces, Anhedonist finally achieve the desired result: devastation.
After three sets of Incantation murkiness, Horrendous provided the perfect nightcap. The South Carolina trio sauntered onstage and proceeded to shred our faces off. True to guitarist Damian Herring's Kreator cutoff and Reebok high-tops, Horrendous put the "thrash" in death thrash. It seems impossible to overhype these kids after The Chills elbowed its way onto just about every metal year-end list in 2012, but once Herring and partner-in-shred Matt Knox commenced heaving piles of HM-2 filth into the crowd, there was no stopping the bulldozer. Leaden foot pounder "Ripped to Shreds" brought Obituary stomp, while the inescapable drum hook from "Fatal Dreams" summoned glory-days Ken Owen. All the old-school references in the world can't diminish the fact that these three twenty-somethings brought the house down with smiles all around.
Day 2: Insanity with Mitochondrion and Gravehill
Dire Omen reminded us just why we call this umbrella genre of ours "extreme metal." Three songs into their opening set for the fest's second night, a nasty squeal began emanating from guitarist Rolando Rodas' monitor. Rodas soldiered through the song in visible pain, wringing his picking hand after it seized up during bouts of faster tremolo. By the song's end, it was clear he couldn't fight it anymore, and the band announced they'd be forced to end their set. We hope Rodas and Dire Omen return to maximum firepower soon.
"Can we get this drenched in reverb and nasty shit?" That's Weregoat bassist/vocalist Nocturnal Hellfuker requesting the desired effects on his microphone. The soundman obliged, and a few short minutes later, the PDX trio commenced ripping through a set that can best be described as "bestial." The packed house ate up every lycanthropic minute, throwing incalculable horns to the hellfire swarming from behind 2x4 monuments ornamented with barbed wire and cow skulls. Once again, the live setting nudged a murky, echo-laden studio recording into full bloom, Hellfuker's "nasty shit" still achingly audible, while Sadoseducer's (Tim Call, once again) primal, Mike Smith snare-cymbal-bass "thwack thwack thwack" blasts hit us smack in the center of our Deströyer 666 hoodies. Seriously, so many Deströyer 666 hoodies.
If you're looking for sidesplitting stage banter, it doesn't get much better than a battle-jacketed dude with fake blood running from his bald head, over his monumental beer gut, and onto his knee-high boots cracking wise about his sex appeal. Gravehill frontman Mike Abominator tossed out sarcastic gems between the Anaheim, California's Goatwhore-tinged death-thrash. "Of course, we're tan and hot, like everyone from So Cal," Big Mike quipped before his band tore into crowd shout-along "Unholy Executioner." Among the super serious, "this is a cleansing ritual for our Dark Lord" sets, Gravehill served a reminder of death metal's capacity to be primal, guilt-free fun without pretense.
And then Mitochindrion obliterated all those good vibes as they sucked us into a vortex of non-Euclidean riffscapes propelled by otherworldly tempos. Soot-stained and candlelit, Vancouver, B.C.'s favorite cult conjurors coaxed offtime headbaging with unpredictable start-stop paeans to the void cut from 2011 masterpiece Parasignosis and upcoming EP Antinumerology. "Banishment" saw drummer Karl Godard cut his busy fills with Pete Sandoval half-time jazz, inspiring a writhing, bespectacled spectator to climb onstage and gyrate to the unholy groove. Minutes seemed like eons as we stood transfixed at the scene, this one tripper somehow keeping time with music beyond time, until a stagehand finally yanked him down to everyone's silent disappointment. Four honest Canadians just can't play a death metal gig in Portland without a hippie crashing the black mass.
We won't delve into Insanity's tragic history here; that's what Google is for. Suffice to say, the San Francisco quartet would join fellow Bay Area cavemen Autopsy on a short list of elite Cali crews if incarceration and deaths hadn't derailed the band's collision course with Nuclear Blast after 1994 debut full-length Death After Death dropped almost a full decade after their first rehearsals. As much as they've been cast as death metal's Anvil, Insanity don't need our pity, nor did they ask for it as they closed the festivities with tact and professionalism. Those are two words you don't hear too much in this genre. Aside from Falk Bolte's bloody inverted-cross bass, the guys were the most inconspicuous band of the weekend — more Louis CK than Corpsegrinder in their "suburban dad not giving a shit" vibe as they churned out should-be classics like "Blood for Blood" and (by fan request) "Ultimate Death." After a tumultuous three decades of obscurity, Insanity instructed the other bands on the bill – most 20 years their junior – how to accept a second life with humility.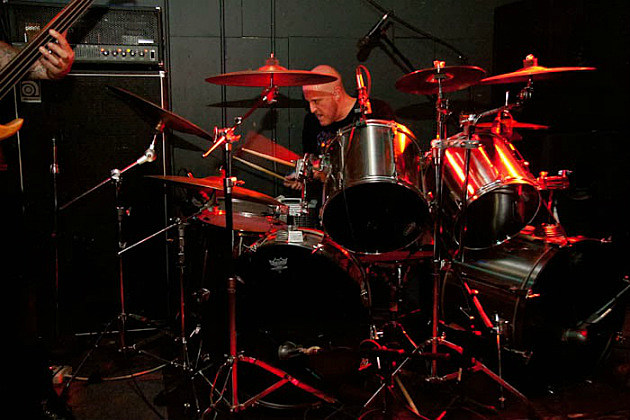 More From Invisible Oranges