Live Report: Damnation Festival, 11/2/2013
Since its inaugural edition in 2005, Leeds's Damnation Festival has offered solid, diverse lineups every year. Guest contributor Sean McGeady shares his experiences with this year's festival below. —DM
Possessed by the promise of bleak noise, we arrive first at the smallest of Damnation's four stages. The Electric Amphetamine stage is positively squalid, a murky bunker with a floor so sticky it chews your boots. Thankfully opening act Iron Witch set a precedent with a series of sordid jams that ensure our feet don't stay still for long. Their sleazy doom proves an efficient wakeup call for any still weary in the early afternoon.
Wet footprints then weave their way toward the much-larger Eyesore Merch stage for the irrepressibly heavy Year of No Light. Their soundcheck alone is enough to cause a cardiac arrest, and with drums and additional percussion, two keyboards, bass and three guitars combining with strobe lightning, they craft post-rock crescendos of apocalyptic magnitudes.
Back in the humble surroundings of the Electric Amphetamine stage, Slabdragger provide what's surely one of the highlights of the festival in "Bab el-Mandeb". The song's second half is a pulverizing elongated cadence that allows each member of the band to display their craft through a series of satisfying fills. Yusuf Tary's lead bass holds the set together like sinew holds muscle to bone. The low ceiling and compact setting serves only to the thicken the sludge, stirring the sound into a delicious soup of low frequencies during "Iron Vulture" and "Murky Fen".
As darkness falls, a curious tribe take to the Terrorizer stage. The avant-garde atmospheric black metal of Romanians Negură Bunget is spirited and spiritual in equal measure. The aural opulence of closer "Dacia Hiperboreană" exemplifies just how expansive the band's sound can be.
Despite clashing with God Seed, Serpent Venom command a strong crowd at the Electric Amphetamine stage. Though Serpent Venom were one of the more melodic bands on the bill, Garry Ricketts' vocals are no longer as sharp as they are on record. Nevertheless, the swinging doom grooves of tracks like "Carnal Altar" and new track "Let Them Starve" have the audience stomping.
Back at the Eyesore Merch stage, Crippled Black Phoenix play an apt set — heavy, dark, but ultimately limp. Their delivery too often teases progression before retreating into tedium. It's a shame, as they have clear potential for gratifying rhythms and hooks. Sadly the band blanket satisfying crescendos with ambience they never successfully cut through, and suffocate in their own sound.
Droves descend upon the Jägermeister stage for one Damnation's most anticipated acts. As part of the album's tenth anniversary celebrations, Katatonia are playing the seminal Viva Emptiness in its entirety. The audience area is at capacity, and fans go feral as the Swedes take the stage. Vocalist Jonas Renkse is in fine form. But playing Viva Emptiness in reverse order, beginning with its slower songs, is unsuited to those less familiar with the band's material. The set seems anti-climactic when situated amongst such aggression and so failed to really connect.
As Katatonia appease their audience, Moss unfurl their narcotic doom to an increasingly intoxicated crowd. In contrast to the high-maintenance light shows afforded other stages, the Electric Amphetamine stage is dark. What little natural light escaped the day's clouds has long since faded. It's a gloomy show, but more than suited to a band whose latest album is entitled Horrible Night. Olly Pearson's clean, controlled vocals are a necessary counterpoint to the massive oaken sound forged by drummer Chris Chantler and guitarist Dom Finbow. Even without bass guitar, Moss mine truly wretched depths.
With Damnation's penultimate acts Rotting Christ and Cult of Luna taking their respective stages, fans are forced into a difficult decision. The Eyesore Merch stage is filling up in anticipation of the latter.
Cult of Luna are a supremely efficient machine. They offer no frivolous engagement with their audience, progressing through their set seamlessly and without mercy. The band's lighting is integral to the intensity of their show. The tempo ramp that concludes "Ghost Trail" sees the bassist and three guitarists in a line at the rear of the stage. The accompanying strobes throw menacing silhouettes against the back wall. The illuminations, almost motionless band and escalating staccato tempo combine to create a compelling and militant spectacle.
Cult of Luna's set is structured almost like an action movie, a post-metal narrative punctuated by set pieces and special effects. It's a perfectly executed, masterfully stimulating stage show that never feels forced or derivative. Although headline sets from Carcass and Conan are beginning, Cult of Luna refuse to relinquish their grip on the crowd. Many remain transfixed until their final notes ring out.
As the audience disperses most leave for the Jägermeister stage to witness Carcass. We're drawn to a different depravity and embark on one final pilgrimage to the Electric Amphetamine stage. When I spoke to Conan frontman Jon Davis earlier in the day he said the stage had seemed quiet in the past. When I told him the stage had seemed quiet today as well, he responded bluntly: "We'll have to crank it".
With the sickly-sweet scent of raspberry cider hanging heavy in the air, doom has never smelled so good. Throughout monolithic renditions of "Hawk As Weapon," "Grim Tormentor," and new track "Gravity Chasm," Conan are a devastating force, even if Carcass have claimed a large chunk of their crowd.
Wearing their customary black hoods, Conan are a humble band in unflattering clothing who conjure a barbaric sound. Paul O'Neill's powerful but agile drumming fills the gaps between sustained chords left behind by Jon's guitar and Phil Coumbe's bass. Jon's wailing slathers Phil's bellows; together they shape a multidimensional tonal assault.
After ending on an extremely slow and sonorous "Sea Lord," Jon raises a clenched fist in the air. Conan conquer, and the crowd collect in tectonic appreciation of one of the country's finest doom metal acts. If Damnation's preceding bands had been a series of increasingly deep nicks and cuts, Conan were an obsidian sword through the chest.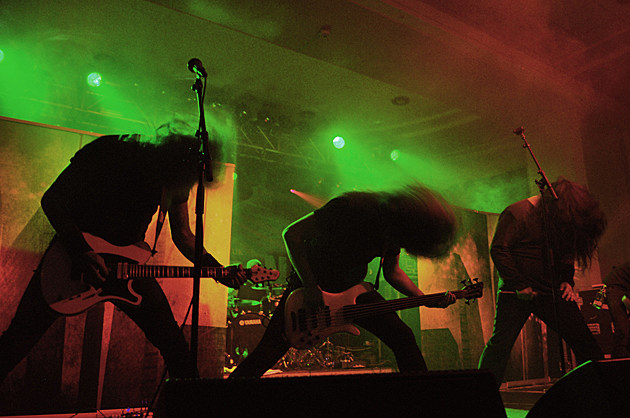 More From Invisible Oranges