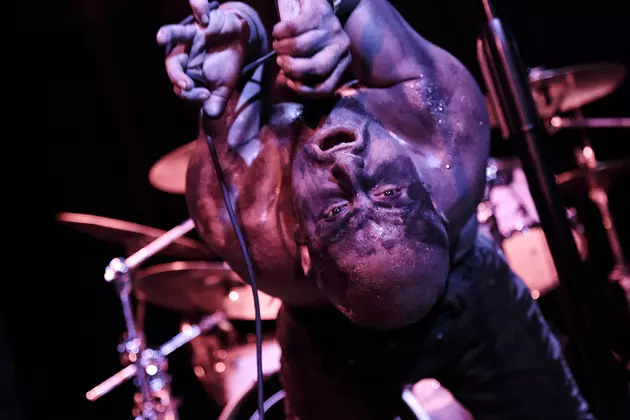 Live Report: California Deathfest 2016
Pictured: Icon of Phobos
Words by Avinash Mittur
Photos by Diana Lungu and JehN.W.A.
This photo by Diana Lungu
The average destination music festival draws in crowds with massive headliners, settings overflowing with things to do and a guarantee of a raucous, booze-soaked time. California Deathfest attendees probably expected all of those things. California Deathfest did not hand the festival experience to the audience on a silver platter.
I spent Friday afternoon at the Mikkeller tasting room in Berkeley, where festival-goers were already enjoying each other's company over craft beers. These people encompassed performers, fans and even the bartender, hailing from the likes of Los Angeles, Sweden, New York or only a few miles away. The party soon made their way to the Oakland Metro Opera House for the festivities.
Mantar's cocky sludge greeted my ears upon entry. Even on the middle of the bill, the German duo exacted attention from the crowd with Hanno Klanhardt's rolling riffs and sneering vocals. After their set, I quickly learned of the re-entry policy at the show: no ins-and-outs after 8pm. I grappled with the decision of staying for locals Capitalist Casualties and starving throughout the rest of the evening, or fueling up for a more enjoyable show. I chose the latter, and wolfed down a platter at Souley Vegan, a homebase for those refusing to break veg for the weekend.
I returned to Metro re-energized for the second and last veteran punk act of the weekend, Verbal Abuse. Like Mantar before them Verbal Abuse played a confident set, but the latter's attitude came from three decades of history. The band did their songs justice with a straight, zero-bullshit performance.
For two more bands, the stripped down approach to the sets continued. Seattle's Black Breath incited ample pit action with their mosh-friendly HM-2 drenched death metal, while Agoraphobic Nosebleed left the audience stunned with their grind-chaos. Black Breath's straightforward pummeling worked in their favor, summoning a raucous energy from the audience, while ANB fed on the raw intensity of their material and vocalists Kat Katz and Richard Johnson's command of the stage. Even without the additional variable of a human drummer (or original vocalist Jay Randall), the crowd still ate up ANB's set.
Where the earlier bands of the night trimmed the fat, Los Angeles' Brujeria reveled in excess. The band assembled a dream-team death/grind rhythm section in Nick Barker on drums and Shane Embury on bass, and featured up to three vocalists and a hype man onstage at any given time. Crowd-surfers littered the stage during their grind-laced death metal assault, even as primary vocalist Juan Brujo stoically talk-growled his ravings with one foot planted permanently planted on the monitor wedge. This was a set whose energy was powered entirely by the silliness and spectacle of the music and the band. It ended with machetes drawn and Brujeria's take on the Macarena, entitled "Marijuana," blasting over the PA. A relaxed night cap at Merchant's Saloon a few blocks down allowed the energy to simmer down - Saturday was next.
The next day began inauspiciously. An out of commission train (the most common form of public transport across the bay) hindered those coming into the festival from San Francisco, myself included. I made it to the venue only in time for one song from Our Place of Worship is Silence. That one track showed a manic energy reminiscent of Morbid Angel, grilled to a barely blackened char. Denver, Colorado's Spectral Voice followed, and they proved to be a festival favorite. Monstrous growls and thundering tom-shots from drummer Eli Wendler were the centerpieces of the set--Blood Incantation members Paul Reidl, Morris Kolontyrsky, and Jeff Barrett draped those sounds with their agonizingly jagged chords, cutting like a table-saw at half-speed. The band's towering death/doom strangled the audience at the Metro, making for both one of the slowest and captivating bands of the weekend. Not too shabby for a band with only demos and splits under their belt.
Now that I was better prepared for the Metro's re-entry policy, I refueled over the next hour and remained at the venue for the rest of the evening. Unholy Grave from Nagoya, Japan pleasantly surprised me, tenderizing us with 40 minutes of nonstop death/grind spazzoid madness. Vocalist Takaho took complete control of the stage, headbanging relentlessly, skipping about and screaming his words skyward. He and Unholy Grave operated in a bug-eyed vacuum agnostic of the audience. It wasn't a shock to see Takaho drenched in sweat at their merch table mere minutes after leaving the stage.
Though Birdflesh displayed a similar level of mania, their comical grind struck a lesser chord with me than Unholy Grave's fat-free barrage did. The next band gave up the visual treats--The Ruins of Beverast delivered a meaty and mighty performance. Once one of the rarer acts of the weekend, Ruins cancelled prior US performances just this year. Luckily, the band lived up to the hype: the live musicians assembled to play Alexander von Mienwald's tunes delivered dead-tight performances of four songs across his discography. Von Mienwald remained perched at stage-center--fog drenched the proceedings in place of the prior antics. This was enough however; The Ruins of Beverast only needed dark atmosphere and an endlessly rehearsed set to qualify their time as a success.
Where The Ruins of Beverast had delivered a victorious set to those who had waited so long to see them, Canadian thrash legends Razor failed to pull off the same feat. An especially long setup delay, technical difficulties, and overly rowdy stagedivers curtailed the most highly anticipated set of the weekend. Stagediving at thrash shows is a more than welcome pastime. Knocking down the partially-blind guitar player, not so much.
When the band were letting their tunes loose, the crowd erupted into a volcano of circle pits, stage divers and crowd surfers, and I'd be damned if Razor didn't sound phenomenal for every one of those notes. Guitarist Dave Carlo still has one of the sharpest picking hands in thrash, pumping the likes of "Violent Restitution" right into the red. Incredible readings of "Take This Torch" and "Behind Bars" sent the audience into a frenzy, and the set-closing "Evil Invaders" begat the wildest pit of the weekend. Extended breaks, apologies and excuses preceded those tracks however, and the unforgivingly short set only exacerbated the disappointment.
New York's Nuclear Assault fared far better. Filling in for original member Glenn Evans, Nick Barker returned to the drum throne for this set. In spite of not one, but two broken strings plaguing guitarist John Connelly, the band stormed through a bevy of their classics from the 80s with professionalism. The Metro's audience reciprocated the band's effort with ample bodies flying about. Bassist Danny Lilker's turns on the mic for Nuclear Assault's grindcore-esque tracks were marked with utter chaos in the crowd. His presence and aura brought Bill Steer from Carcass to mind: extreme metal legends who are capable of igniting an audience with only a word on the microphone.
When Revenge toured with Mayhem and Watain a year ago, they were seen as show-stealers night after night. The music's rabid energy and their lean, bullshit-free performance won crowds over in contrast to Watain's arena-rock excess and Mayhem's tired disinterest. This time, the luster in their armor was dulled. Set against the atmosphere and wonder of The Ruins of Beverast and Unholy Grave's convulsing expulsion of fury, Revenge's turkey-sandwich black metal simply fell flat. Ultimately, timing failed the band; had they played a earlier in the day to a less stunned and aurally drained crowd, their well-performed set could have caused ample destruction.
The final day of California Deathfest began with pouring rain and a delay in starting the show. These were unideal conditions to say the least. The wait to enter the venue felt endless, but proved worth it for the most exciting and surprising day of the festival.
Necrosic, featuring members hailing from several decades of death metal history, gave the final day a rousing start. Their music stared firmly at the early days of death metal, before the genre drowned itself in technicality. Charlie Koryn provided the band's hypertensive pulse with his stunning drum work, while vocalist Sean McGrath of Impaled and Scolex's Erika Osterhout steered the proceedings at center stage. Guitarist Eric Cutler of Autopsy fame remained planted at stage right by himself, allowing his younger counterparts to shine and offering the solo spots to Christian La Rocca, formerly of Gravehill. With their lineup's roots and unabashedly old-school take on death metal (the blast-beats were kept to a bare minimum), Necrosic fit the show called "California Deathfest" to a T.
The Bay's own Vastum followed, and they once again staked their claim as the heirs to Bolt Thrower's legacy. The "rolling tank" sound that the British legends owned wasn't featured here, but Vastum summoned their monolithic march better than any other act could muster. Regular crowd invasions from singer Dan Butler are a given, but the raw tone that the band creates is something not to be taken for granted. This is a band that manages to sound downright engulfing in any venue and the Oakland Metro was no exception. The dizzying trills in "Hole Below," supplied by guitarists Leila Abdul-Rauf and Shelby Lermo, brought Vastum's set to a close.
One cheeseburger from Nation's later, and I was back at the Metro for Mitochondrion. Like my editor, the murky and abyssal style of death metal has just never clicked for me. Though their technical aptitude was admirable and the wall of sound generated by the band was impressive, I just couldn't hack it. [That said, I actually quite like Mitochondrion-Ed.]
And yet, the insanity shown by Rites of Thy Degringolade left me slack-jawed. The Canadians, led by Paulus Kressman on drums, fired off a set that matched Unholy Grave in sheer relentlessness. It was simply impossible to divert attention from Kressman's endless blasting, the perfect compliment to the out of this world black metal at hand. Even though the band's name elicited many jokes throughout the day, nearly every one of them was bursting with praise for the show they had seen. "Dude, did you see Rites of Thy Dingo Baby? Holy shit." "I know, Rites of the Gringo Lemonade were so rad."
Though they pay special attention to outer space, Blood Incantation brought the technical shenanigans at least partially back to Earth. They nail the cinematic sci-fi metal sound that the likes of Vektor and Voivod owned before them, and seeing the band live was like watching a rocket take off from Cape Canaveral in person. All in the band played with a more savage intensity than what's heard on record--Paul Reidl's hell-drop bellows sounded all the more cavernous and Isaac Faulk's drumming was given just a little extra bump of speed and swing, which floored set closer "Hovering Lifeless" into gleefully bloodshot territory. Reidl's deadpan, Hedberg-esque non-sequitur commentary between songs was just a perfect bonus.
Two of the older bands of the day, Usurper and Demoncy, unfortunately failed to live up to the strong showings seen earlier. Usurper had the opportunity, however they all but ignored their killer To Mega Therion-inspired early work in favor of the cheesy power-thrash of their later records. 40 minutes of monotonous black metal followed that disappointment. The set was a blur by this time of the evening, despite Ixithra and his cohorts' speed and hellish atmosphere.
Hooded Menace suffered for similar reasons as Demoncy. I caught them later that week on tour and in a different setting, Hooded Menace's slow death/doom dirges triumphed. But here at CDF, after three days of just about every kind of extreme metal style, the lack of variety in the tunes hurt. Though new vocalist Harri Kuokkanen made a strong first impression and the band sounded as locked in as they could be, a full set of crawling, molasses-like doom was just not what the doctor ordered.
For the final time of the weekend, I found myself pleasantly surprised--this time from a band I had taken for granted. I've seen Exhumed at least a dozen times over the past few years, and they've always played an exceptionally fun set. Sure enough, I traded my prior exhaustion for fist pumps and ample headbanging. Their track selection was ace ("Open the Abcess" ending an Exhumed set never gets old) and the thrashy, mosh-friendly energy that accompanies their music was more than enough to get the crowd moving. The returns of Ross Sewage on bass and Bud Burke on guitar gave vocalist Matt Harvey more active foils onstage; the band is a more cohesive unit, both sonically and visually, than they've been in years. As a special hometown bonus, Burke resurrected his signature projectile-vomit-on-command. Barf on the cake if you will.
The last rare band of the festival was Demilich. Despite a shortened set, their time on stage was more than satisfying. Their no-nonsense approach to the set made the brilliant technical execution all the more effective. "This one is also off of Nespithe..." and so Demilich would continue, occasionally with a joke from Antti Boman thrown in for good measure. While Boman began the set with his inimitable ribbit, his voice quickly transformed into a more powerful (if more conventional) growl. To that end, the band managed to achieve the rare death metal feat of sounding better live than on the record. Ending the weekend on that note would have been just fine in my book.
I stuck around for a handful of tracks from Angelcorpse. Much to my surprise, the set was a high-octane battering ram of quality death metal. Pete Helmkamp spat venom over the band's winding riffs, glaring at the crowd with menace. The audience began to thin greatly for Angelcorpse, myself included as exhaustion overtook my enjoyment of the band. CDF had come to an end for me.
California Deathfest offered the kind of weekend that could eat you alive and spit you out without a second thought. But this was fine. The obvious treats sometimes failed to live up to expectations, while the underdogs and understated rarities stepped up. California Deathfest was not for those who want an easy weekend of fun. Adventure, both sonically and geographically speaking, resulted in the best experiences at CDF.
Ultimately that's what it takes to survive and appreciate the Bay Area, whether you spend a three days or three decades in the region. You pay top dollar for the most minimal of amenities, and the joy finally comes when you take the time to explore and find your niche. Your favorite haunts are found off the beaten path. You make friends with the most unlikely of characters. You find yourself unexpectedly going nuts to a Japanese death/grind band that you've never heard of.
Edited to reflect Spectral Voice bassist Jeff Barrett's member status in Blood Incantation.
More From Invisible Oranges