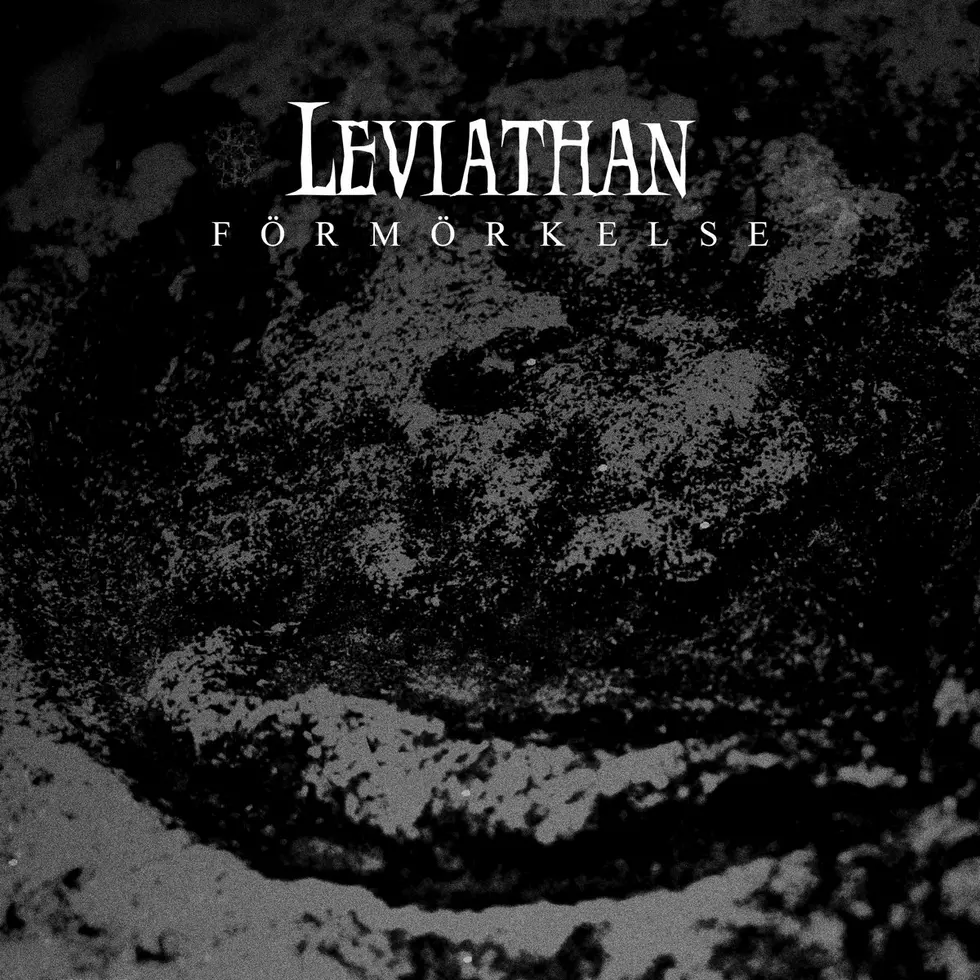 Leviathan (SWE) Emerges from the Depths of Time on "Förmörkelse" (Premiere + Interview)
---
So, most of you know of the Leviathan from the United States, but there was another, about twenty years ago, from Sweden, who left an indelible mark on the world of more melancholic black metal. The project of one Roger (then known as "Phycon," but he has since dropped the pseudonym) Markstrom, also formerly of Armagedda and a few other bands, 2002's Far Beyond the Light album was released on Niklas Kvarforth's then infamous Selbstmord Services label, once known as a bastion of quality for melancholic and suicidal music.
But then, as so many black metal projects go, Leviathan disappeared. Markstrom was still active in the music scene, but his solo project had simply vanished. Rumors of a reunion started a little over ten years ago, with announced secondary band members and whispers of an album, but still, nothing. Eighteen years passed before the world heard from Markstrom's project, and the wait is well, well worth it.
Titled Förmörkelse, the newest, second Leviathan album picks up where Far Beyond the Light left off, but takes on a much more sinister, almost skeletal character. As the day of spirits draws near, Markstrom's pummeling, crestfallen black metal is a reminder of days past and a "scene" long since buried. Listen to Förmörkelse in full and read a brief interview with Roger Markstrom below.
After such a long time, what made you decide to resurrect the Leviathan project?
The thought of bringing life back to Leviathan have crossed my mind many times for many years now, at least a decade, probably more. But it just didn't happen for a lot of reasons. I have revealed more about these different reasons in an interview I did with Bardo Methodology recently and is soon to be published.
I wrote "Avgrundens återsken" four years ago. That after I once again found myself to be in a really dark and messy situation. Not being the first time, far from it. But this time the flame of creating songs in the name of Leviathan was rekindled, just like that. And it was rewarding to channel all these emotions and thoughts into music again and I felt that this is it, the beginning of the next Leviathan album..
I was satisfied for a long time just being a drummer and nothing else than that. The last seven years I have been active as a drummer in the Swedish death metal band called Feral. And some other less known acts before that. But during these 18 years I have also been in and out of self-destructive living that has consumed a lot of my time. Slowly building something up that finally led me back to continue onwards and let the world have one more Leviathan album at least. So that is all, the long story kept very short.
How do you feel Leviathan has changed between the debut album and Förmörkelse?
Musically, I have evolved as a musician during these 18 years that have come to pass. And I am an older man now, and a little bit of a different person today also. I might add that it was when I was in my 20s.
Compared to Far Beyond the Light, Förmörkelse is all in Swedish. What led to the change from English to Swedish?
Dunkel, who runs France d'Oil Productions, planted the idea within me. My plan was first to write the lyrics in English, but accepted the idea of writing in my mother tongue due to the challenge it would bring to me since I'm not used to that.
There was an 18 year wait between the two Leviathan albums. How do you feel this element of time and waiting plays into experiencing this new album? Is this something the listener should take into account?
I believe that the listener will at first not know what to expect, really. But so far Förmörkelse has been very well received. The listener can expect a better quality to the soundscape. They can also expect that I have not repeated the Far Beyond the Light album. But still, rest assured, that this album will be as cold and melancholic, if not even more of those elements than Far Beyond the Light.
As a black metal performer who has seen the landscape change over the past two decades, how do you feel black metal (and metal overall) has changed since Leviathan was last active?
To the worse in general talking about the black metal scene. I only listen to a handful of black metal bands today. There exist a few bands these days that in my opinion are really good and have something real to offer. But on the other hand I often listen to other genres as well, these days and I am not perhaps so well versed today in the black metal scene as I once was. But a lot of genres in general are flooded with copycats and gimmick bands. By all means, it is hard to be original when everything is already written more or less, but that is more acceptable when there is something genuine behind the music and the musicians that through their intentions are able put their own mark to what they are doing.
---
More From Invisible Oranges