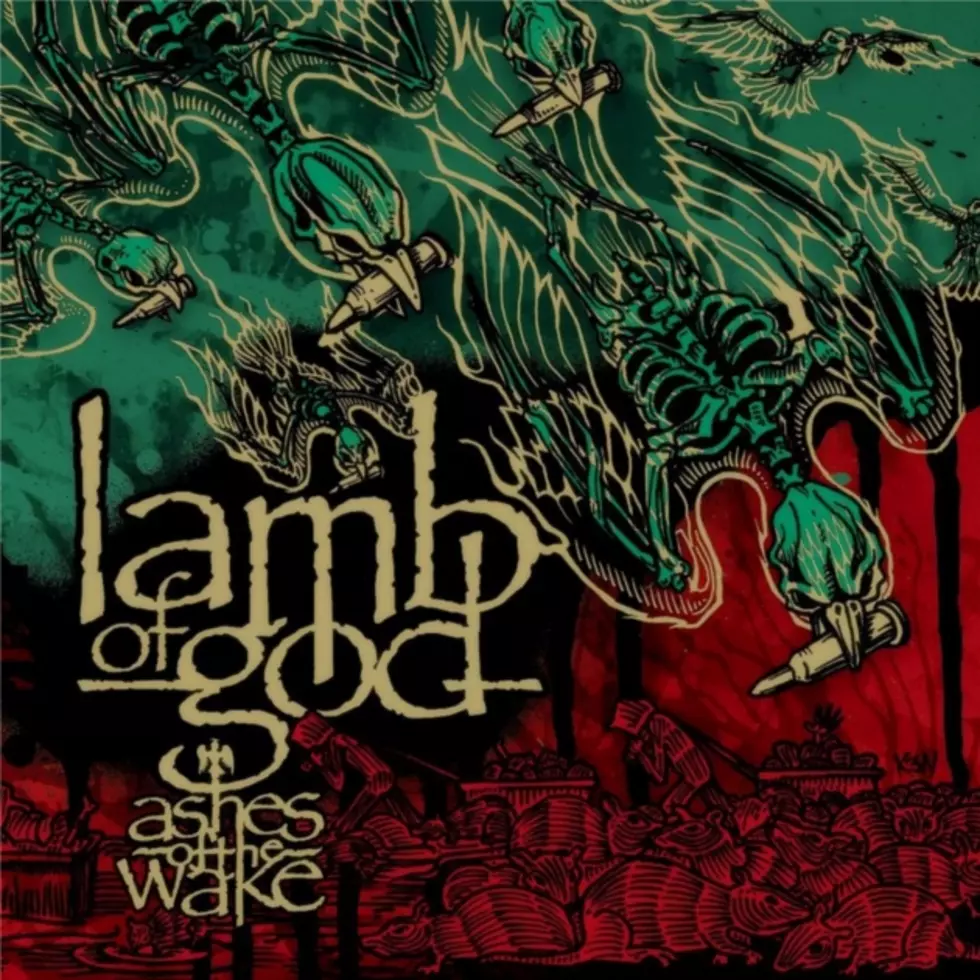 Lamb of God's Ashes of the Wake Turns 10
10 years ago, the two best American metal albums of this millennium were released on the same day. Those albums were Mastodon's Leviathan and Lamb of God's Ashes of the Wake.[1] I predict history will remember Leviathan more fondly—that album has all the makings of a classic in the Rolling Stone/Village Voice sense, with its crossover appeal, melody, literate theme, and classic/progressive rock flourishes. Ashes, though, has relatively little mainstream appeal at first glance, which is why its success is such an important case study. At nearly 400,000 copies sold, Ashes remains Lamb of God's best-selling record, though it's not the one that reached #2 on the Billboard 200, or the one containing a Grammy-nominated song. No other metal disc so extreme has performed so well.
Of course, things like decent sales numbers and Grammy nominations tend to not sit well with the heavy metal blogosphere reader base. Based on an informal perusal of comments on Invisible Oranges and similar websites, grassroots opinions of the Richmond quintet range from lukewarm approval to quiet disgust—reactions which puzzle me, as a listener and advocate of extreme metal. Morbid Angel's Covenant is listed as the best-selling death metal album of all time by the Nielsen Soundscan, with 150,000 units sold as of 2012—that record maintains high levels of critical acclaim, even in the wake of that group's troubled later career. Ashes, a death metal record by a layman's estimation, has sold nearly triple that amount, making it actually the best-selling death metal album ever recorded—a record followed by competent, if lesser, successors in the same style.
The community consensus is that Lamb of God present some sort of evolution of the kind of music Pantera played, but to pigeonhole the band as a 'groove' band would be to discount huge portions of their sound. Yes, the band's focus is rhythmic and they employ several pinch harmonic notes, but the blue notes that colored Pantera's music wouldn't really show up in Lamb of God's music until 2006's Sacrament. Instead, Ashes is shot through with shredding lead playing reminiscent of the Swedish death metal bands that informed many of Lamb's more saccharine tourmates, but whereas those groups brought their melodies to the fore, Lamb of God push Mark Morton's leads into the background. The record's sound, huge, compressed and claustrophobic, is also more indebted to the European metal bands of the late '90s than any other supposed groove metal band—those who wonder what Joe Death Metal's turn-of-the-millennium record might sound with expensive production could look to Ashes as a case study. Drummer Chris Adler's biggest influence is Tomas Haake's polyrhythmic playing, but while Meshuggah's music serves to disorient, Adler repurposes those techniques, keeping the grooves propulsive and violent. On Ashes in particular, the band also experimented with light industrial touches, many courtesy of producer Machine, whose touches here are light compared to the heavy handed production he would employ on later albums.[2]
It's frontman David Randall "Randy" Blythe who sets Lamb of God apart from their peers, and Ashes of the Wake is his record. Blythe's vocals, by turns deep and shrill, always well-enunciated and vitriolic, remain among the best extreme metal has to offer. There is no pop or accessibility in his voice, especially on Ashes where he had not yet learned to pitch his midrange fryes. His vocals tip Lamb of God away from their metalcore contemporaries into straight death metal territory.
While the other so-called New Wave of American Metal bands felt the need to couch their sound in emotional, often romantic lyrics with clean-sung choruses, Lamb of God remained focused on the darker side of life. Blythe himself is a spectacular lyricist, and by most accounts Ashes is the record on which he had the most lyrical control.[3] An avowed '80s hardcore devotee, Blythe focused all of his rage on the then-prominent Bush regime and the ongoing, seemingly endless war in Iraq. Since Ashes, many of the more pop-oriented bands of this era, with less polarizing lyrics, have encountered serious lineup and personal trouble, either going on extended hiatuses or breaking up. That Lamb of God have remained active and stable (and lucrative), even with Blythe's incarceration in the Czech Republic, is a testament to their more underground metal approach.
Extreme metal is music about aggression, first and foremost, and Ashes represents how powerful that aggression can be when it's focused and directed. Ashes comes roaring out the gate and maintains a sense of urgency and momentum throughout—an impressive feat for a series of 11 (10, really) similar songs, most of which lack intros or flourishes. No song overstays its welcome, and each seems vital and essential—there isn't an ounce of fat on it.[4]
Side A plays to the masses, essentially a series of mosh-friendly singles, usually with breakdowns toward the back end and several stop-on-a-dime rests, but no real moment for the listener to regain his or her composure. The first breath of fresh air, Randy's spoken word introduction to fan favorite "Omerta," signals the beginning of the record's more varied, playful second half. The band takes their sound into the future with the ping-pong guitar panning during the industrial outro to "One Gun," and then turn back to faithfully-rendered crossover thrash in "What I've Become." Like many classic metal albums, I bought Ashes to hear the first half and wound up falling in love with the second.
Ultimately, it's Ashes of the Wake's unabashedly political nature that informs its excellence. Upon the album's release, George W. Bush was running for his second term, with both parties engaging in then-unprecedented levels of political shit-talking. The war in Afghanistan was well into its third year, and Iraq was beginning its second. The album was being written during the Abu Ghraib torture and prisoner abuse scandal, and produced during the first battle of Fallujah. All of these events rear their heads, like the heads of the Satan in the Book of Revelations, in Ashes of the Wake, either overtly or implicitly.
These are the best lyrics Blythe has ever penned, and they pushed Lamb of God to a brief plateau of quality. He pushes what could be a blockheaded single like "Now You've Got Something to Die For," into a burning indictment of US military policy chocked with black humor, speaking directly to his audience of potential enlistees: "Bombs to set the people free, blood to feed the dollar tree / Flags for coffins on the screen, oil for the machine / Army of the liberation, gunpoint indoctrination / The fires of sedition / Fulfill the prophecy […] Send the children to the fire, sons and daughters stack the pyre / Stoke the flame of the empire, live to lie another day / Face of hypocrisy, raping democracy […] Now you've got something to die for."
Politics makes for good metal, and has since before even "Peace Sells." Much contemporary metal purporting itself to be complex and/or emotional falls apart under a little bit of lyrical scrutiny—both Portal and Pallbearer, critical darlings each, sport lyrics full of gobbledygook and nonsense. Blythe's muse, George Bush, is both a real entity and one much more frightening than the devil, or anything Lovecraft cooked up. At the same time, few political lyricists took their rage to such lyrical extremes—the lyrical bent in "One Gun" amounts to praising a would-be presidential assassin. Likewise, there's some material on Ashes that seems unrelated to the political themes elsewhere on the record. "Laid to Rest" doesn't carry an overt message. Likewise, "Omerta," beneath its biblical imagery, is about organized crime, though the act of juxtaposing it between songs about the US government is communicative in and of itself.
In the end, the strongest words on the record, belong to former Marine Staff Sergeant Jimmy Massey, whose voice populated the penultimate instrumental and title track. That song in particular stands out. The only instrumental, it's not only the most melodic piece on the record, but the only one that features guest solos, courtesy of Testament's Alex Skolnick, and Megadeth's Chris Poland. For all of its musical virtuosity, the song's most poignant feature is still Massey's firsthand experience with taking innocent lives. Most death metal bands find glory in the mindset of a killer, but offer a front-row seat to the real McCoy, and the view is grim, full of regret, joyless. It would have been a fine way to close the record, but instead Lamb of God end the record with "Remorse is for the Dead," one of their most rousing and virulent tracks, with several punishing grooves and one of Blythe's most scathing vocal performances. While the lyrics seem to merely describe a life in poverty, one could see it as tied into Massey's message. I read the song as a view inside the mind of a native Iraqi, perhaps an inmate at Abu Ghraib, viewing the cost of war, making the change from noncombatant to future insurgent. When I heard about ISIS in Iraq now, I hurried to listen again. Time has only made Ashes of the Wake more poignant. The segue between these two tracks is seamless—it's a wonder that the band doesn't play it live.
Actually, Lamb of God haven't put too many cuts from Ashes on their recent set lists. A shame. I'd love to hear it front-to-back in a live setting. Perhaps when the band reforms after their current period of recuperation, I will have that opportunity. It remains their masterpiece—the lone example of extreme metal, commercial success, and global awareness all firing on all cylinders at once.
1. Yes yes, you disagree. I know. Now stow your disagreement away and read the rest of the article with an objective mind, please. ↩
2. According to Lamb of God's Walk With Me In Hell documentary, Machine was added to the team relatively late in the recording process, whereas the deathcore pioneer was involved in Sacrament from the beginning. ↩
3. Blythe writes many, but not all, of the lyrics on Lamb of God records. Unfortunately, the band keeps their writing credits obscure, so in many cases there's no definitive proof who has written what. Mark Morton has admitted to writing the much-reviled song "Redneck," about Blythe himself following their much-documented physical altercation. According to select interviews, Blythe has hinted that he came into the recording sessions for Ashes late in the game, and wrote most of the lyrics by himself in isolation. Adler and Morton admit to steering Blythe away from being so relentlessly political on ensuing records on the Walk With Me In Hell documentary. ↩
4. I suppose "Blood of the Scribe" comes across as a bit weak, but it's flanked by two of the most essential songs on the record. ↩
More From Invisible Oranges