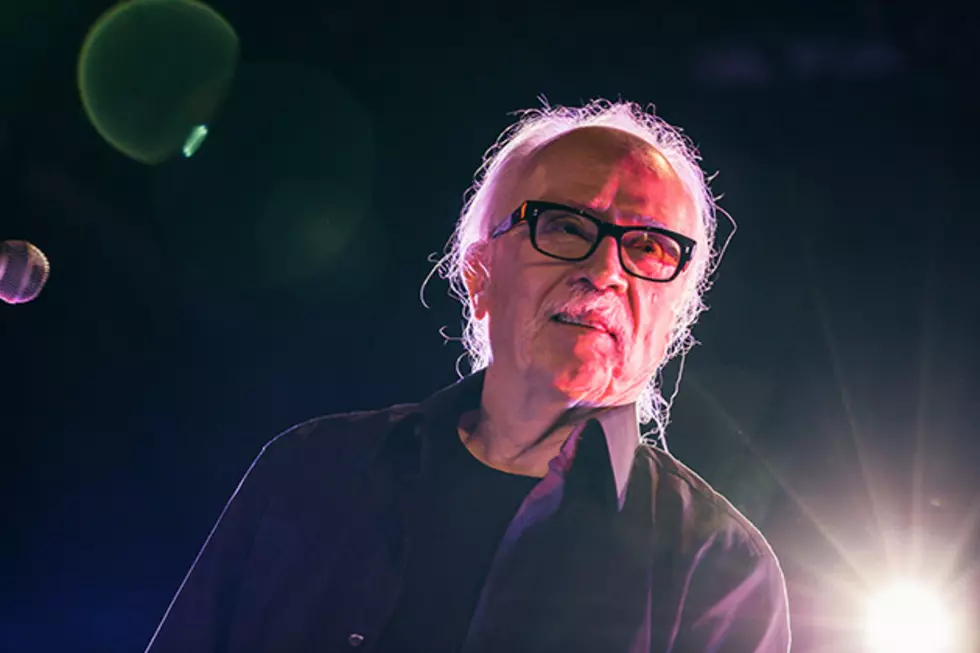 John Carpenter Live at NY's Playstation Theater
As the lights faded down, and the crowd revved up John Carpenter, the master director of horror and suspense, strolled up to his keyboard and struck the opening notes to the classic theme from his film "Escape From New York". The giant three paneled screen behind him glowed with the image of Snake Plissken ready for action. What followed was a truly wonderful night of music and images.
Carpenter, on his first ever tour, performed music he composed (along with the great Alan Howarth) for his films as well as other songs from his albums Lost Themes and Lost Themes II, both released on the Sacred Bones Label. His able backing band consisted of his son Cody Carpenter on keys, his godson Daniel Davies (son of the legendary Kinks guitarist Dave Davies, who Carpenter had a slight tiff with recently) on guitar, and was rounded out by John Konesky, John Spiker and Scott Seiver who all logged many hours playing with Tenacious D. The young band had a blast behind the grand old director while Carpenter numerous times triumphantly raised a clenched fist in the air.
The setlist for show was consistent with the rest of the tour. We got music from "The Thing", "Assault on Precinct 13", "The Fog", "Big Trouble in Little China", "They Live" and, of course, "Halloween," one of the greatest films ever (note that Carpenter is signed on to exec produce a new "Halloween" film). In fact, right before he played those all too familiar chilling notes, Carpenter definitively stated "You know I love horror." He had the crowd, which was made up by about every single horror film critic in the tri state area, enrapt for the whole evening. Hopefully this won't be the last time we see him out on tour (or behind the lens again!) Luckily for those who were unable to catch Carpenter live, much of this music has been reissued by Sacred Bones as well as the great Death Waltz label.
Check out more photos from the show:
More From Invisible Oranges