Invisible Oranges SXSW Showcase – 3/13/2014
Though South By Southwest has a strong tradition of live metal performance, the pairing of the two looks more odd with each passing year. The festival has grown increasingly monied over the past several installments; corporate sponsorships and commercial logos provide the backdrop for a thousands-strong horde of attendees who'd look more at home at Coachella than at Maryland Deathfest. Still, metal endures in Austin. Its bands, fans, and industry minions pepper the boozy throngs — black-clad flies in the bro ointment.
I was in Austin during the festival primarily for non-coverage reasons. (My band played the Relapse showcase as part of a larger tour.) Still, I stuck around in town for an extra day so I could catch IO's own showcase, which largely came together thanks to heroic booking efforts on the part of our colleagues at BrooklynVegan.
The showcase took place at a bar called the Quantum Lounge, which provided a neat microcosm for the general weirdness of the metal presence at SXSW. Quantum is a slick, mixed-drink-oriented bar — the kind of place that backlights its liquor selection with neon bulbs. It was fun watching the grizzled musicians that make up bands like Black Tusk wander around the place, swilling pricy alcohol and drawing bemused looks from the staff.
It was even more fun to watch those musicians set up on the floor and rip through their sets. The logistical vortex of my own tour kept me from hanging out for the whole show, but the bands I did catch produced powerful evidence of metal's ability to turn even thoroughly un-heavy environs into dedicated headbanging zones. I'd be willing to bet that Washington's Wild Throne are going to be very popular soon; when they play live, they deliver their tumbling, hooky prog metal with arena-ready stage flair. Nashville's Yautja are already responsible for one of the strongest debuts of the year so far, and their live show more than does the album's giant tones justice. I caught them twice at the festival and two more times at joint shows on the way to Austin, and all four sets enthralled me — an impressive feat, given my increasingly twitchy attention span. Brooklyn's Kayo Dot have a long history and many different lineups behind them, but their current iteration is arguably their strongest ever. They mostly played material from their self-released Hubardo LP, a heterogeneous affair that relies as heavily on mastermind Toby Driver's sonorous vocal melodies as on jagged rhythm breaks and chord voicings that seemingly require more than five fingers to play. And the Converge/Cave In collaboration Mutoid Man are as fun live as on record, even after just a handful of shows. Come for the original material and stay for the rough-and-ready interpretations of songs by both Ben Koller and Steve Brodsky's main bands.
I was proud to play even a limited role in putting this show together. Check out some photographic evidence below.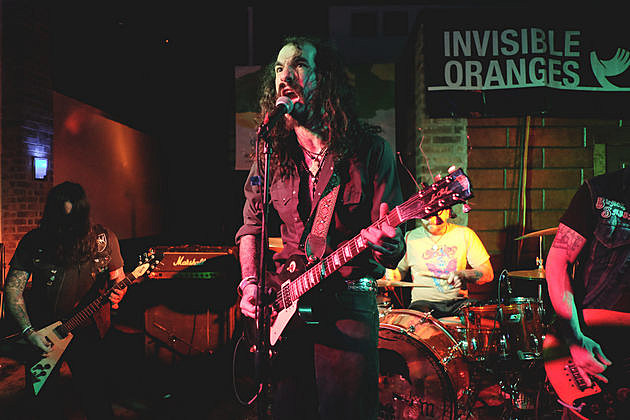 Click through for Yautja, Kayo Dot, Mutoid Man and Black Tusk
More From Invisible Oranges