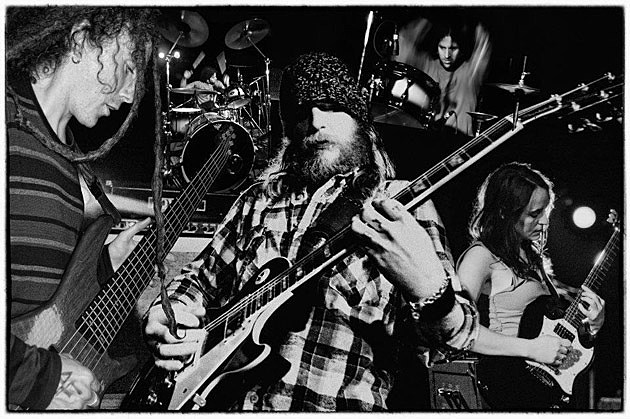 Seattle's Samothrace has suffered some hardship with the cancellation of tours in the past, but that'll make their forthcoming trek all the sweeter. The melodic doom favorites (#10 on our 2012 list) will embark on an IO-sponsored tour that will take them from coast-to-coast, including to the East Coast for the first time since the release of both the Reverence to Stone and the Life's Trade LPs. Triumphant is an understatment.
On the eve of their departure, we cornered Spinks and Joe Axler of Samothrace to ask them about the tour, writing, and what the future holds for the band as they embark on this journey. The results of that conversation are below.
Samothrace creates multipart epic doom songs. How are the songs created? Is an entire song based on a set of riffs which is then spun off into variations? Or have the songs been created as a piece as a whole with directions decided upon as a whole?
Joe Axler: Spinks does a majority of the song writing. It takes us a long fucking time to write songs because we are very critical of what we come up with. A lot of the time we will work on something for a while and will end up eventually scrapping it cause we're not in love with it. But yea, Spinks comes to us with the backbone of riffs that will eventually make up the song and we will all add our ideas of structure. Spinks and Renata work together by themselves often coming up with their parts for songs and Dylan will add bass lines that blow me away. I love working with these guys cause they will come up with parts or harmonies or layers that I would never have thought of. It's cool to watch them and see how their brains work, it's inspiring for me to watch them write together!
Spinks: Our songs start with a set of riffs and we play it a couple different ways and play until it varies. We spend a lot of time making sure every thing flows together and when we play the song over and over, the riffs then start to evolve and morph in and out of each other.
Samothrace has had a few tours fall through in the past. How does it feel to be heading out on the road for a larger tour considering it is your first time on the East Coast since both records have had steam behind them?
Joe Axler: Yea, the demise of our part of the east coast tour with Pallbearer and Royal Thunder was a bummer, We're all big fans of Pallbearer's music and the members are all great people, but sadly Renata had to deal with the loss of a family member and although Samothrace and music as a whole is a huge part of our lives, family and friendship comes first and foremost. We talked with Pallbearer when they were here playing at Dylan's venue/bar, The Highline, at the beginning of this week and there will definitely be a make-up tour at some point in the future, but for now we are very excited to have the opportunity to do this tour coming up that has a big chunk paired up with Pilgrim. and we will be following up this tour with a few weeks in Europe this spring based around the Heavy Days in DoomTown festival in Copenhagen. We have some other stuff in the works and some big announcements to make in the near future. It's just nice to be fully active and hitting the road again. In my opinion, I don't see a point in playing in a band that isn't on the road as often as possible, I love playing music, but I especially love the fact that it is an outlet to get out of town and see as much of the world as possible, anything to break up the mundane day to day life of being home and going to work everyday- no fun.
As a doom band, does the genre inspire you anymore? Where does inspiration come from? Are there new doom bands that you look to?
Joe Axler: I've been a fan of slow music for a long time but it was more of a passion to listen to and enjoy than to pursue and actively play in, I don't really like playing music that doesn't challenge me and I never thought (until i joined Samothrace) that playing drums in a doom band would be a challenge at all. I was very, very wrong. In many ways playing slow is a lot harder than playing fast, every hit counts and there's a lot less room for error. As for newer bands in the genre that have been impressing me, New Zealand's Meth Drinker has pleasantly surprised me. I've been listening to the whole AHAB catalogue a lot. Their drummer inspires me; he has a way of adding drum parts I would never think of over their riffs and he makes the drums extremely interesting. The band as a whole floors me. Also been listening to a lot of Aldeberan, Mournful Congregation, and the new Bell Witch record is incredible!!
Spinks: Obviously, I love heavy music and I'm always inspired by slow, heavy jams. But to be honest, as far as the Reverence to Stone album is concerned, I was listening to more Pink Floyd and The Band than anything else. When I pick up my guitar and start writing a riff, it's just slow, heavy and melodic with lots of harmonies.
Let's talk about the Seattle scene... what bands inspire you, and how do you feel the local scene has informed you as a musician and as a person?
Joe Axler: Seattle's music scene is enormous, I could spend a full interview's worth of time- and then some- talking about all the amazing bands that have grown out of this city but I'm actually in the middle of another band practice right now and need to get back to it ASAP since the rest of the dudes are just staring at me with irritated looks in their eyes! ha! Basically, spending a day looking-up, researching, and listening to Seattle bands that you have never heard of will leave you very impressed. Although Seattle is not my hometown, I am proud to call it my home now.
What's next for the band? Is a follow-up record already in the works? More touring?
Joe Axler: The plan is to stay as extremely active as possible, time permitting, new music and more tours... all slow.. all go!!
Spinks: Right- Fucking On!
More From Invisible Oranges