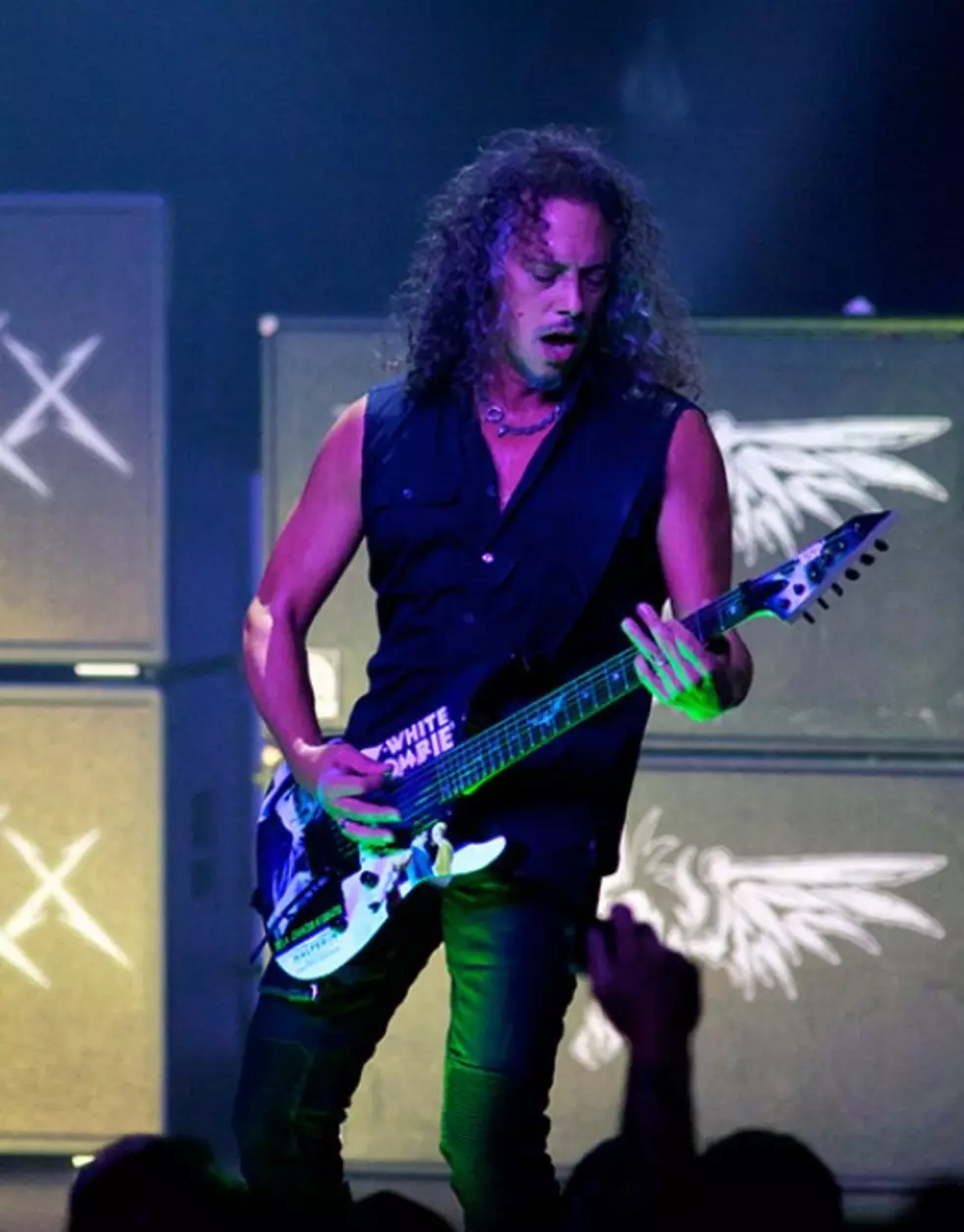 Interview: Kirk Hammett of Metallica
In the thirty years since Metallica released Ride the Lightning, it's become rare to find a heavy metal fan or band who won't still immediately refer to the album's influence in terms of the legendary and untouchable. And that's not even mentioning Master of Puppets or any of the other Metallica releases that, good, bad, or ugly, have managed to form their own organisms of allegiance and dedication to a band that's as influential as they are divisive.
Guitarist Kirk Hammett, through countless documentaries and interviews, has time and again shown a kind of quiet disposition that perfectly contrasts the mythical ferocity of his guitar solos. Watching Hammett play the solo in "Damage, Inc." and hearing those riffs and numerous others repeated, reinvented, and reimagined in the years since by scores of heavy metal bands is a testament to the unparalleled power that Metallica are still capable of wielding. Over the phone, Hammett's congeniality and unbridled passion immediately suggest that for all the spectacle, both deserved and undeserved, that surrounds Metallica, their journey is one with a familiar beginning firmly rooted in fandom.
You've got your first annual horror convention, Kirk Von Hammett's Fear FestEvil coming up next month. You've mentioned in other interviews that you've been into horror since you were five years old. Do you see a connection between that early fascination with the macabre and you eventually coming into heavy metal?
Oh, absolutely. I've been into horror movies ever since I was a young child — ever since I was about five years old or so. By the time I first started to seriously develop a taste for music and aesthetic, I'd already been five, six, or seven years into horror movies and the genre itself.
I can tell you, man, the very first time I heard Black Sabbath it spoke to me beyond just music. I thought to myself, "Oh my god, these are horror movies put into songs." I'll never forget the first time I actually heard Black Sabbath. It was around a campfire while we were camping. It was really dark that night, and the campfire was really the only light, and we were listening to the Paranoid album. I was hearing it for the first time, and I actually got scared [laughs]. I was about thirteen years old, and I actually got scared, and I thought, "This is the music for me."
There was no turning back from that point. I started listening to all the heavy '70s bands that I could find and get my hands on, and I was seeing a lot of the same imagery, and a lot of the same topics and concepts, and a lot of the same moods and atmospheres in heavy metal that I was experiencing in horror movies, so it was natural for me. It was like standing up and taking my first steps, but I was taking my first steps into heavy metal. It was a feeling so normal and familiar. I'm so blown away by how similar the two things are.
How did your passion for horror films and heavy music evolve to the point where you are now?
I would say that now my collection has reached a certain point, and I've done my book Too Much Horror Business, and I've done the two Orion Festivals, which had Kirk's Crypt in it, and now I'm finally doing this convention. I really feel that I've finally been able to bring my two real passions together into one solid format. It's taken thirty or forty years of evolution to come to that point [laughs]. But, more importantly, it's taken me that long to come to that point and actually be serious about it and feel like I actually have something to offer and feel like I have something that's new and different and something to potentially be a very unique experience for anyone who wants to experience it. It's a huge victory, a huge triumph for me to be able to blend these two things together.
For me, this is just the beginning of this new sort of outlook and new sort of approach. And this is the new Fear FestEvil, but I can tell you it's not gonna be the last one. I'm really serious about this, and I really enjoy doing it. I think it's gonna be a lot of fun when we actually do the convention, and it's probably gonna be something that I want to keep on doing.
Last year was the thirtieth anniversary of Kill Em' All's release. Obviously there's so much that's been documented about the band in the years since that time, but what I'm curious to know is how you personally see Metallica's journey since then. What do you feel the band has learned along the way, and what's that journey leading to for you guys?
It's been interesting, because since Kill 'Em All came out, none of us had any idea that the road that we would be taking would lead us to where it's led us and where it's leading us, and where it'll bring us in the future. You know, when Kill 'Em All came out, we were just four guys who were just barely out of our teens who knew that we wanted to play music, and knew that we wanted to make a living out of this music, and knew that we wanted to be the best band that we could possibly be.
Because we took on that, it brought us to a lot of different places that we never expected to find ourselves. It's just been an amazing sort of succession of events. I can clearly say that, as a band, we don't feel like we're tired or anything like that. We don't feel like we've overstayed our welcome. I can tell you from the depths of my heart that I am still very, very hungry, and I still feel the need to be creative and make music. I know that James feels the same way. I know that Lars feels the same way. I know Rob feels the same way. We have no idea what the next couple of years are gonna give us. We know we have to make a new album [laughs]. We know we have to make it soon, but whatever's gonna come in the wake of that remains to be seen. We certainly don't know, and when we figure it out we'll make sure you guys have an opportunity to check it out.
Now, you're playing an encore with Exodus at the festival, and you're obviously still in touch with a lot of the West Coast thrash bands, and those guys were playing with Metallica at the very beginning. Just given the enormity of Metallica's success since those early days, how have you seen your relationship with those bands change or has it changed?
I'm still really, really great friends with all those guys in Exodus. Gary and Tom I've known for a long, long time. I went to high school with those guys. I would wish that they'd had as much success as our band. I wish all the Bay Area thrash bands would've had as much success as we had. It bums me out that some of them had some degree of success, and then some of them had almost no success. Having said that, it's a great thing for me to able to ask Exodus to play my convention and give those guys an opportunity to do something really cool for the Bay Area and for the old school Bay Area fans that I know are gonna be at that show.
My thing is, I wanna do as much as I can to just kinda keep the whole Bay Area thrash scene somewhat alive and somewhat vital. I still see all the same people. Maybe I won't see them for like six, seven, eight months at a time, but all the same people are still there, provided they're still alive. For me, it's just really important that I'm in a position where I can do something good for the Bay Area metal fans and then, on top of that, give them a horror convention. I think it's a really great thing.
It definitely seems like originality, at least at its most basic level, is a bit lost in many art forms. Of course, it's hard not to think about endless remakes of classic horror films, which raises the question that's applicable to music as well. Is anything original anymore? Is originality a lost art in and of itself? Do you see art (and music) that tends toward the darker aspects of life as something that's harder to achieve on an authentic level now than it was thirty years ago?
Hm. That's a pretty good question. You know, I was just thinking about this the other day, and there's just too many bands. There's too many bands. When I was a kid growing up, there weren't as many bands. When you had someone who sounded different and had an exotic sound, you felt it. It stood out. It really made a difference. When you heard someone unique it was because they were unique. There weren't eight different versions of this. There was just one version. Because of that, it's harder now to have any sort of originality because you just have so many more people striving for the same sort of thing. Maybe it gets more difficult to be more original when there's so many people striving to be the same thing or do the same thing. I don't know. It's a hard question to answer, but that's the best one I can give you [laughs].
Is it true you guys are going to be debuting a new song at the next few Metallica shows?
I don't know [laughs]. We know that we've gotta do something, and so whether or not that happens or not, we don't really know. If we write a song, and we feel it's in good enough shape for us to play it live, then we definitely will play it live.
Are you still motivated by the same initial desire that started it all, or has that creative catalyst changed throughout the years as well?
You know, I'm still into it, man. I still wanna find the ultimate riff. I'm still looking for that riff that I come up with that just feels so good when you play it. It's just one of those things, man. It's like your chasing it, and you know that one of these days you're gonna catch it, and it's just a question of when are you gonna catch it. And that's what it feels like, man. That's really what it feels like.
More From Invisible Oranges