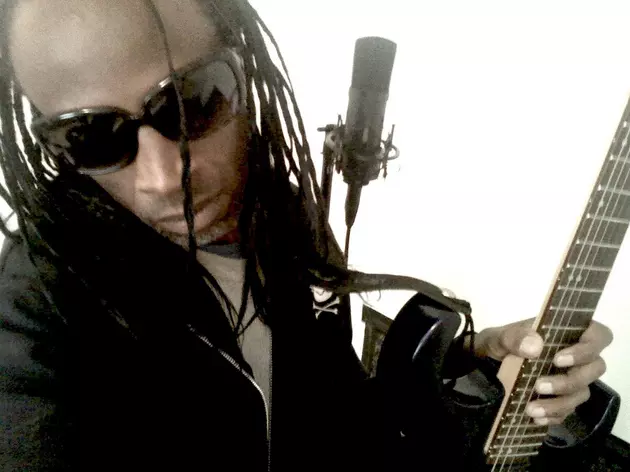 Keli Raven is a musician who takes risks. Though experimental and it is difficult to characterize, much of the music that he plays falls into hard rock/heavy metal territory. His guitar style seems to be in the same neighborhood as Jimi Hendrix and Mick Mars, and the beat of Keli's music is usually something that you can dance to.
Keli has music of many varieties in every piece of his past. His mother worked as a dancer with James Brown, while his dad had his own band working various clubs throughout New York. Keli got to meet and know many of the early rock and roll musicians and artists of the 1960s because of being born into a musical family. Some of the artists he has worked with over the years include Kiss, Vinnie Vincent, Tom Jones, and Lemmy Kilmister.
Keli and Lemmy Kilmister have been friends for a long time, and Lemmy dubbed their friendship "Bad Boys for Life," as if it were a club. Love of the roots of rock and roll is one of the things that they shared in common: Lemmy had been around since before the dawn of rock and roll, and he began his career in rock and roll as a roadie for Jimi Hendrix.
Keli is a multi-instrumentalist, and plays almost all of the instruments in his own music. Not only does Keli play all of the instruments on his songs, but is also heavily involved in the making of his own videos.
From your very earliest days you were exposed to the music industry, and you have seen its changes over a very long period of time. What as a child got you most interested and what were some of your first experiences that gave you a taste for music?
Let's go back. My mom and dad met in what was called the 'Chitlin' Circuit'. It was an on-going tour with various artists and a lot of solo artists, performing only in non-white venues. My mom was dancing for James Brown at the time and my dad was playing drums in another club band. They met, got together and had me, and later formed their own band called The Backyard Element.
When you were growing up who were your musical heroes? Who inspired you to pursue the line of work that you do?
That is a good one. I was about 11, My whole life I had been listening to great music, I actually started playing in my own band at the age of 7; it was called The Children's Workshop. What we did was a bunch of covers. We did everything from the rock opera Tommy to Cream and everything in between. We used to play at many children's hospitals and charity events. So, when that was over, I thought I would go on and be a normal kid. Then I went and saw Kiss, and that was it! Once I saw Kiss it was over. I said "Mom, that is what I want to do." My parents went and bought a double kick bass drum kit and that was the beginning. I was drumming back then. That was a big influence on me, going to see Kiss and then Rush entered the picture.
How long were drums your instrument of choice?
From age 7 until 1988. During that time, I played in various Los Angeles local [Sunset] Strip bands, such as Shock and Hollywood Rose, which had various members of L.A. Guns and Guns N' Roses in the very early days.
You played drums in most of those and at some point you picked up other instruments?
The management group MJM approached me and they said, "We understand that you do quite a bit of writing with the bands that you are playing in." And believe it or not they just offered me a deal and said "Have you ever thought of going up front and getting out from behind the drums and fronting your own band?"
I said, "No never thought of that." So they convinced me to go ahead and do it, thus Keli Raven was born. I learned all of my guitar chops and song writing skills from having such great guitar players play with me. I never took lessons to play. I kind of learned by watching these guys; on the job training so to speak.
Do you play bass, keyboards or anything else?
So far, and this is a blessing. On my albums I play all of the instruments, I have had a guest or two, but pretty much, I would say 90% of all my records are done all by me. I just give it to my band and we take it to the next level.
In your career, you have worked with other people, working on some of their productions. Please give us some background on that work.
I was recording my album, I guess in late 1991 and I was working with a producer Howie Rice. He produced my first record. We were schlepping it day after day after day, and I was like "Dude, do I ever get a break?" I finally had a day off I was chilling with my girlfriend at the time, and I was watching television or something, and I get a call from Howie.
He told me "You got to get up here."
And I was like "Screw you! I am not going anywhere near the studio"
He said, "Come on up I have a couple of friends of mine here who are working on their new album, and they like your stuff and they want you to come in and see if we can all collaborate."
So I get up there, and it is Gene Simmons and Vinnie Vincent from Kiss! So immediately, I am like "I am not worthy!" I went on in and I did some drum programming and some guitar parts for the Revenge album. So I worked with Kiss on Revenge and after that I went on to do some work with Vinnie Vincent on his then solo stuff.
I have heard rumors of Tom Jones appearing in your resume.
I played on Tom's record that was produced by a long time veteran producer Richard Perry, I went in and did a couple of tracks for him. That was amazing. Great players, great material, and Tom is just an amazing guy.
In your own work, you did work with Lemmy who you have had a long term relationship with. Please give us a little background on how the video of Bad Boys for Life came into being.
Well we are both kind of bad boys, that was an instant hook right there. It wasn't any instant pressure thing. We had been mates for a long time and had shared the stage together, making appearances and palling around, but we never really outside of a few things that we wrote back in the early '90s for a few other artists, had anything ever come from that for just us. When I was doing my first full length effort with E.P. Records USA, that is (the first) I had done since I was with Howie Rice. I decide that I would give Lemmy a call and tell him, "Dude you are on this record." And he had no choice. I scribbled down my parts and he scribbled down his. It was simple, we just went in and had a good time, then shot the video. We didn't expect anything from it. It was time for us to finally do something together, show the world that we are real, that we have the will to collaborate on stuff, and not just make appearances together: that we actually do make music together from time to time.
How would you describe the style of music that you play?
I tend to, every ten years or so with every record, try to reinvent myself. I have gone through several genres that I made up. Back in the '90s it was the "Girl Trouble" era. It was a sound; it was definitely a sound that I had. After that I got a little more industrial; I titled that "Industrial Glitter Rock." Now what we play is "Modern Erotica Rock." Because it has a very modern sound - limitless, it is very erotic, which my lyrical content has always been, very dramatic, and it is rock and roll. If you want to get really down and dirty about what Keli Raven is doing it is "Modern Erotica Rock." Nuff said.
More From Invisible Oranges