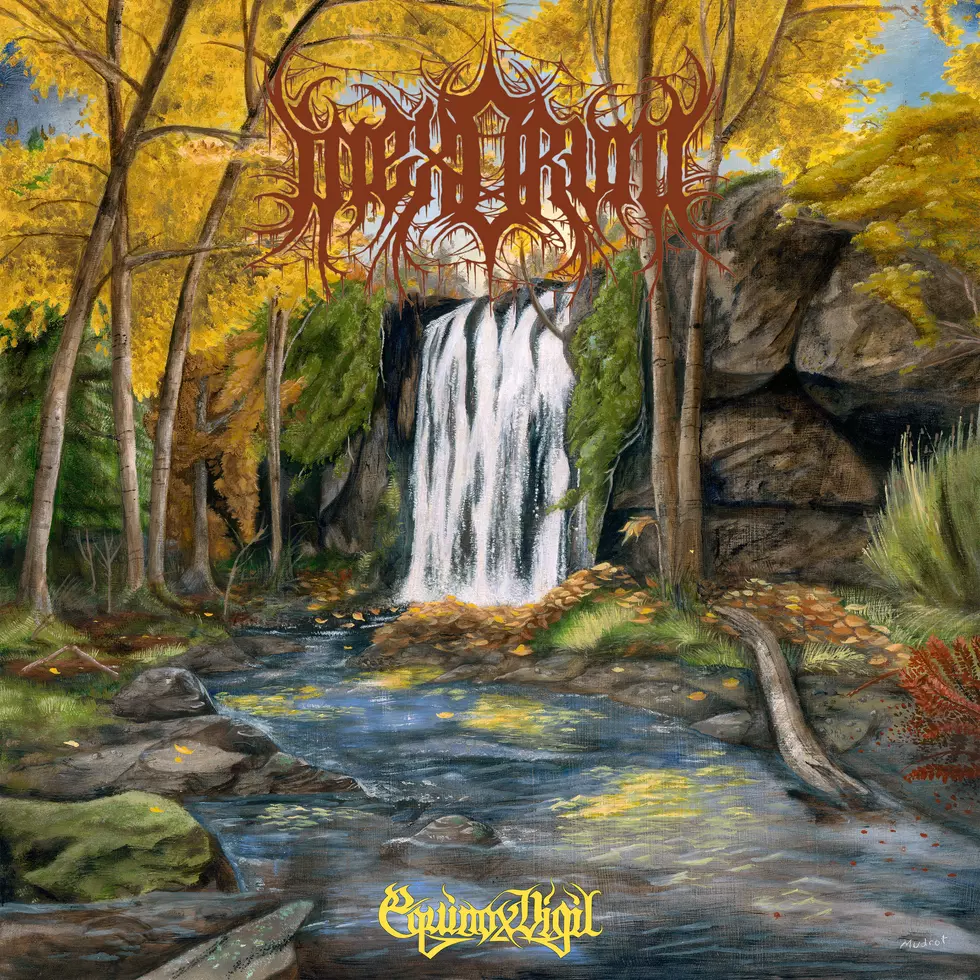 Solar Colors and Layered Guitars: Inexorum Brings the Heat on "Equinox Vigil" (Early Album Stream + Interview)
---
Minnesota is a place of extremes. The winters can drag—snows often sit for months, forming an icy crust, while the cloudless, cheery sky lets any remaining warmth escape, and then come the quick springs and sauna-like summers with their mosquitoes and lazy days on the lake. At times like those, when the thunderstorms roll in, one's eyeballs freezing in February can feel like a distant memory.
Minneapolis' Inexorum works with the full spectrum of these extremes on their third full-length: Equinox Vigil. Like their previous two releases, it draws on the natural beauty and temperamental climate of the North Star State. However, where Lore of the Lakes and Moonlit Navigation each had a more celestial, nocturnal quality, Equinox Vigil is a restless, autumnal record that benefits from Inexorum's most richly layered melodies and cleanest production to date.
From its opening chords, the album moves at a gallop. It flows like a swift stream, carried by timeless lyrics that read like a description of a Caspar David Friedrich painting. Each song has a restless, Sehnsucht-infused quality sparked in part by Inexorum frontman Carl Skildum's escapes to the Minnesota wilds during the height of the pandemic. The lyrics, as on the title track, are full of moments of contemplation, using scenes of trees and sunsets as a foil for meditation on the self:
>As the sun completes its transit
The western sky aglow
When everything has changed
Will I find my way home?
Closer "Such Impossible Sights" likewise contemplates the rise and fall of empires against the eternity of nature. Matthew Kirkwold's clean vocals add thrilling moments of aspirational, NWOBHM-tinged escapism at critical moments here. While Equinox Vigil feels new, it also reaches back to familiar frameworks repeatedly and rewards the listener with new flourishes on repeated listens.
It would've been impossible to make a record like this forty years ago, however—Skildum and Kirkwold achieve Inexorum's sound through a process of digital layering, with Skildum veneering several bands' worth of guitar lines to into riffs that glide over Kirkwold's basslines and digital drumming. The result is a maximalist LP that, while nominally black metal, is almost classical in its level of ambition. Equinox Vigil packs every second with detail—stream the full album below, and read on for an interview with Inexorum's Carl Skildum below.
...
...
Equinox Vigil has a bright, almost summery feel from the sound down to the title and the cover art. What inspired this record, and how did the process of making it differ from Moonlit Navigation?
I started writing it in August 2020, right after Moonlit Navigation was released. That was the tail end of the weirdest and worst summer, with health and social crises converging all at once. Most of the material was written during that fall and early winter, and at the time one of the few escapes from the relentless bad news was going hiking in nearby state parks with my wife. I think I was in more of an autumnal headspace at that time–the seasons were changing, and I was spending the little bits of free time I had trying to calm my head in these natural places where I could observe those changes firsthand. The source photos that Brooks Wilson used for the cover painting were taken in early September 2020, so they were full of fall colors that informed his color choices. I think back to when I wrote Moonlit Navigation, there were a few things going on in my personal life that were difficult, but after it came out the events of 2020 and beyond seemed so much more immediate and destabilizing across the board. So that probably ended up adding a sense of urgency to this recording.
Who handles what here? It sounds much bigger than something that came from a two-piece.
I write and record the guitars and vocals on an ancient Mac that needs a lot of coaxing to handle the multiple guitar tracks. Then I send the files to Matt, who does his bass tracks and any clean vocals I ask him to tackle. The key there is that Matt is a professional engineer and producer, so he has the right gear and expertise to bring the sound to life. Our guests (Tanner Anderson and Matt Larson) did their respective parts at their own home studios. A foundational principle I've always had for Inexorum was to have more guitars than were practical for a live band. My wheezing Mac hates it, but that's probably where the scope of the sound comes from. I'm super fortunate that Matt knows how to separate all the guitars so they come through clearly without turning to a mushy paste.
Equinox Vigil is billed as being influenced by NWOBHM—where do more trad tones fit in the palette of this album?
Early heavy metal was my gateway into extreme music. When I heard harmonized guitar leads for the first time it made me wonder if I could learn to do that someday. It was probably Iron Maiden that lit that fire for me first, but there were American bands that inspired me as a kid as well. I'd be remiss to not mention how much I absorbed from the first four Metallica records, especially as I moved towards chasing more intense and underground sounds. The groundwork for stacking layers of guitar leads all started there, and I made a conscious effort to try to maintain a thread of that classic heavy metal feeling while I was writing this record.
The Minnesota landscape can be both beautiful and extremely harsh. In what literal and figurative ways does Inexorum draw on your surroundings?
I grew up in northern Minnesota and moved to the Twin Cities just before high school, and it was about as cold as everyone imagines during the winter. That was a long time ago, and I've noticed how each year our winters seem a little shorter and our summers are hotter and seem to be filled with more intense derechos and tornadoes. This album's overarching theme being the inevitability of change certainly has inspiration from how much has changed here in my lifetime. But there are still so many elements that are still there—the lakes and forests are still spectacular even if it feels different to experience them now.
Will you be supporting the record live?
Matt and I are getting our live kicks performing with Obsequiae this summer at Northwest Terror Fest and Fire in the Mountains, which has been keeping us plenty busy for now. We've had discussions about what it would take to put together a live Inexorum lineup that can play these songs, but even a three-guitar lineup would mean leaving some of the guitar harmonies behind. I guess it goes back to the idea that I approach writing these songs without worrying much about how they would be performed live. I'd probably prefer to just write more new music. But I never say never.
...
Equinox Vigil releases June 17th on Gilead Media.
More From Invisible Oranges